DeFi's next growth catalyst: the Oracle breakthrough
Oracle development has remained sluggish despite its vital role in DeFi—until now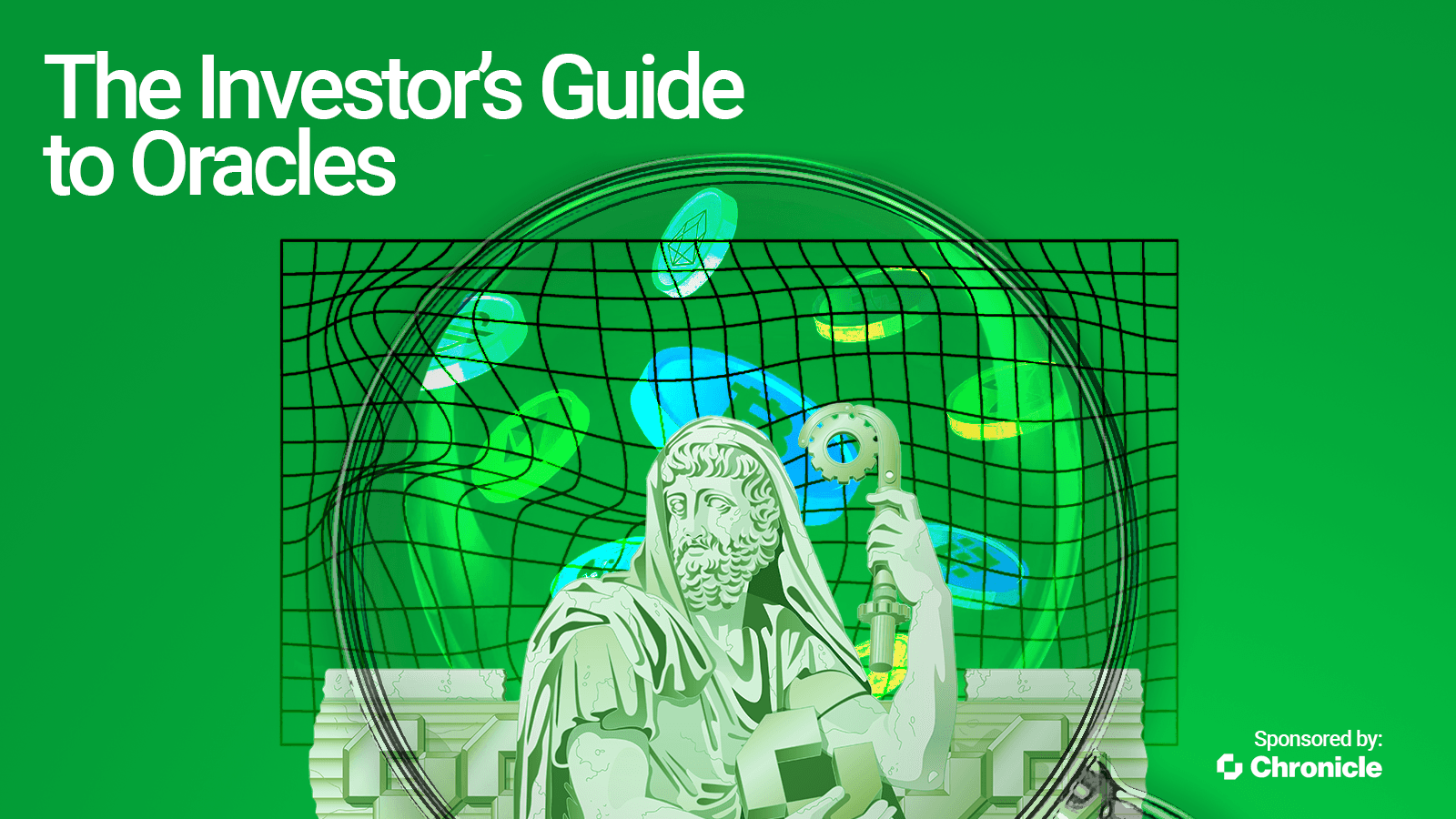 ---
Key takeaways
Calling on its experience at Maker and collaborating with Centrifuge, Chronicle Labs is exploring solutions for providing reliable, accurate, and tamper-proof information on real-world assets (RWAs) to blockchains, ensuring data security, regulatory compliance, and fostering trust in the DeFi sector.
Chronicle Labs' Scribe promises heightened security and efficient data transfer. Its innovative approach has led to over a 60% reduction in gas usage during testing, making it a pivotal advancement in the Oracle domain and bringing the cost of Oracle operations down considerably.
---
Oracles are crucial in transmitting data on-chain, underpinning the decentralized finance (DeFi) revolution. Yet, despite their importance in DeFi, the growth in Oracle technology has remained relatively static.
The efficiency of on-chain Oracles, particularly on platforms like Ethereum, is constrained. This limitation impacts DeFi's potential. Many Oracles are not easily accessible, often hampered by costs or the protocol team's availability, and also tend to be lacking in true transparency and decentralization, both core to DeFi principles. Chronicle Protocol, in this context, presents a novel solution to these prevalent on-chain issues.
In this investor's guide, we'll dive into what Oracles are, as well as the history of Chonicle Protocol and how it's looking to spark the next generation of DeFi growth with its launch.
First things first—what are Oracles?
Blockchain Oracles function as secured passageways, linking blockchains to the external world and different blockchains to each other. They transfer data, ensuring its validity before letting it pass through. While Oracles don't generate the data, they act as intermediaries, confirming its authenticity and moving it from its origin to the end-user. This data might encompass price details, voting outcomes, or sports event results.
Without these on-chain Oracles, blockchain applications would be akin to secluded islands, restricted to data from their own network. Such limitations would constrict the potential applications of blockchain technology. Hence, on-chain Oracles play a crucial role in the Web3 framework, acting as enablers for all the wonderfully creative ideas this industry has.
In the context of blockchain and DeFi, RWA ("Real-World Assets") Oracles are a type of Oracle that provides information about real-world assets (like real estate, stocks, commodities, etc.) to the blockchain. They ensure there's a reliable, accurate, and tamper-proof way to reflect the value and status of real-world assets in the blockchain environment. The data they provide can be used for various purposes, including loan collateralization, asset tokenization, or any other DeFi applications that involve real-world assets.
Chronicle Labs is currently exploring an institutional-grade infrastructure layer for RWAs with Centrifuge, a leader in real-world asset tokenization. The cost-efficiency, security, and verifiability upgrades of Chronicle Oracles uniquely position Chronicle to develop the infrastructure needed to effectively connect RWAs to on-chain capital and vice versa.
The value-driven Oracle of MakerDAO
Chronicle Protocol aspires to become the premier open and authentic data chronicler. Its foundations rest on verifiability, accessibility, and affordability. Along with its inherent scalability, integration, and security, these values drive the protocol forward.
Chronicle, having its roots in MakerDAO's Oracle team, invented the first Oracle on Ethereum to facilitate the introduction of SAI in 2017. Four years later, with MakerDAO's backing, the team branched out to establish a fresh brand on a mission to make the protocol accessible to a wider audience: thus, Chronicle Protocol was established.
While Chronicle Oracles have safeguarded over $10B for Maker since 2017, their innovative tech was only available to Maker and its ecosystem—until now. 
Chronicle Labs unveils the future of Oracles: meet Scribe
Chronicle Protocol was developed to be blockchain agnostic, implementable on any chain, and accessed through its on-chain interface, which is plug-and-play with users that have previously used Chainlink or Maker Oracles. For the first time, Chronicle not only supports MakerDAO but is also extending its protocol to the expansive blockchain ecosystem, starting with Polygon zkEVM via a collaboration with Polygon Labs.
This has been accomplished by Chronicle Labs developing Scribe, a proprietary next-gen Oracle cryptographic primitive, to address the high costs of on-chain computations for Oracle updates. 
Initial tests suggest that Scribe will reduce gas consumption by over 60% compared to an earlier iteration, and an even higher gas saving versus Chainlink, positioning it as a potential game-changer for the industry.
To bring about cost-efficient Oracles, Chronicle Labs focused on calldata on L1 blockchains, which is economical; however, L2s introduced a new challenge with affordable computations but pricier calldata. Crafting unique solutions for L1 and L2 might have minimized costs, but it would have added complexity. Aiming for a unified approach suitable for both platforms resulted in Scribe and its optimistic-schnorr hybrid design.
This hybrid system allows multiple parties to co-sign a message, enhancing security while compressing calldata. They adopted an optimistic model on L1, where a proposed price, if undisputed for a certain period, becomes final. In a decentralized fashion, Scribe's framework allows any relay to submit data to the Oracle contract. If validated, the data, including the optimistic price, is stored. 
If a price update seems dubious, a fraud proof can be triggered which verifies the signatures and, if found fraudulent, removes the price and bans the erring Feed. The caller of the fraud proof will also receive all of the Oracle's ETH as a reward, opening up a new MEV opportunity for searchers, and ensuring an efficient and resilient response to malicious acts.
Scribe is powering Chronicle's competitive advantage, but the team hasn't neglected the user experience; they're reshaping how DeFi interacts with reliable and verifiable data. Users will be free to swiftly subscribe and unsubscribe to Oracles based on needs, complete with on-chain payment and subscription functionalities. They can easily request the latest data in the DeFi sphere, trace data back to its source & verify its validity, and integrate effortlessly with any blockchain, all via a decentralized on-chain dashboard called The Chronicle.
Charting the Future: Chronicle Labs' Definitive Impact on DeFi
In the rapidly evolving landscape of decentralized finance (DeFi), Chronicle Protocol emerges as a beacon of innovation, addressing long-standing challenges with on-chain Oracles. By intertwining verifiability, scalability, and adaptability, Chronicle Labs is not just presenting solutions but is actively shaping the future of DeFi. With groundbreaking initiatives like Scribe, Chronicle is establishing new standards in how we approach and utilize on-chain data, bringing down many of the current barriers that exist for on-chain Dapps and protocols. 
As we stand at the precipice of a decentralized revolution, Chronicle Labs showcases the transformative power of technology, vision, and collaboration. It's clear that the strides made by Chronicle today will resonate in the DeFi community for years to come.
---
To explore The Chronicle and gain first-hand insight into how Oracles work, try verifying some price data for yourself! Stay up to date with the team's journey by following them on X and joining the project's Discord community.
This content is sponsored by Chronicle Labs
---
Don't miss the next big story – join our free daily newsletter.