Coinbase Off To Rocky Start After Public Listing
After being criticized for a low reference price, COIN is hovering around $330, equalling a $66.4 billion market cap. But wait a few weeks, says one investor.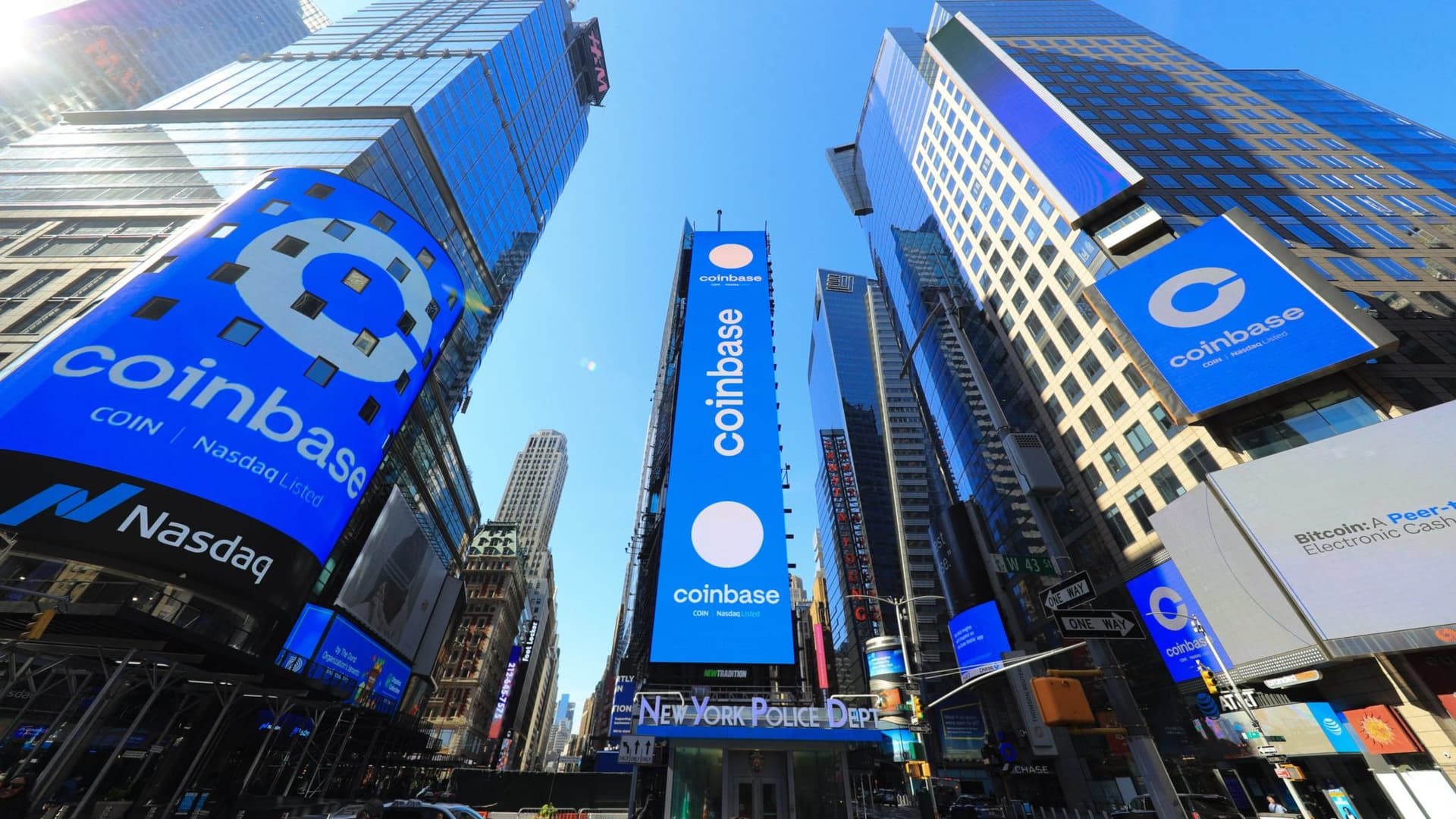 key takeaways
The digital assets exchange was briefly worth approximately $110 billion in its public listing debut
Coinbase's market capitalization is well below some estimates, including the FTX pre-listing contracts. Investors say wait for the real valuation to emerge
Coinbase's first day of public listing didn't see COIN rocket to the moon, or fall like a phoenix to the earth, but the stock did rock back and forth before settling around the $330 mark early Thursday afternoon. 
COIN is currently up approximately 1.32%, having fallen 7% during the first hour of trading in New York. On Wednesday, as the initial shares traded hands, COIN hit $430 in the first few hours of trading giving the exchange a valuation of more than $110 billion before ending the day just below $330. While it had set a reference price of $250, which was criticized by some for being too low, no trades were closed at that price automatically pushing the price higher.
"The reference price was solid. Good floor. We will only know how good it was with a few weeks of time passing," said David D. Tawil, President at ProChain Capital. "No regrets with the direct listing. Investment bankers and exchanges should be concerned. There is nothing like mass price-discovery; rather than a small group of bankers. No issues with allocations to 'connected' investors and it was a great result."
As an example of institutional interest in the shares, during the first hours of trading, ARK Invest, run by noted bitcoin bull Catherine Wood, bought a total of 749,205 shares of the company to be placed in three of its ETFs.
Planning for the "crypto winters"
After Coinbase published its financials prior to the public listing, investors and analysts flagged the company's reliance on transaction fees from crypto trading as a huge red flag. Nearly 96% of Coinbase's revenue is sourced from this business line. CEO Brian Armstrong has promised to diversify into new sources like credit cards, staking, as well as DeFi. However, fee compression from an increasingly competitive market and "crypto winters" will be a looming problem for the firm. 
But Tawil disagrees, arguing that he doesn't expect immediate fee compression based on precedent set by Stripe. The payment processor is due to IPO in the near future, competes for fees in an era where payment processing has been labeled as commoditized. But despite this obvious market for fee compression the company still thrives. 
"This follows on the heels of Stripe. Until there is a serious question about whether every IPO will go direct, there shouldn't be a lot of fee compression," he said. 
Token euphoria
Exchange tokens, utility tokens issued by exchanges that are in some ways analogous to a tracker of the exchange's market cap, were also down during the trading day. Many shaved a few percentages off their value Thursday after a long bull-run leading up to the COIN listing. 
Tawil called the initial bull market for these tokens part of the COIN-induced euphoria over the value of exchanges. "There is a lot of excitement around tokens and exchanges," he said. 
He said that all of these tokens have a "theoretical ceiling" unless the business they are tied to disrupts itself. 
"As long as the parameters of the business are limited to trading tokens and there aren't any new tokens that catch fire [there's a ceiling]. If any of those circumstances change, all bets are off," he said. 
Sidharth Sogani, founder of Singapore-based research firm Crebaco, predicts that Binance's BNB token will hit $1000 based on the strength of the Binance Chain, popularity of protocols like Binance's stablecoin, and the quality of the projects being onboarded. 
Who's next?
Of course the question remains as to which exchange will IPO or do a direct listing next. As Binance is based off-shore, it's likely out of the question. Sogani points to Binance founder CZ's big belief in decentralized ecosystems as a reason why it will never IPO. Tawil thinks the next one out of the gate will be Gemini. 
"I think that the Winklevoss twins are really committed to promoting the asset-class and industry; I think that they are solid ambassadors," he said.