Ether All-time High as Total Market Cap Nears $3 Trillion
A 7% surge in BTC coupled with a new high in ETH pushed the total digital asset market cap to new heights.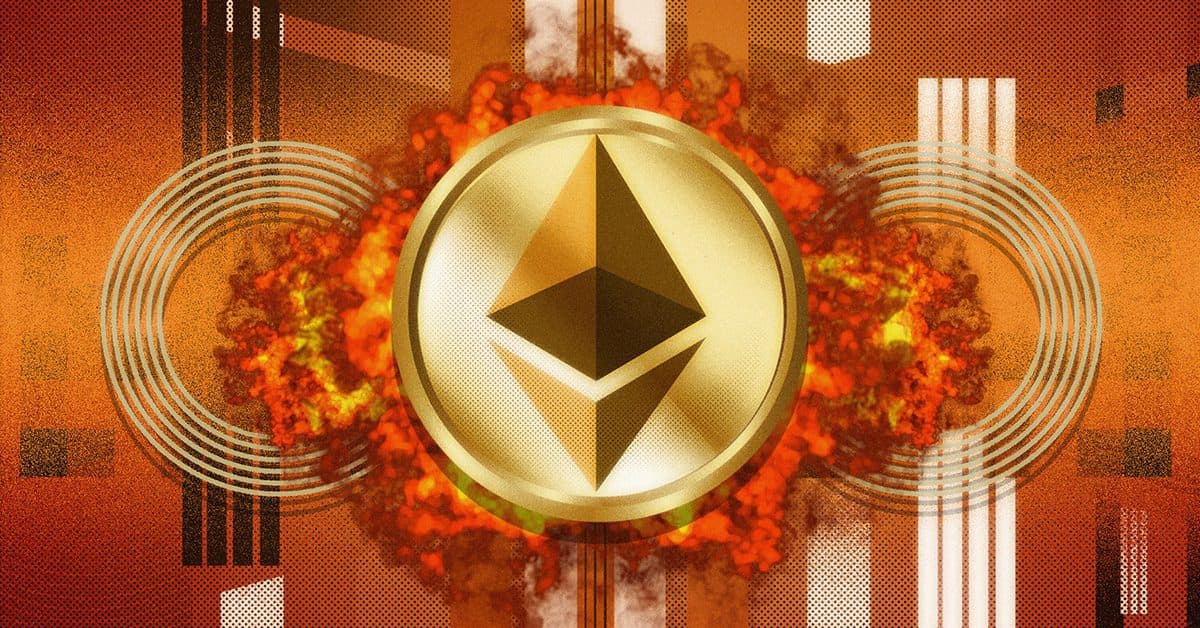 Blockworks exclusive art by Axel Rangel
key takeaways
Bitcoin closed the week at a new weekly high, and is trading within $1,000 of its all-time intraday high
Ether jumped above $4,700 for the first time in its history; ether burned since August upgrade exceeds 800,000 ETH
The top two cryptocurrencies, bitcoin and ether, both registered strong gains early Monday, following bitcoin's Sunday price close of $63,312 — a new record. Following the weekly close, BTC shot up 2.7% over the next hour, and continued as high as $66,426 before entering a consolidation. Ether followed suit, registering an all-time high of $4,735 six hours later, leading to a sharp jump in the total market cap of all digital assets — also at all-time highs.
Market data site CoinGecko currently registers the cryptoasset market cap at $3.01 trillion, although the stats provided by Binance's CoinMarketCap, as well as TradingView, put the total market cap in the $2.84 to 2.87 trillion range.
Bitcoin's dominance relative to the total digital asset universe spiked over 3% to just shy of 44%, and has set in a new daily higher-low, reversing a two-week-long downtrend which began the last time bitcoin's price neared $67,000 on October 20.
In the interim, open interest on exchanges has continued to rise while exchanges' BTC reserves have been on a prolonged downtrend. That combination yields a record rise in the global leverage ratio — a measure of how much leverage traders are taking on — which often precedes an increase in market volatility. While volatility can come in either direction, global perpetual futures funding rates have remained relatively muted, therefore there is little sign the leverage is heavily weighted to the long-side. That's generally bullish, as we have seen several sharp corrections induced by the over-exuberant use of leverage among bitcoin boosters.
Other healthy fundamental metrics are the bitcoin balance on exchanges, which has fallen to 2.3 million BTC — a multi-month low. Trending exchange outflows is historically indicative of long-term accumulation, as traders moving bitcoin off exchanges do not intend to sell. In the same timeframe, the Bitcoin network hashrate has been on a steady rise since the China mining shakeup earlier this year.
Ether trend continuing
Since finding a local bottom at about $2,750 at the end of September, ether has been on a tear, up over 70% with only modest healthy corrections to its daily 21-period moving average.
According to WatchTheBurn.com, which tracks ether burned as a result of transaction activity on the network, today Ethereum surpassed 800,000 ETH burned — almost $3.8 billion at today's prices — since its 'London' upgrade in August. That has significantly reduced the net issuance of ether and is widely seen as a major catalyst for the commodity's move higher.
Ethereum 2.0, the proof-of-stake version of Ethereum known as the Beacon Chain, completed its first major upgrade, dubbed Altair, on October 27, which sets the stage for a historic merge with the Ethereum mainnet, slated for the second quarter of 2022.
US Markets
US stock market futures point to a flat open in New York, with both the S&P and Nasdaq futures near their Friday closing prices. Market-watchers are eagerly anticipating the open of S&P component Tesla (TSLA) following Elon Musk's latest Twitter antics, in which he launched a public poll over whether he should sell 10% of his Tesla holdings. A majority of 3.5 million voters told the world's richest person — who's currently calling himself "Lorde Edge" on Twitter — to jettison the stake.