Florida Bill Banning CBDCs Might Accidentally Ban Bitcoin Too
The House Commerce Committee reportedly voted 15-5 in favor of passing a bill that blocks the use of a federally-backed CBDC under Florida law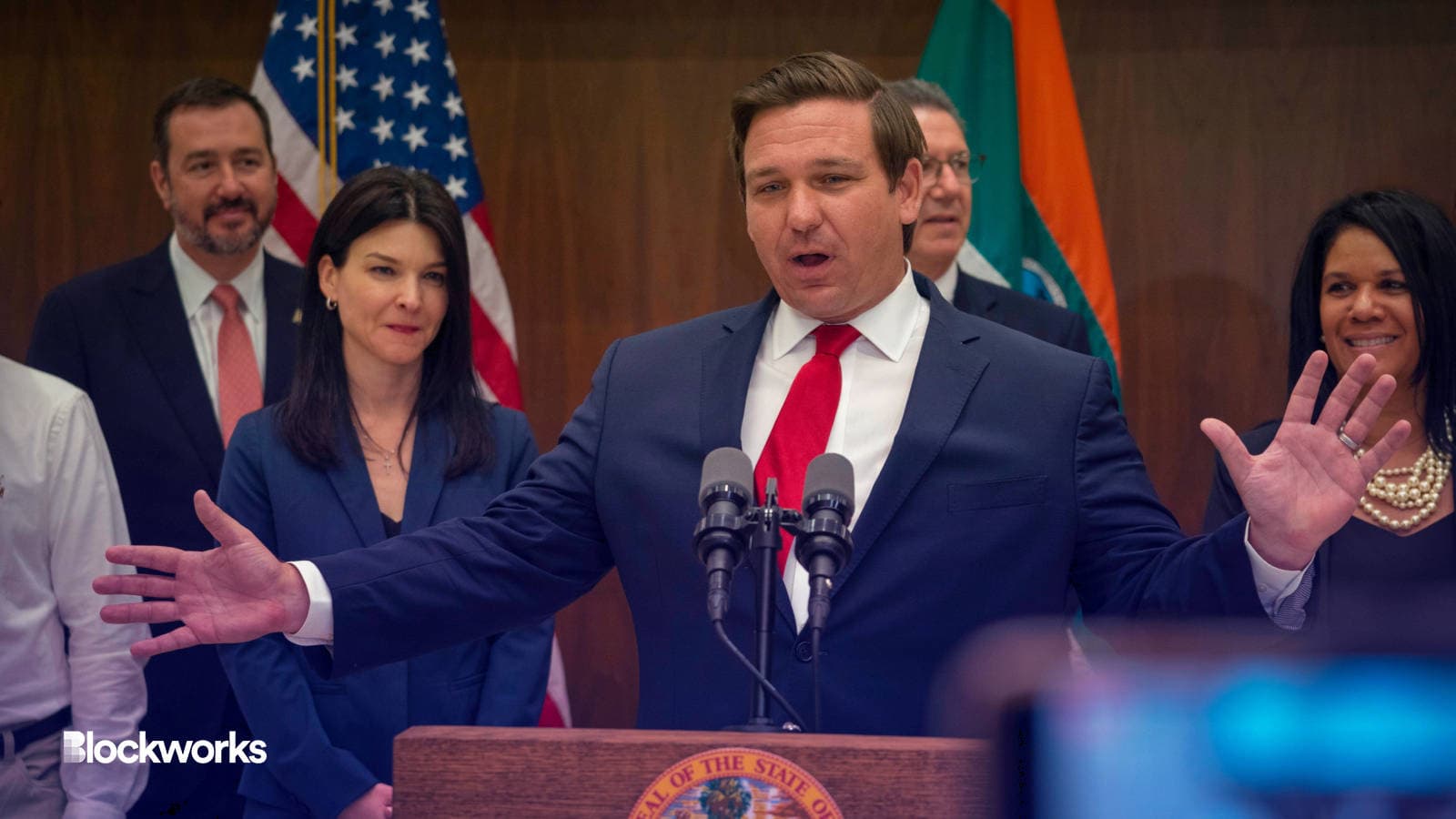 Hunter Crenian/Shutterstock, modified by Blockworks
Florida lawmakers may have to revise a recently passed bill barring central bank digital currencies (CBDCs) to avoid inadvertently banning bitcoin.
Governor Ron DeSantis' proposal would make Florida the first US state to ban CBDCs, with a House panel voting 15-5 in favor on Monday.
DeSantis, who has served as Florida governor since 2019, is opposed to the idea of a federally-controlled digital currency, arguing it would hurt innovation and "promote government-sanctioned surveillance."
The bill blocks the use of a federally-backed CBDC as currency under Florida's Uniform Commercial Code. It also prohibits CBDCs issued by a foreign reserve or foreign sanctioned central bank, and calls on other states to embrace the same prohibitions.
A CBDC is a type of digital currency, which may or may not run on a blockchain or distributed ledger system, backed and issued by a central bank. US President Joe Biden signed an executive order last year asking federal agencies to study benefits and risks of a US CBDC, but no definite decision has been made on whether the US will actually come up with one.
Even so, the US Treasury is working on the technology that would be required to create a CBDC if lawmakers do decide to go ahead with the concept.
But there's a small problem with DeSantis' bill. Per Florida Politics, it defines CBDCs as digital currencies "validated directly by" a foreign government. 
While the language is somewhat open to lawmaker interpretation, bitcoin (BTC) can fit that description: El Salvador has adopted bitcoin as legal tender, thereby "validating" it in the non-technical sense (it's unclear whether El Salvador's central bank or other government institution runs fully-validating Bitcoin nodes, also known as full nodes).
Wyman Duggan, a member of Florida's House of Representatives sponsoring the bill, reportedly said they hadn't set out to ban bitcoin along with CBDCs, and that they may change the bill if necessary. 
The Bitcoin Policy Institute, a nonpartisan bitcoin think tank, recently warned that anti-CBDC legislation could unwittingly make it more difficult for the bitcoin ecosystem to flourish, unless they include specific language vetting BTC. 
DeSantis has previously presented as pro-bitcoin, having floated accepting the top crypto for state taxes last March.
CBDCs and the US Constitution
While proponents of CBDCs argue that they can be used to speed up transactions, make cross-border payments more efficient, and discourage criminal activity, opponents like DeSantis believe such a system raises heavy privacy and security concerns.
Some Florida lawmakers have agreed with DeSantis' view. Rep. Duggan reportedly raised apprehensions that CBDCs would give government in-depth insight into consumer purchases and could potentially freeze or seize anyone's assets.
DeSantis himself previously warned that government oversight of digital currency would mean people wouldn't be able to purchase gas or guns. "Who knows whether they would let you buy a firearm or things they disapprove of?" he said.
Democrats were among those who voted against the bill. They raised the debate of unconstitutionality, since it is the US Constitution that gives the federal government the power to create and circulate national currency.
Rep. Allison Tant reportedly asked the House panel whether such a move indicated that Florida would be lagging economically. Duggan disagreed that this would happen, but admitted that there could be legal challenges if the bill became law.
"There's obviously a federal Supremacy Clause in the [US] Constitution. That's an enumerated power of the federal government, to mint money," Duggan said. "We're clearly going to have to have a court explore the contours of this relationship."
The bill hasn't yet become law and must pass the entire chamber of the House and Senate, before finally reaching the governor. He can then choose to sign it, or allow it to become law without signature, or veto it.
David Canellis contributed reporting.
---
Don't miss the next big story – join our free daily newsletter.