FTX Fraud Pushed Traders Into Stablecoins: Galaxy
USDT was the dominant leader in stablecoin trading volume, but a competitor has now surpassed it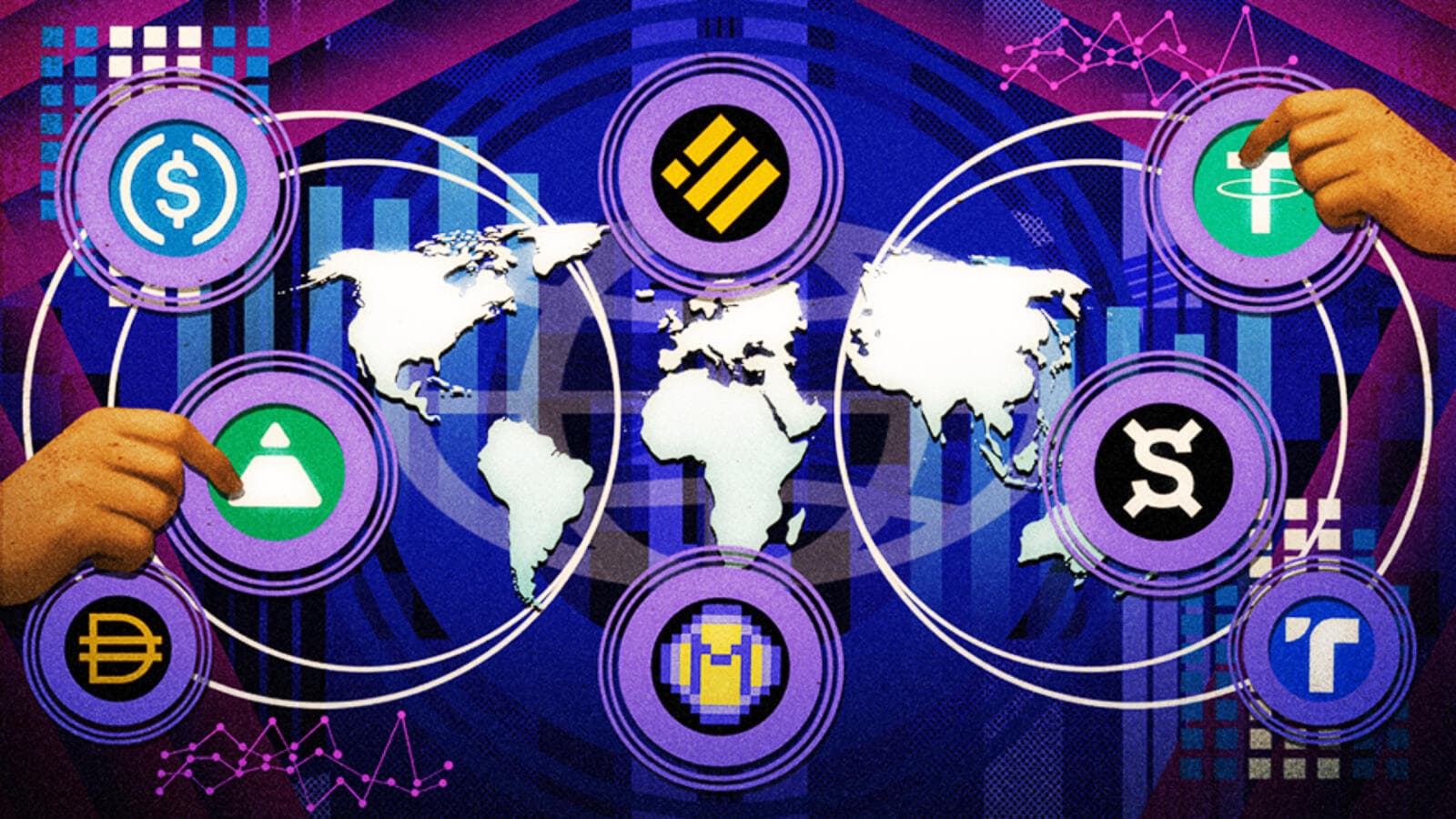 Blockworks Exclusive art by axel rangel
As risk-off sentiment continues to dominate cryptocurrency trading patterns, investors are putting more money into what they hope is a safe haven: stablecoins. Stablecoin trading volume has been on the rise since news of FTX's collapse broke and fears of contagion rocked the industry.  
Daily stablecoin trading volume surpassed $200 billion on Nov. 5, when concerns about FTX's liquidity spiked, and on Nov. 8, when it looked like Binance might buy FTX, according to data from CoinGecko. Stablecoins USDT and BUSD led the volumes as the deal collapsed and FTX headed for bankruptcy.
But of the two, BUSD volume is the one surging, according to Galaxy Digital, in a report published Friday.
"Historically, USDT has been the dominant leader in stablecoin trading volume as it is the underlying currency to quote trading pairs at several large exchanges," Charles Yu, research associate at Galaxy Digital, wrote. "The large increase in BUSD trading volume could be due to Binance's decision to consolidate its order books and convert user balances in several stablecoins (incl. USDC, USDP, & TUSD) to BUSD as of September 29th." 
As investors continue to fear for security and liquidity, traders have moved funds off of centralized exchanges, Yu noted.  
"According to Nansen data, FTX and FTX US collectively hold $78m in stablecoins on Ethereum, down [about] 40% since November 6," Yu said. "Binance is the largest holder of stablecoins on Ethereum with [roughly $25 billion], about 10x the balance of its closest CEX competitor (OKX) and over 80x the balance of Coinbase."
As the liquidity crisis continues, some exchanges have temporarily suspended deposits or withdrawals of USDC and USDT issued on the Solana blockchain, including Crypto.com, OKX and Binance, which has since reopened deposits for USDT. 
Circle, the company behind USDC, reported that it had miscalculated its financial projections in a Nov. 14 SEC filing. Circle's issuance dropped $3 billion, the company said, a drop that can be attributed to Binance's USDC to BUSD auto-conversions and FTX's implosion.
"Stablecoins issued by crypto exchanges, major existing global payments companies and banks, and decentralized algorithmic tokens, are likely to increase competitive pressure on Circle stablecoins, and could slow our growth, or cause significant declines, negatively impacting the financial outlook of the company," the filing read. 
At least one positive takeaway from this recent turmoil is that stablecoin systems have proven to be functional as issuers continue to process redemptions in an orderly fashion and any depeggings have been slight and temporary, Yu noted. 
"In May, we saw massive outflows from USDT to USDC from peg risk," Dan Smith, research analyst at Blockworks, said. "We see the same thing again more recently, on a much smaller scale, but this time BUSD is getting some of the love."
---
Don't miss the next big story – join our free daily newsletter.