NYC Mayor Adams deems bitcoin not a security in disclosure mishap
Mayor Eric Adams said he did not hold any crypto over $1,000 after saying he had converted his first three paychecks into the crypto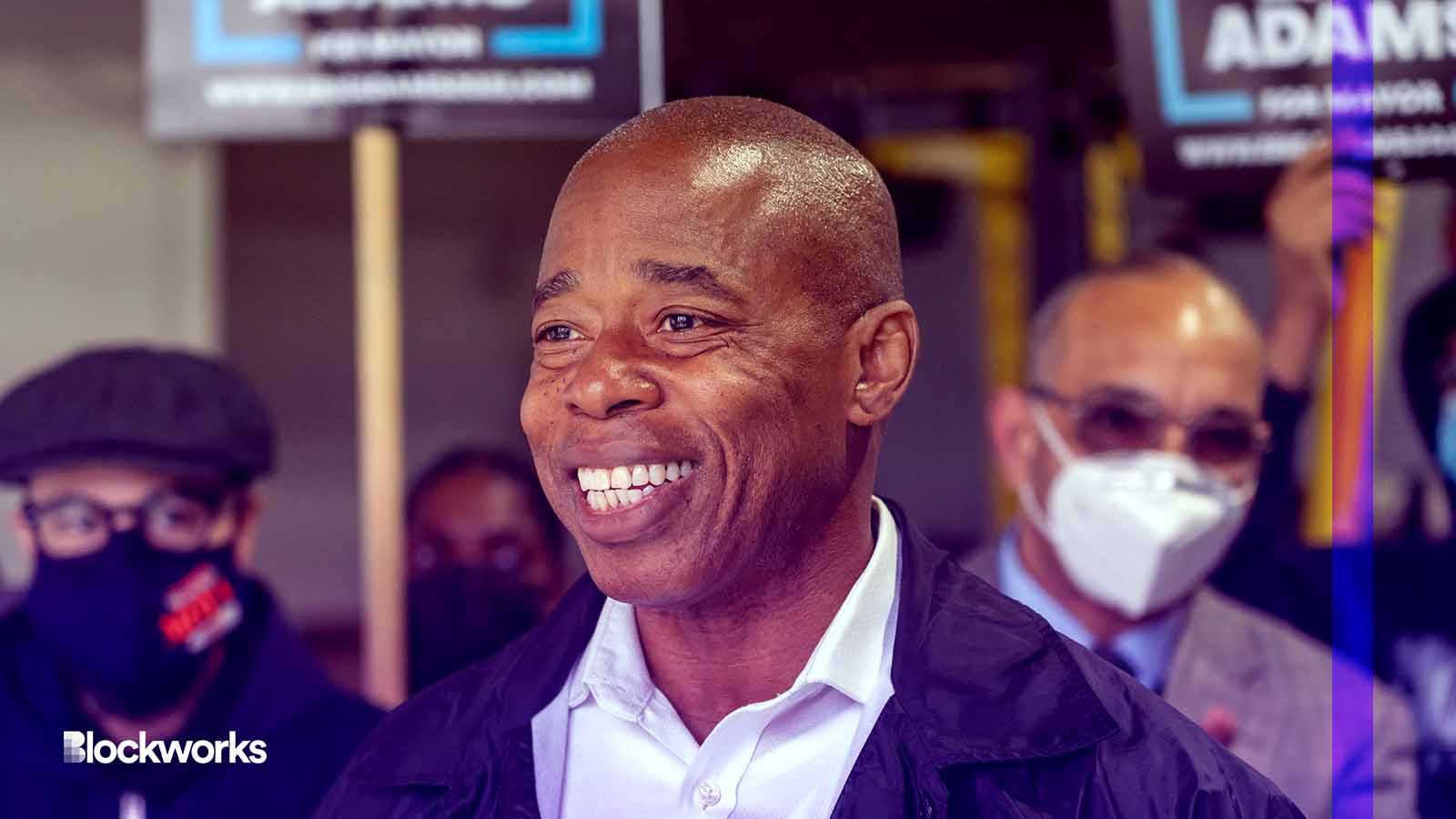 New York City Mayor Eric Adams | Ron Adar/Shutterstock modified by Blockworks
New York City Mayor Eric Adams, who converted paychecks to crypto and angled the city as an industry hotspot, erred on a disclosure because he thought bitcoin wasn't a security, his team said.  
Adams made an error on a mandatory report filed with the city's Conflicts of Interest Board, his team said Thursday. 
In his 2022 financial disclosure report, Adams answered "no" when asked if he held "any security (such as stocks, bonds, ETFs, mutual funds or cryptocurrencies) with a market value of $1,000 or more" at the end of 2022. Asked about the lack of disclosure around his bitcoin (BTC) and ether (ETH) holdings, Adams' team said he would be amending the disclosure. 
Adams' press secretary Fabien Levy told The New York Daily News Thursday Adams failed to report his crypto holdings because he thought only securities were included in the question, not currencies. SEC Chair Gary Gensler has said bitcoin is not a security. 
Read more: The SEC says these crypto assets are securities, but their reasoning is wrong
Adams took office in 2022 and said he would "take" his first three paychecks in bitcoin. In reality, the mayor converted his post-tax pay into crypto on Coinbase, he said. The move was part of the mayor's broader plan to establish the city as a crypto hub. 
"NYC is going to be the center of the cryptocurrency industry and other fast-growing, innovative industries! Just wait!," Adams said on Twitter after winning the election. 
Presidential candidate Miami Mayor Francis Suarez, also known as a crypto proponent, indicated in his year-end 2022 financial disclosures that his crypto holdings were worth around $70,000. Suarez has said that he converts his $130,000 annual salary into crypto via Stripe. 
Democratic presidential candidate Robert F. Kennedy Jr. said he would be accepting campaign donations in bitcoin. Financial disclosures from Kennedy reveal the candidate held between $100,001 and $250,000 of bitcoin through the second quarter.
---
Don't miss the next big story – join our free daily newsletter.