Top 3 Trends We Need for Blockchain Gaming To Succeed
Building better games, providing a smooth onboarding experience, and designing highly stable economies will make blockchain gaming applications more appealing to the broader gaming community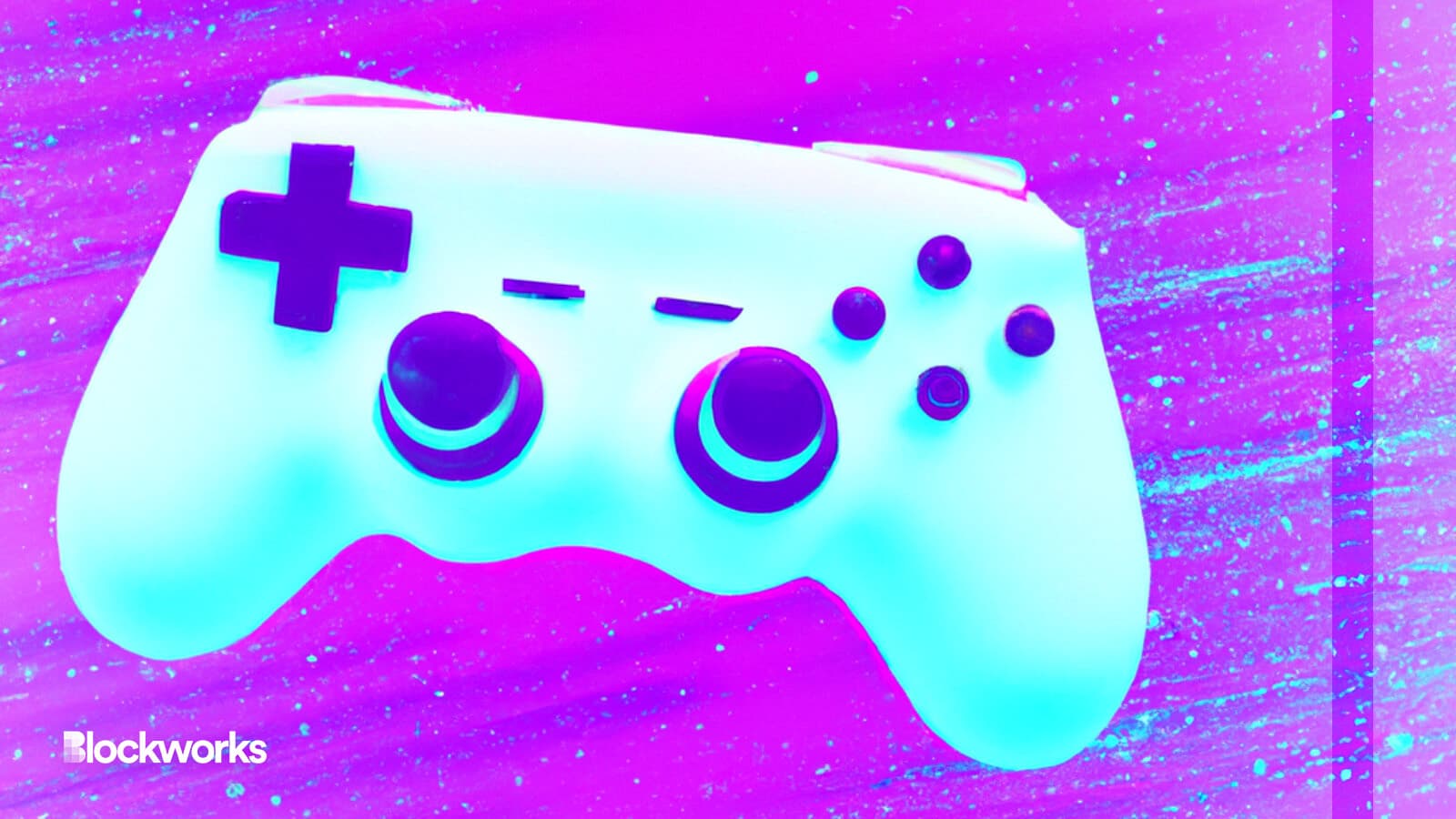 DALL-E modified by Blockworks
Blockchain-based gaming has emerged as one of the most promising use cases for distributed ledger technologies in recent years. The opportunity for gamers to truly own in-game assets and earn passive income from their efforts has attracted millions of players to the space. 
However, blockchain gaming's potential remains relatively untapped compared to the broader gaming industry. Although there are over three billion gamers worldwide, only an estimated two million active users play blockchain-based games. This massive addressable market opportunity suggests that Web3 games still lack several elements required to make them more widely adopted.
Experts at blockchain gaming resource Polemos recommend three new trends that will deliver the missing elements for the blockchain gaming industry to reach its full potential. Building better games, providing a smooth onboarding experience, and designing highly stable economies will make blockchain gaming applications more appealing to the broader gaming community.
Trend 1: Good gameplay 
The "play-to-earn" concept pioneered by the early crop of Web3 games attracted many players and set the tone for the industry to onboard its first million users. However, the heavy focus on financialization through NFTs distracted Web3 games from improving gameplay to the same level as conventional games. 
Eventually, the fallout of several popular Web3 gaming economies, notably including Axie Infinity, revealed that blockchain games must offer more than financial gains to attract new gamers and sustain interest from existing players. Next-gen blockchain games are already addressing this pain point with an increased focus on optimizing gameplay to meet player expectations. The idea is that Web3 games as standalone applications must provide an exciting and immersive experience, with the financialization feature only being an add-on implementation.
Polemos Co-CEO Richard McLaren singles out The Machines Arena – a classic shooter game developed by Directive Games – as a model of how blockchain games can penetrate traditional gaming communities. Although TMA is in a mature development stage,  the game's website focuses on the superior gameplay experience without mentioning its Web3 elements. "All you get is a trace mention of "digital collectibles" on the Epic Games page, where users can join the closed Beta," Richard emphasized.
The arrival of more mainstream-level gaming options with minimal focus on financialization will attract more traditional players to the Web3 gaming scene. Embracing a sleek onboarding process will also make it easier for converts to start playing without the current hiccups faced by new users.
Trend 2: Frictionless onboarding
Gaming integration with blockchains fundamentally creates an onboarding design headache for developers. They must optimize the initial user experience to abstract away the ambiguities of creating a blockchain wallet,  users' unique identity, and issuing tokens for gameplay. The best blockchain gaming applications must provide frictionless onboarding, a trend the industry needs to see more of to attract traditional users.
Blockchain gaming projects are already tackling this pain point by building applications with native wallets (pre-created wallets) for users. This approach ensures users can start engaging with the app without the challenge of setting up a Metamask wallet or connecting to a dapp. For instance, Reddit's integration of Community Points seamlessly created over three million wallets for users through the integration of Reddit Vault, a concept familiar to Web2 audiences.
Illuvium Zero is another popular Web3 game that has opted out of the traditional hallmarks to optimize user onboarding and distribution. Aside from early mobile releases on Android and iOS, Illuvium Zero integrates a free-to-play tier where users enjoy the game without permanent progress connected to the blockchain.
Blockchain gaming developers realize that the current crop of Web3 wallets is explicitly designed for decentralized finance (DeFi) applications. Newer wallets and integrations optimized for onboarding gaming audiences would significantly drive adoption and bring more value to all stakeholders. 
Trend 3: Stable economies
First-gen blockchain gaming applications shipped with the promise of making players rich through play-to-earn mechanics. It is, therefore, unsurprising that gaming platforms grew rather too quickly and suffered an inevitable collapse after gameplay rewards dropped significantly compared to users' investments. Axie Infinity's rapid decline remains the most infamous example, with user count and trading volume continuing to trend lower.
For blockchain gaming to succeed, developers must adopt a new trend of marketing Web3 games beyond its play-to-earn appeal. Moreover, it is vital to strike a balance between rewards paid to players and sustainable revenues. The aforementioned is one of the biggest bottlenecks for Web3 gaming projects, as providing meaningful returns to even a small set of players ultimately takes a toll on the game's economy. Gaming studios, over time, need to prioritize building an economy that can survive for several years while minimally portraying the game as a means for users to earn a living. With less expectation of rewards, a game's economy grows more healthily and remains sustainable.
Another modification that can help blockchain gaming to succeed is eliminating the possibility of new players buying their way to the top of the pyramid by acquiring in-game assets. Similar to most successful traditional franchises, both new and existing need an equal chance to play their way to competitiveness within the gaming pyramid. 
SHRAPNEL, an upcoming AAA extraction first-person shooter (FPS), is one of the latest-gen Web3 games following the trend of balancing its economy to prevent newcomers from buying their way to the top. SHRAPNEL's focus on promoting user-generated content (UGC) and cosmetic items instead of gameplay boosts could allow for a sustainable economy.
A rapid shift from promising users lucrative play-to-earn rewards and focusing on adventurous gameplay could bring immense benefits. For instance, it would make it easier for blockchain-based gaming apps to build long-lasting communities while delivering a robust secondary market for in-game assets. 
Meanwhile, it also presents an opportunity for upcoming blockchain gaming projects to scale up user demand for the underlying application before rolling out transactions. Sweatcoin is one popular gamified project using this approach, building a solid fitness-oriented community before rolling out a native token and finally introducing game assets for users to maximize the experience. 
The future remains promising for blockchain gaming apps
In recent years, the blockchain gaming industry has demonstrated its potential to onboard millions of users to the blockchain space. However, several new trends can accelerate the broad adoption of Web3 gaming apps by traditional gaming audiences. 
Developers must deliver mainstream-level gaming environments, reduce onboarding friction, and find a balance between building sustainable economies and rewarding players. Combining these elements would provide a springboard for blockchain gaming apps to succeed beyond the hype and reach the inevitable destination of mainstream adoption.
This content is sponsored by Polemos.
---
Don't miss the next big story – join our free daily newsletter.