Tuberville bill would block Chinese ownership of US crypto companies
The bill could be slipped into the US Farm Bill up to be renewed in September 2023, Sen. Tommy Tuberville said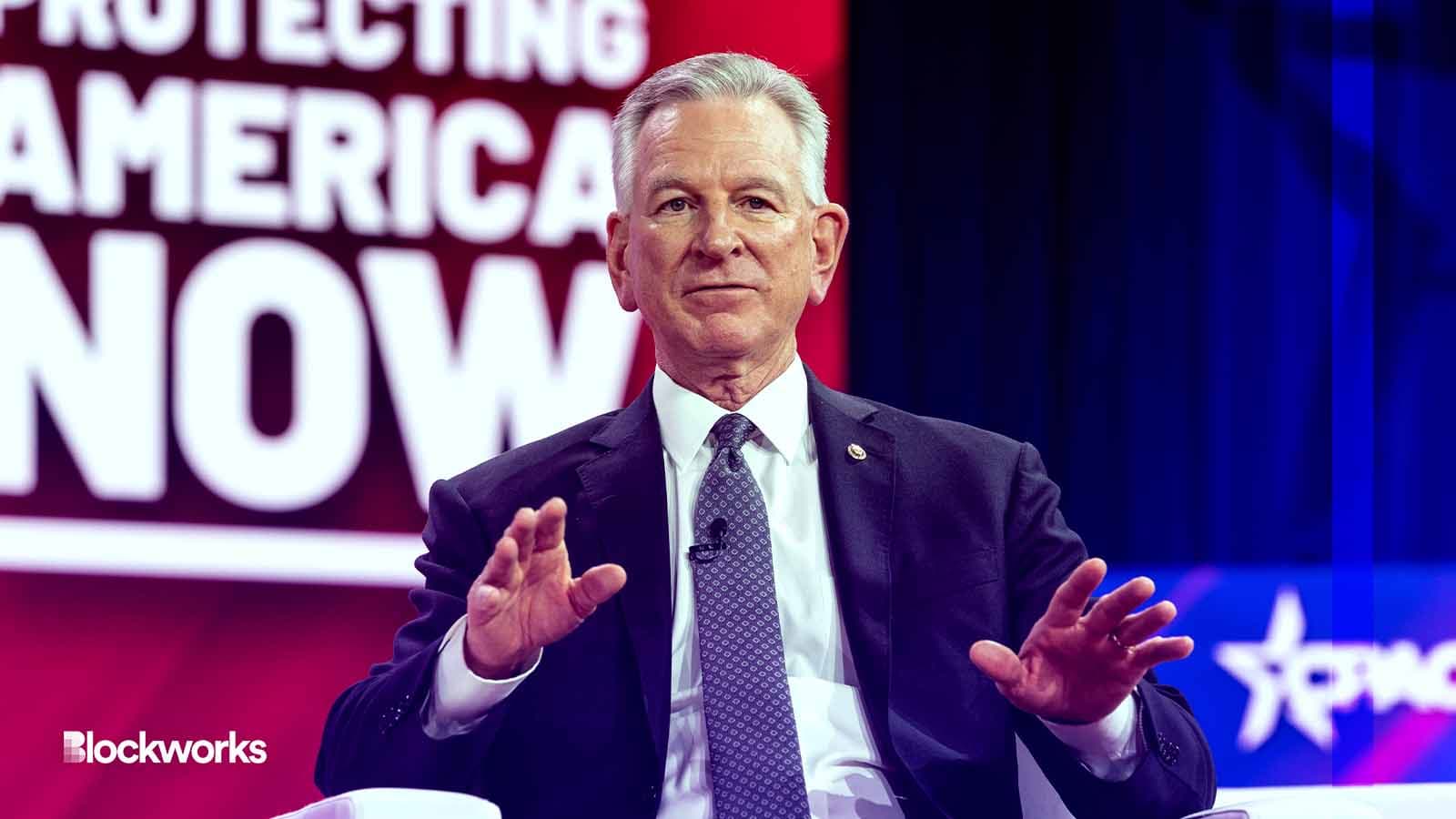 lev radin/Shutterstock modified by Blockworks
Sen. Tommy Tuberville, R-Ala., introduced a bill Wednesday alongside Sen. Kirsten Gillibrand, D-N.Y., that will ban companies established in China from acquiring a stake in American digital asset firms. 
The bill is an attempt to rid the influence of the Chinese Communist Party on American crypto companies, according to Tuberville.
"This bipartisan bill will help to wall off the burgeoning American digital commodity industry from CCP interference and preserve our data privacy and investor protection rights," Tuberville wrote in a statement. 
Serving as an amendment to the Commodity Exchange Act, the bill would prohibit the CFTC from greenlighting any American-based crypto firm that is "owned in whole or in part by an entity organized or established in the [People's Republic of China]." 
Tuberville first made his intentions to introduce this bill known in a Wednesday Wall Street Journal opinion piece, where he added that under the bill, the CFTC would have the power to block sales of crypto firms to Chinese-based companies. 
In it, Tuberville hinted that his crypto bill could be slipped into the US Farm Bill, a massive piece of legislation that expires in September 2023. 
Prometheum Ember Capital is what spurred Tuberville's interest to keep China out of American crypto. Prometheum was granted a license by FINRA on May 23 to operate as a custodian for digital assets. Tuberville cited SEC filings showing that Prometheum is strategic partners with Shanghai Wanxiang Blockchain Inc., which is a spinoff of Wanxiang Group.
Tuberville's smoking gun is that Lu Guanqiu, the founder of Wanxiang Group, was posthumously praised by the CCP in 2021 and named a "National Excellent Communist Party Member." The CCP went on to say in a press release that "Comrade Lu Guanqiu had always listened to the Party and followed the Party."
So far, China hasn't been a huge focus in lawmakers' crypto bills, but Tuberville has shifted that dynamic. Gillibrand hasn't been on the record about her joint effort with Tuberville on this bill, but has teamed up with Republicans before. 
Gillibrand and Sen. Cynthia Lummis, R-Wyo., tried to pass the Responsible Financial Innovation Act last year, a bill focused on regulating digital assets. It hasn't been reintroduced in the new congress yet.
Congress is also beginning to take notice of Web3 and blockchain technology, applications of crypto beyond money and currency.
The House Energy and Commerce Committee Subcommittee on Innovation, Data and Commerce gathered Wednesday to discuss possible use cases for distributed ledger tech. 
One professor talked about blockchain's potential to advance contact tracing systems for Covid-19 and other diseases. Another expert testified on the topic of smart contracts, saying they could help improve regulatory compliance and supply chain management.
Rep. Rick Allen, R-Ga., said his colleagues are making a mistake talking only about the security versus commodity debate.
---
Don't miss the next big story – join our free daily newsletter.