Gone Crypto: Former Banker Gets 'Completely New Education' From Digital Assets
Copper's Glenn Barber said he left traditional finance when crypto took the lead in innovation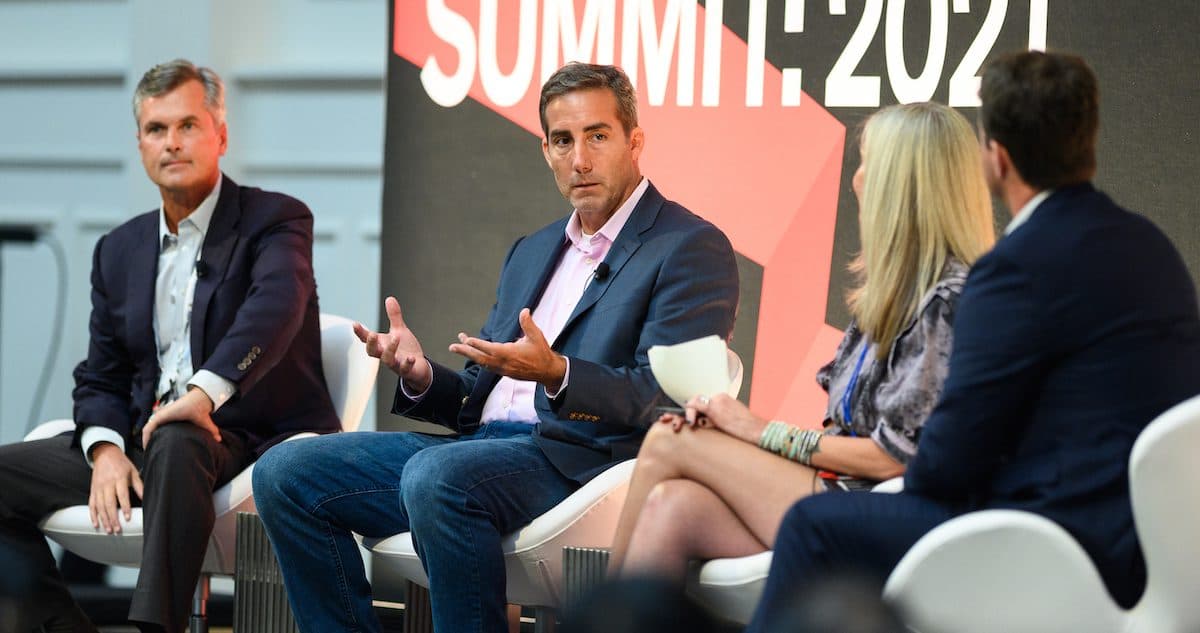 Glenn Barber, Copper.co, (center) at DAS NYC 2021; Photo by Mike Lawrence
key takeaways
Copper's Glenn Barber made the switch from banking to crypto after he said innovation in finance started to stall
Barber worked at Voyager and FalconX prior to joining Copper last fall
Longtime equities trader Glenn Barber made his move into crypto when he sensed innovation slowing in traditional finance. 
Barber, then working for Deutsche Bank, told Blockworks that the feeling he was improving the fortunes of his institutional clients was dwindling. 
"By around 2013, 2014, it just morphed into a situation where you might be excited about your product, you might be excited about your clients, but you're not sure if any of it mattered anymore," Barber said. "I was questioning how any of this was going to materialize in terms of personal satisfaction and intellectual stimulation — that was a crucial turning point for me." 
Now head of sales for the Americas for crypto custodian Copper, Barber said he felt a "turning point" at the time that coincided with the rise of bitcoin. He started to read more about the asset class and became hooked. 
Voyager Digital CEO and co-founder Stephen Ehrlich sensed an opportunity and pushed Barber to make the career move in 2018.
"He was building out the Voyager platform and was getting a lot of unsolicited inquiries from institutions," Barber said. "He didn't have anyone running its institutional business, so he asked me to come on board and be their chief institutional officer." 
The crypto shift stunned Barber's colleagues in the banking world, most of whom did not understand digital assets. Turns out Barber had a lot to learn, as well.
"Being new to crypto at that point, I still had a lot to get my head around at that time," he said. "I looked at it from my own perspective as almost like going back to school and getting a completely new education." 
Barber worked at Lehman Brothers until 2008 and then moved to Barclays before joining Deutsche. 
"I think it's widely known that up until 2008, financial institutions, particularly the investment banks, were really innovators in finance and responsible for generating new and interesting products," Barber said. 
It didn't take Barber long to see the value of digital assets, feeling that the technology would one day change markets worldwide. 
"I was trying to be as forward-thinking as possible, I figured that I might have to grind it out for the next two or three years working for a startup, working in this entrepreneurial situation, this fledgling crypto industry," Barber said. "But I was fairly sure that on a risk-reward basis, if I stuck it out, there was really going to be something at the end of this journey." 
Even now, Barber thinks the industry has a long way to go in terms of institutional infrastructure, but he's optimistic.
"I think that infrastructure, in terms of custody, trading, clearing and settlement, trade analytics, and all the other great stuff that we need in crypto that mirrors the investment management lifecycle in traditional finance, is being built out," Barber said. "We're not quite there yet, but we are significantly ahead of where we were two or three years ago."
Barber stayed at Voyager for eight months before moving to FalconX to head up sales efforts for about two years. He started at Copper in August 2021, where he focuses on institutional investors for the firm's business development team. 
---
Don't miss the next big story – join our free daily newsletter.