California Pilots Blockchain Car Title Management System on Tezos Fork
The Department of Motor Vehicles in California collaborates with Tezos and Oxhead Alpha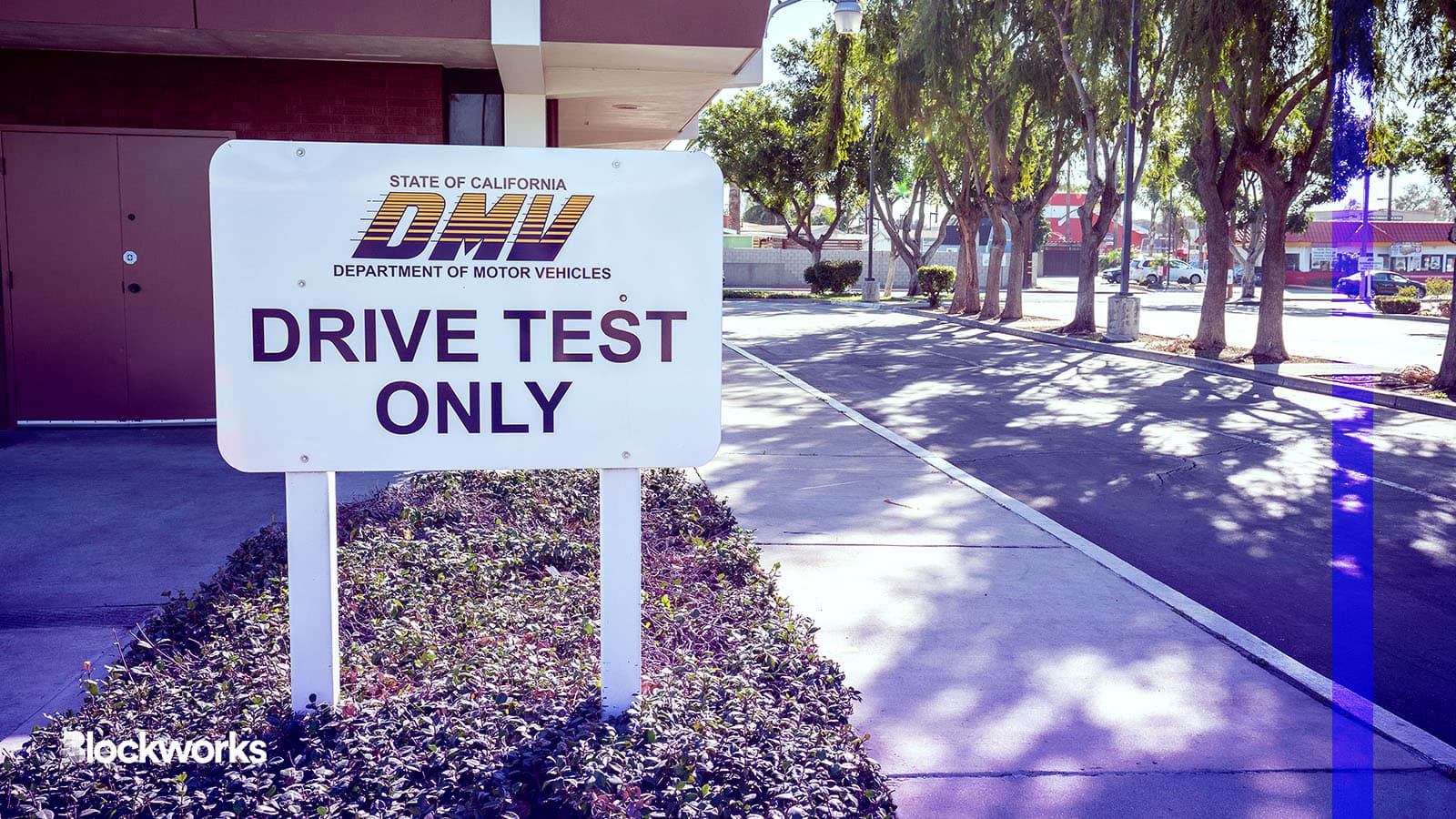 Source: Shutterstock / 7713 Photography, modified by Blockworks
A government agency in the most populous US state, California, is testing blockchain technology using a private fork of Tezos to execute some of its record keeping, including the issuance of car ownership and simplifying transfers of such ownership.
The CA Department of Motor Vehicles (DMV) is expected to develop consumer-facing applications such as digital wallets and car title NFTs later this year, according to Ajay Gupta, the agency's chief digital transformation officer.
The state opted to team up with Tezos and crypto software provider Oxhead Alpha to embrace California's roadmap to explore crypto adoption, according to an Oxhead statement.
Oxhead Alpha has built a set of smart contracts on a version Tezos — but not the public permissionless chain — to test e-titles, enabling the electronic exchange of title information, in a move that could lessen processing time for documentation. California had over 30 million registered vehicles as of 2020.
Gupta told Fortune that he hopes the plans to materialize the title database on blockchain come to fruition in the next three months.
This collaboration comes after California Governor Gavin Newsom last year signed an executive order directing state agencies to discern ways in which they can employ blockchain technology and digital assets. 
The use of blockchain-based projects has evolved in use cases, pushing developers to build out more decentralized applications. Several governments and business entities have been pursuing its adoption in sectors including capital markets, healthcare, insurance and digital identities.
The pilot is the latest example of attempts to find technology solutions that benefit enterprises looking for smoother compliance and efficiency in their business operations. In another instance, a Cleveland-based startup called ChampTitles looking to overhaul the car title and registration systems using blockchain raised nearly $13 million in a Series B round in September.
California has also listed its Department of Food and Agriculture for pioneering a similar project to track food-borne contamination through the collection and organization of data from parties involved like growers and transporters, and proposed moving state archives on a similar ledger.
The DMV-specific project itself is up and running with validator nodes, but is yet to cover broader services like title transfers between states.
This story was updated on Jan. 27, at 9:12 a.m. ET, to clarify that the pilot is not running on public Tezos.
---
Don't miss the next big story – join our free daily newsletter.