Citi Downgrades Coinbase, but What Do Other Analysts Think?
Analyst price targets for the stock vary as Coinbase has looked to combat the SEC and expand globally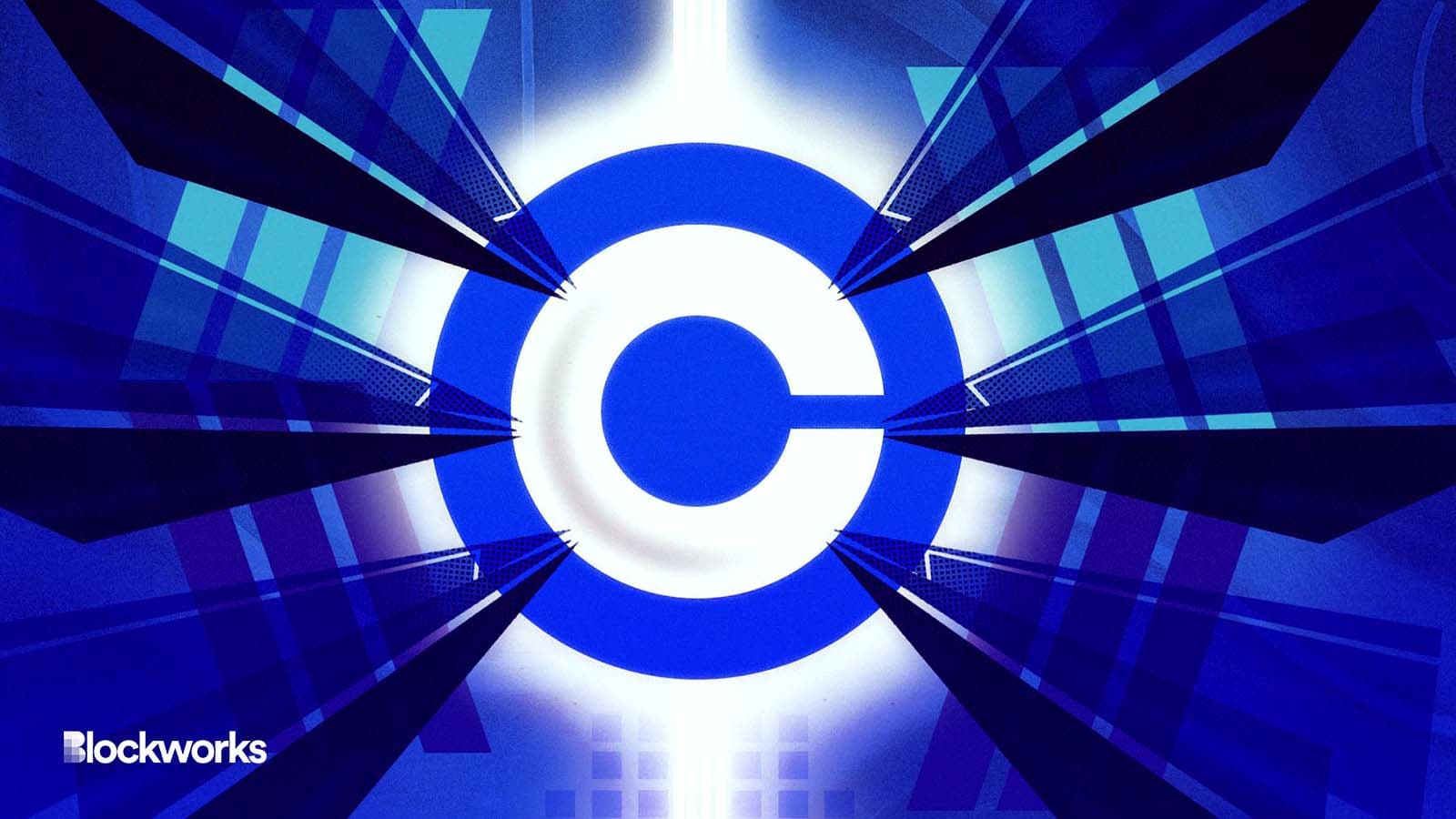 Artwork by Axel Rangel modified by Blockworks
Analysts — and investors — are grappling with how exactly to rate Coinbase and its stock price as regulatory uncertainty around the company and broader crypto industry blends with various potential tailwinds. 
On Monday, Citigroup analyst Peter Christiansen lowered his price target for Coinbase shares from $80 to $65 and downgraded the stock from a buy rating to "hold," various news outlets reported.
The company's stock price was $51.73 at 1 pm ET on Tuesday — up roughly 3% on the day but down nearly 19% in the last month. The stock has risen about 54% year to date as part of a broader crypto rally. 
Despite Citigroup's $65 price target for the stock, Morningstar Analyst Michael Miller said his fair value estimate for Coinbase stands at $80, noting that he considers the shares "undervalued" given the recent sell-off.
"That said, Coinbase has a considerable amount of uncertainty around it, both from cryptocurrency prices and from regulatory issues, so it's a name that needs a wide margin of safety before investors should really be excited," he told Blockworks.
Chase White and Joe Flynn, analysts at Compass Point Research and Management, said in an April 25 research note their price target for Coinbase sits at $100. 
"Given the structural growth story in crypto but weaker trading environment, we see profitability headwinds in the near-term but expect a rebound in 2024 as the macro environment improves and interest rates fall," they wrote.
Regulatory uncertainty priced in?
Coinbase filed a petition in the US Court of Appeals' Third Circuit last week in an effort to get the SEC "to act on Coinbase's pending rulemaking petition to provide clarity for the crypto industry." 
Coinbase Chief Legal Officer Paul Grewal said in a blog post later in the week — in response to a Wells notice it received from the SEC in March — that the company believes it has never listed securities and is set to "vigorously defend ourselves."
"I don't see too many positives for Coinbase unless it results in more clarified cryptocurrency regulations in the US that are not openly hostile to its business, which would likely take quite some time to materialize if it does happen," the Morningstar analyst added. 
White and Flynn said in the April 25 research note they expect the court to rule on Coinbase's request for clarity in the next six to eight weeks. If the exchange gains a favorable ruling, SEC rulemaking on this matter may not come until 2024.  
"In our view, regardless of if [Coinbase] wins this lawsuit, we believe the SEC is likely to take enforcement action against the company sometime in the next few months, likely over the summer," they wrote.
Owen Lau, executive director at Oppenheimer and Co., noted that the SEC has continued its enforcement spree since serving Coinbase with the Wells notice, causing the stock price to sink.  
"Regulatory uncertainty will likely impact the whole industry in the US and Coinbase, but…the stock has likely priced in this uncertainty already," Lau said.
What are the stock's tailwinds?
More crypto bill proposals and related hearings scheduled in the next two months could give Coinbase shares a lift, Lau said.
Coinbase's petition against the SEC could also be "incrementally positive" for the industry and the stock over the longer term, he added.
Marisa Coppel, policy counsel at Blockchain Association, said she is hopeful Coinbase's actions will help the industry gain increased regulatory clarity from the SEC. 
"I also commend Coinbase for going on the offensive and hope that sends a signal to the SEC that their regulation by enforcement agenda must end," Coppel told Blockworks.   
Another tailwind for Coinbase, Lau said, is the company's international expansion. It launched its international exchange in Bermuda Tuesday and has said it seeks to continue expanding its presence in different regions. 
Miller, however, said the benefits of Coinbase's efforts to diversify geographically may only go so far.
"With the majority of its revenue coming from US customers and the intense competition among overseas crypto exchanges, they will not be able to avoid these US regulatory issues in a reasonable timeframe," Miller said. 
Ultimately, Coinbase's financials could play a large role in how the stock is viewed. The company is set to report its first quarter earnings on Thursday. 
Coinbase reported an adjusted earnings before interest, taxes, depreciation and amortization — or EBITDA — loss of $371 million in 2022. If it could post a positive adjusted EBITDA figure, Lau said, the stock price would likely rise.
The Compass Point analysts acknowledged that despite an expected profitability rebound for Coinbase next year, they expect near-term profitability headwinds. 
"We think [Coinbase] should trade below more traditional exchanges/trading platforms due to lower levels of profitability, higher levels of regulatory/competitive risk, and general nascency of the crypto markets," they wrote.
---
Get the day's top crypto news and insights delivered to your email every evening. Subscribe to Blockworks' free newsletter now.
Want alpha sent directly to your inbox? Get degen trade ideas, governance updates, token performance, can't-miss tweets and more from Blockworks Research's Daily Debrief.
Can't wait? Get our news the fastest way possible. Join us on Telegram and follow us on Google News.
---