I'm a crypto journalist, just please don't tell anyone
Ashamed and embarrassed are the wrong words, but I do struggle with a reluctance to tell people what I actually do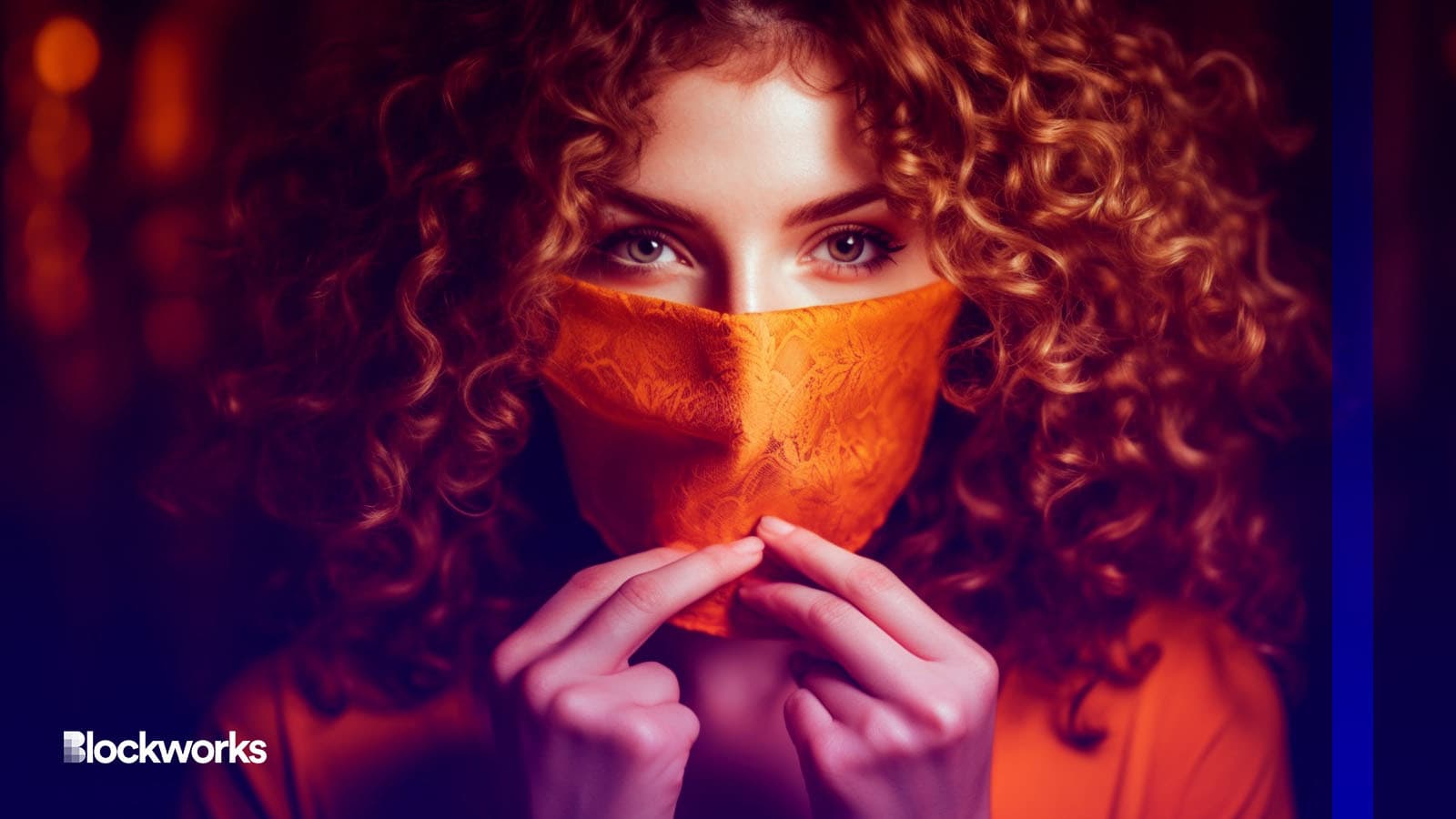 Midjourney modified by Blockworks
I don't care much about tech, I don't care a whole lot about finance, either. I care about writing stories and watching weird things unfold. And that's why I've ended up in crypto.

But because I'm missing that passion for what crypto and blockchain are all about — finance, tech, privacy, yadda yadda — I'm going to write instead about what I am actually interested in. Everything about crypto that has very little to do with crypto.

That's what this column will be about. All the tangential stories that come out of the blockchain and crypto space, what I think about them, and how I navigate it all as a skeptical former Russian literature major.

It's precisely my perch as an outsider that lets me do what I do: Opine on all sides of any crypto issue, no strings attached, no skin in the game.

If you want to talk crypto with me, let's go off topic.
---
Biking home from my yoga studio in Brooklyn, I pass by the same billboard for a dating app every week: "If he invests in crypto, invest in yourself."
In my (current) favorite song of the summer, Lana Del Rey also manages to poke fun at me though my headphones: "You name your babe Lilac Heaven/After your iPhone 11/"Crypto forever," scrеams your stupid boyfriend/ Fuck you, Kevin."
Liking crypto right now makes you a bit of a joke to the Real World.
So what are you…if you actually work in crypto?
I know who I am, and I'm definitely OK with it. At almost 30 years old, I have a job that I truly enjoy in an industry that has been nothing but good to me for the past five years.
But other people don't see that. And it's their reactions, along with a random billboard (and mother Lana Del Rey), that lead me to behave like the main character of a terrible spy movie whenever anyone asks what I do.
Weirdly enough, I'm already used to people thinking that I'm a secret agent. Having lived abroad in Russia for the majority of my adult life (no, I don't live there right now, I'm not crazy), most conversations with new people have already been tortuous — everyone wants to know if I'm in the CIA, or if I've met Putin, or if I've seen a bear. No one is original. No one.
This meant that not only have I spent years evading the truth about what I do, but also trying to disguise where I actually lived.
"Yes, yes, I live abroad. Which country? Oh, one of the ones near the Baltic Sea that ends in the letter A. Have fun guessing. And where do I work? I cover money. No, not Wall Street. Think Lehman Brothers, but decentralized."
And that's usually enough for most people (especially at New York bars or friends' birthday parties where it's either too loud to hear properly or people are just looking for any excuse to talk more about themselves).
But when my question dodging doesn't work, and I'm hit with: Where do you actually live? What's the name of your news outlet? Where can I read your work? 
I do have to tell them. 
Depending on the day and my mood, I then follow up with some light verbal diarrhea and apologize for what I do, pre-admit that all crypto is stupid and yes, also bad for the environment, and make it clear that I must be a capitalist with masochistic tendencies.
The reactions when you tell people that you work in the crypto industry range from 'surprisingly unintelligent' to 'wildly offensive' (regardless of how apologetically you can try to sell yourself and your job). Everyone either thinks I write about bitcoin's price all day (which, to be fair, I have done at past jobs), I'm a shadowy supercoder (even though I never hide my journalism side) or I'm a scammer (not yet).
But my reluctance to tell people what I do for a living actually has very little to do with the fear of being associated with the "bad actors" of the crypto industry. Nor does it have to do with a fatigue engendered by years of explaining what cryptocurrency is to the uninitiated. 
Because, as an aside, since the FTX scandal (plus now Binance and Coinbase with their SEC drama), it's actually been easier to reveal what my actual job is from that standpoint — the news coverage is so widespread and relentless that it has drilled what crypto is into most people's heads. Praise be to SBF for shortening my small talk spiel by a few sentences, I guess.
My hesitance to brand myself to new people as the girl who works in crypto instead comes down to what I see as the nascent crypto industry's misplaced and often cringeworthy bravado.
I've been writing about crypto long enough that I've seen both the good and the bad, and I'm able to discern between overambitious promises to change the world and cautious optimism about a new technology. But the crypto industry is still very new and very small, and it constantly overestimates its own impact — probably because the ethos of most projects in the industry is to literally change the entire world.
If your goal is to bank the unbanked population globally, you tend to act in a certain way that doesn't really match up to the reality of a few coders in a DAO chatting on Discord. And so you're continually setting yourself up to be the punchline for dating ads and pop songs.
What this all means is that the reactions I fear aren't "crypto is a scam," but "crypto is a joke, crypto is temporary." The worst response I ever received to my big job reveal was — "Oh, this will be a great way to get a job next in real journalism."
There's no happy ending to my tale here — I don't yet have an anecdote about that really cool crypto ZK-EVM privacy eyeball scanner account abstraction DeFi yield farming thing that has finally made me able to confidently tell strangers at bars that I work in crypto, dammit, and I won't hide it any more.
But each time I do take the plunge and let people know that I work in cryptocurrency, I am forced to get slightly better at owning my career. And forced to work on not apologizing for liking a job that lets me be creative and write about a weird, emerging industry filled with ridiculous characters making decisions so wacky it seems like they have reality scriptwriters whispering in their ear.
Wait — did I just give an actual, good reason for loving my job in crypto? Does this mean I can put my evasions and apologies behind me?
The alternative is living my life bowing and scraping to those whose beliefs (or ignorance) somehow have the power to make me feel bad about my job  — and that's a terrible alternative, especially when I work at what I consider to be a top notch media outlet, covering news and stories in a fascinating way.
So if you see me out at a bar in New York this summer, talking to strangers while waiting in line for an Aperol spritz, you might hear me talking about my cool job as an opinion editor at an emerging crypto publication, a job that I took right after I moved back to the US from Russia to escape the bears.
Or you might hear me putting on a fake Finnish accent and talking about my long career in Scandinavian interior design. 
But no matter what you overhear, if you read this op-ed, you'll know the truth. I'm a financial crypto journalist, and I love what I do.
---
---
Don't miss the next big story – join our free daily newsletter.