You aren't thinking hard enough about digital art
By dismissing something you don't understand, you deprive yourself of the opportunity to appreciate a movement before it is widely embraced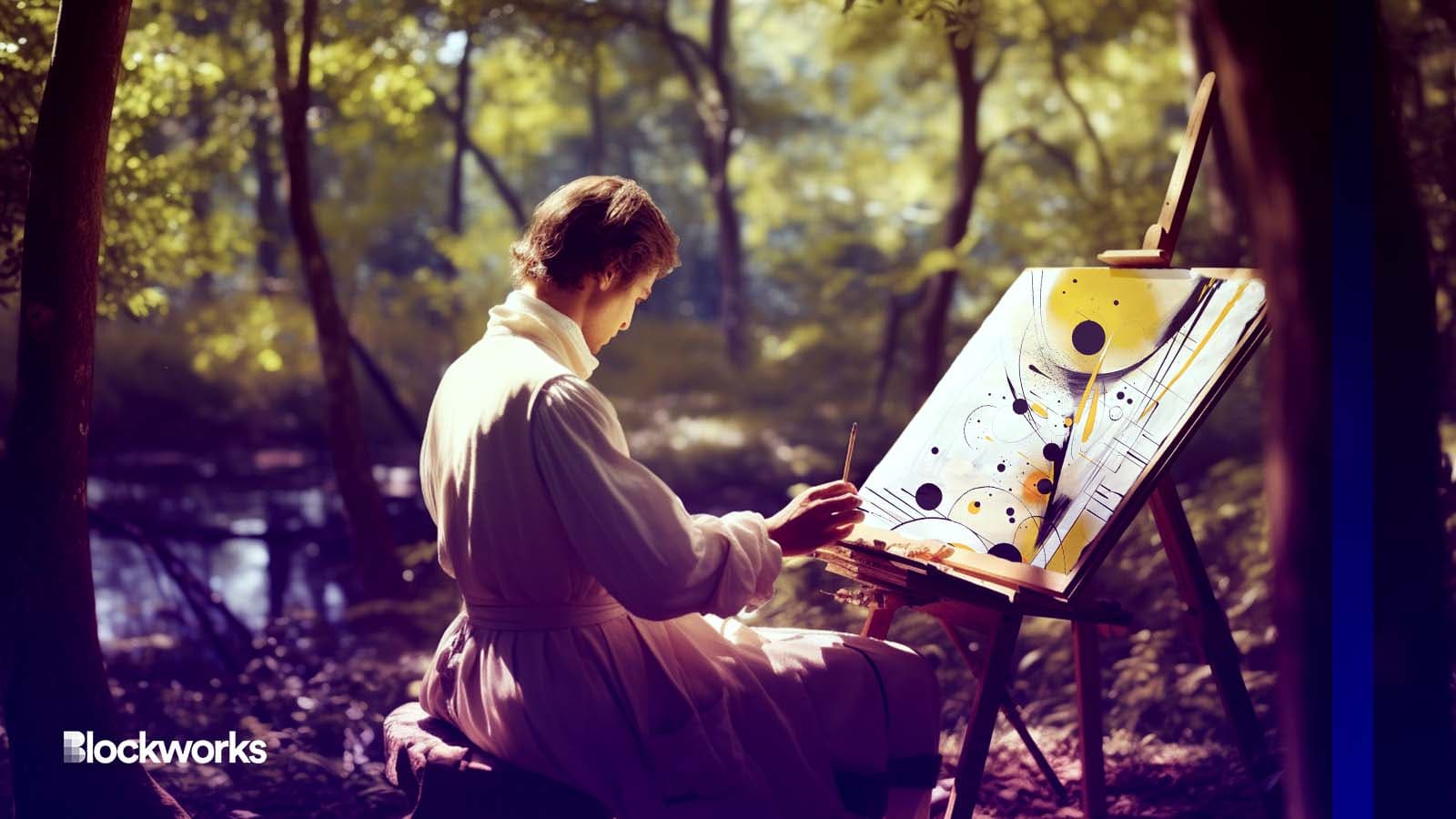 Midjourney modified by Blockworks
If you think it's absurd that an algorithmically generated rendering of code called Ringers #879 (aka The Goose) just sold for $6.2 million at a Sotheby's auction, you're not alone. But you should take a closer look. 
At first glance, there's nothing groundbreaking about it. For as long as the acquisition of fine art and rare objects has been sought after by affluent collectors willing to pay millions of dollars, auction houses like Sotheby's have brokered the deal. But Ringers #879 is a curious case, even when considering Sotheby's 280 years of professional experience.
It represents a novel form of creativity made possible by the technological advancements of our current age, and it is posing a divisive new question to modern enthusiasts of contemporary art: Can value be ascribed, and ownership conferred, to something that does not exist in the physical realm at all? 
Simple explanations are unequipped to justify how any piece of abstract art can soar to such a ridiculous value. But there are theories about The Goose, and they have the tendency to make your eyes roll. Like how the piece is a commentary on probabilistic outcomes, or the beauty laid hidden in factorial math; how it captures something elegant materializing out of chaos; or how it will endure in public consciousness as a pioneer symbol of a movement that once wasn't embraced.  
Maybe The Goose does symbolize the arrival of something new. Or maybe it's all avant garde bullshit. I'd be lying if I told you that I had any idea. 
But it's lazy to dismiss any new movement as irrelevant solely because it's difficult for you to comprehend.
What, then, is this immaterial Goose, and why did it sell for the price of a West Village Townhouse?
The Goose is a static digital rendering of automated code programmed by a 35-year-old engineer named Dmitri Cherniak. Cherniak studied physiology and computer science at McGill University, and he graduated without ever taking an art credit. He was interested in questions of probability, intrigued by the visual depictions a computer might produce if given specific mathematical and aesthetic constraints. When he started automating his own algorithms and selling the outcomes on open NFT marketplaces, it didn't take long for collectors to start paying attention. 
In early 2018, after experiencing modest success, Cherniak began to tinker with a javascript algorithm that would be able to depict the many outcomes possible if a single line of string were to wrap, plausibly, around a non-intersecting configuration of circles. To automate the range of possible variations, he manually encoded a palette of mid-century colors, and a set of geometric parameters, as he explains in an interview far better than I can: 
Visually when you see [the outcome image] it's rather intuitive and you might be able to draw a few instances by hand, which is something I often do. From a code and numerical perspective, it's much more complicated to get right. You need to sample positions from the grid, sort them in a way such that the lines don't intersect, calculate the set of lines that are tangent between each peg/circle based on position and radius, then you need to calculate the arc curves around each peg taking note of which way around the peg the path would need to follow and compensating for that. It involves a bit of geometry, a bit of problem solving, and a number of steps that individually don't feel intuitive compared to the visual system at all. 
Shortly thereafter, he announced the Ringers project, agreeing to publicly "mint" 1,000 randomly generated outcomes of his algorithm for purchase as NFTs on the Ethereum blockchain. Cherniak set the Ringers mint price at 0.1 Ethereum, roughly $140 at the time, and released the project to eager collectors on Jan. 31, 2021. The tokens sold out immediately.
When a generative art collection is first minted, neither the artist nor the collector has any idea what the individual tokens will contain. "It is an act of faith," said the newly authenticated owner of The Goose, pseudonymous fine art collector Punk 6529, after his winning Sotheby's bid on June 15. When the Ringers art was finally revealed by Cherniak, collectors knew they had scored something special.
The images were strangely familiar abstractions, and dreamlike. Each sufficiently independent yet undeniably coherent to the rest in the collection, not unlike the patterns in snowflakes and butterfly wings. 
One came out different though — Number 879. It had an arresting sense of balance and uncanny avian shapes, like the head of a pelican, or a goose's beak. And there was nothing else like it in the thousand-piece collection. 
There are three things, according to Punk 6529,  that one should consider when attempting to discern the value of a single piece of automated digital art. The first is aesthetic, meaning how does it actually look? Is there anything about it that compels you? The second is the piece's rarity, meaning of all the possibilities the artist encoded, does it contain a specific combination of traits that defy extraordinary odds. The last factor, though, is the most important. It's what will cause a piece to become mimetic and travel through culture. Emergence. Meaning the algorithm has produced an effect that nobody could have possibly expected. 
In this provenant moment for digital art, it is impossible to know whether lasting cultural value can be found within an automated string of code. Time alone will make that call. But in the interim, we will continue to ridicule the new things that confound us, and talk about them in headlines with condescending tones; and we will continue to choose what is already obvious, until it's not so obvious anymore. 
Art, meanwhile, will continue to evolve and march on as it always has, leaving its trace on time and culture, indifferent to whether you can see value in it or not. 
Just ask Louis Leroy. 
In April 1874, the now-infamous 17th century art critic was on assignment for a prominent journal called Le Charivari in Paris, France. He was tasked with reviewing an art exhibit called Salon des Refusés ("Salon of the Refused"), which had on display a collection of paintings outright rejected by every mainstream arthouse in Western Europe. The pieces were painted with loose and unblended brush strokes, a style new to their day, and displayed vaguely discernible portraits of ordinary life. 
One canvas depicted the silhouette of a lowly fisherman in early dawn, pausing for a moment to gaze at a sunrise. It prompted Leroy, who I'd like to imagine had a wry and pretentious smile draped across his face, to make a career-defining mistake: "A preliminary drawing for a wallpaper pattern is more finished than this seascape," he'd report for the journal, joining a chorus of modern day critics bewildered by what they were looking at. Three years later, the painting would go on to sell for 210 francs, roughly $230 dollars by modern day comparisons. 
Fortunately, the artist behind Impression: Soleil Levant, a 32-year-old outdoorsman named Claude Monet, was unbothered by the criticism. "Those poor blind people," he would later remark to his friend (fellow wallpaper-maker Pierre Auguste Renoire), "they want to see everything so clearly in the fog."
---
---
Don't miss the next big story – join our free daily newsletter.