EU Parliament Passes MiCA by 13:1 Margin
European members of parliament overwhelmingly voted in support with 517 for and 38 against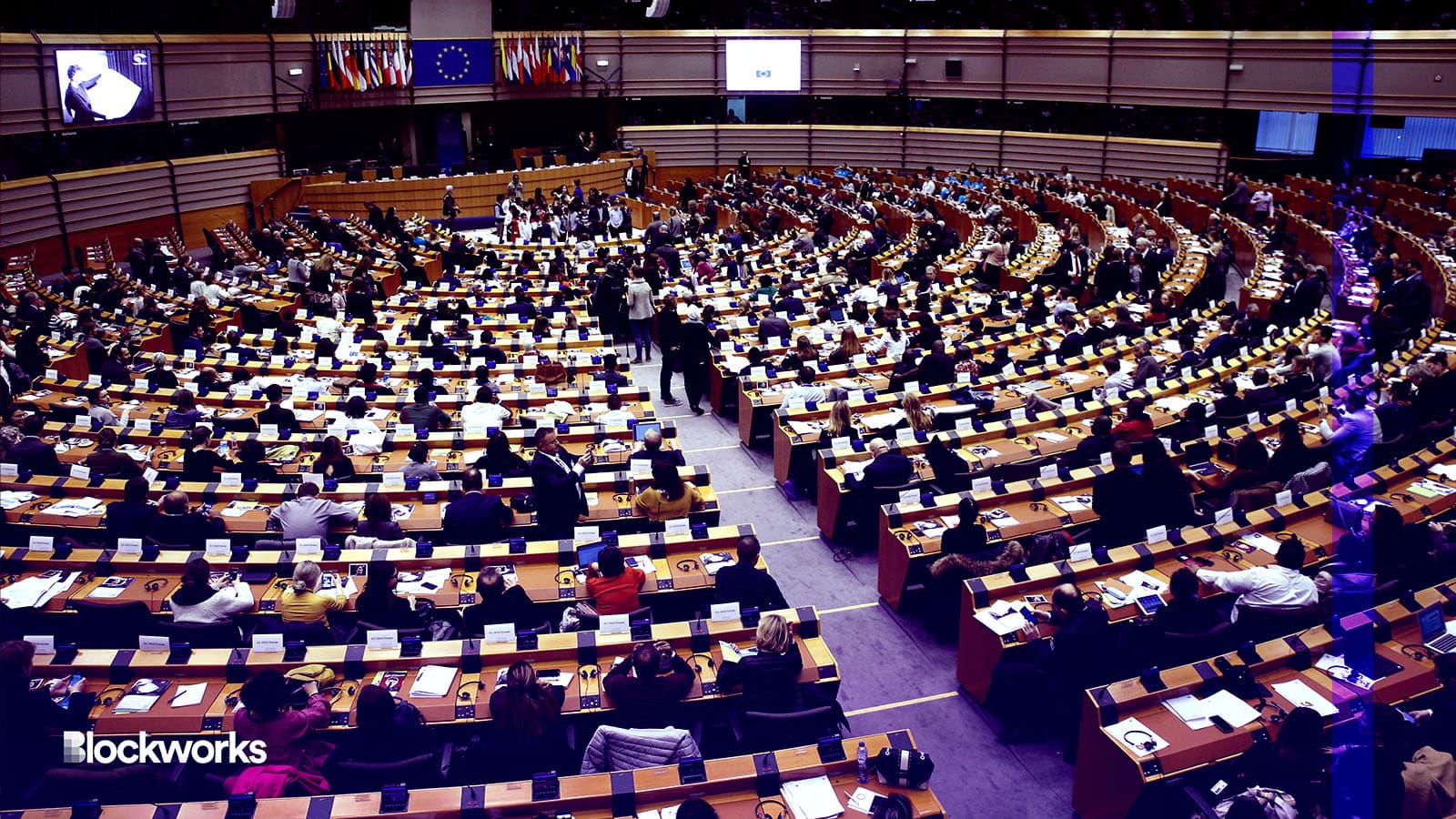 Source: Shutterstock / Alexandros Michailidis, modified by Blockworks.
The European Union voted in favor of the Markets in Crypto Assets or MiCA regulation on Thursday, April 20. 
The vote passed with 517 for and 38 against. 
There will be a formal Council vote that will finalize the regulation on May 16. 
MiCA requires crypto companies to register in one of the EU's member states. The European Securities and Markets Authority as well as the European Banking Authority will oversee compliance of crypto firms. 
"My support for these rules is based on the fact that this legislation brings transparency, protects consumers and aids financial stability. I have zero interest in creating a market or in fostering the use of crytpo-assets as the Commission has stated it wishes to do," said Chris MacManus, member of the European Parliament. 
Under the rules, crypto firms will also be required to disclose the environmental impact of crypto assets to customers.
"Overall, we are putting safeguards in place that would prevent companies active on the EU market from engaging in some of the practices that led certain crypto-asset operators to collapse in recent months.," Mairead McGuinness, commissioner for financial services, said ahead of the vote.  
The bill had previously been delayed after European lawmakers reached a preliminary 28-1 member vote in the European Parliament Committee on Economic and Monetary Affairs. 
After the outcome of the vote was made public, Changpeng Zhao, CEO of Binance, tweeted, "The fine details will matter, but overall we think this is a pragmatic solution to the challenges we collectively face. There are now clear rules of the game for crypto exchanges to operate in the EU. We're ready to make adjustments to our business over the next 12-18 months to be in a position of full compliance."
Policy members in EU member states will need to maintain consistent implementation to provide companies with regulatory clarity, Andrew Whitworth, EMEA policy director at Ripple, told Blockworks via email.

"As part of this, there is a need to ensure that the legislation is applied proportionally with regards to how different companies' crypto offerings are treated, based on the risk profiles of their activities," Whitworth said.
Updated April 20 at 10:01 am ET with additional detail.
---
Don't miss the next big story – join our free daily newsletter.