Google Cloud eyes more involvement in fast-evolving Web3 segment
Google Cloud is working with financial services and gaming businesses on how Web3 can transform their operations and revenue streams, executive tells Blockworks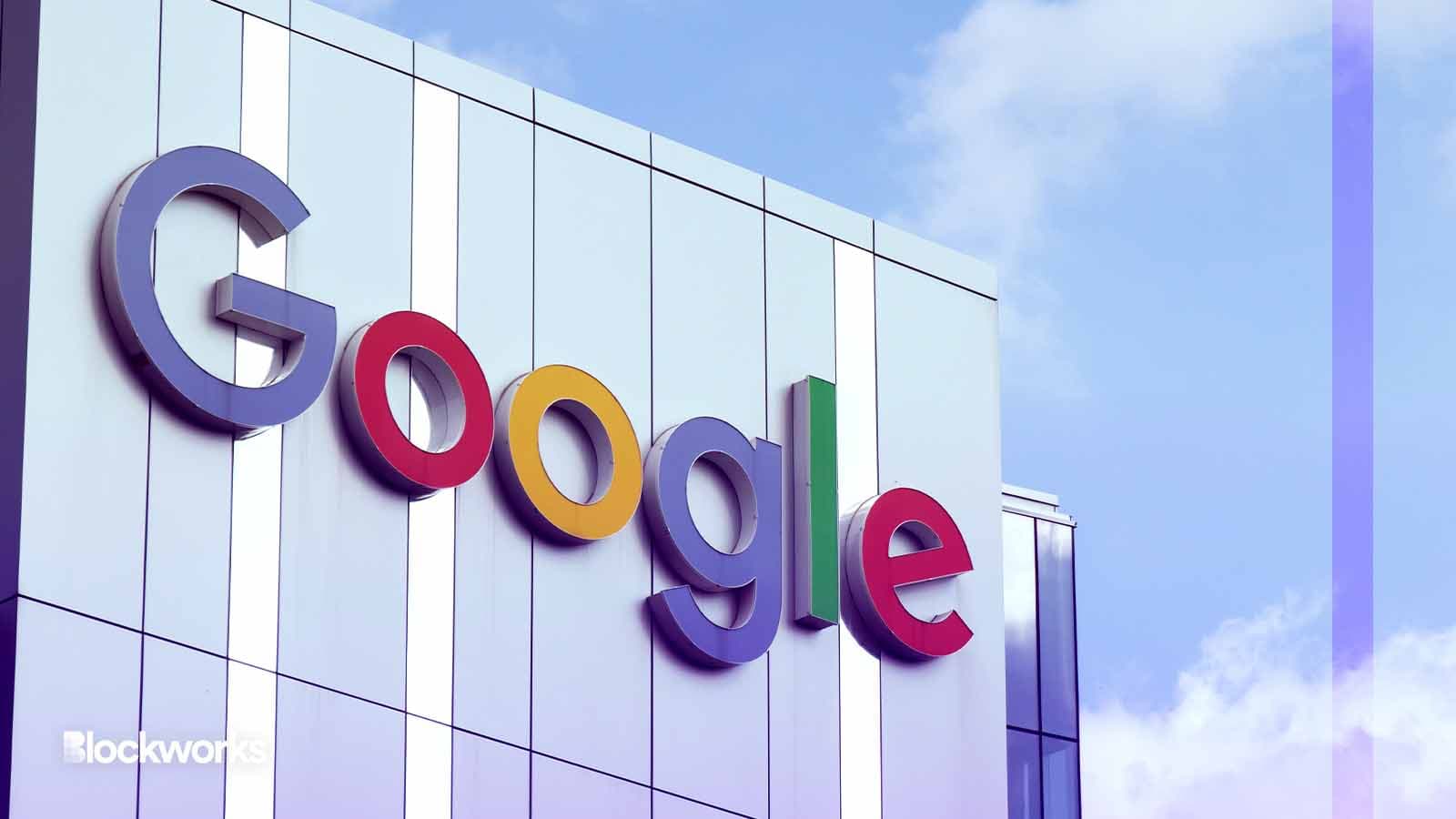 The Bold Bureau/Shutterstock modified by Blockworks
Google Cloud is plotting more Web3-focused products to make its computing offerings the first choice for industry firms and developers. This follows the recent introduction of a startup program aimed at supporting players within the Web3 segment.
The tech goliath's cloud computing services unit will continue to build services in the same vein as its Blockchain Node Engine, Google Cloud Web3 head James Tromans told Blockworks. Helping customers "become transformational players in the Web3 ecosystem" is now a core part of the business's mission, he added.
The executive did not detail any specific initiatives that might be in development. 
Tromans said Google Cloud will also continue to offer on-chain datasets such as Ethereum on BigQuery, Google's "serverless data warehouse."
"With these fundamental capabilities, our startups move faster, focusing on their differentiated value propositions and avoid rebuilding foundational capabilities that are not unique to their business," Tromans said in an email.
Google Cloud is working with players focused on financial services and gaming to explore how Web3 technologies can streamline their operations, as well as unlock alternative business models and revenue streams.
It is also focusing on artificial intelligence (AI) — an area some crypto companies are high on. Still, others say the jury is still out on the technology's potential use cases within their business.
"We fundamentally believe that AI is key to solving business and technology challenges so we're exploring use cases where AI and large language models can be uniquely applied in the Web3 space," Tromans said.
Tech giant's warming up to crypto, Web3 
Google created a division focused on "blockchain and other next-gen distributed computing and data storage technologies," Bloomberg reported in January 2022.
The company's cloud unit launched its Blockchain Node Engine in October "to help Web3 developers build and deploy new products on blockchain-based platforms." Ethereum was the first blockchain supported by the engine, though Solana was set to follow, Google said at the time.
In April, Google Cloud launched a Web3 startup program to assist companies in building faster and more secure Web3 applications. The program lets startups build on Google's serverless platform for free, in addition to receiving benefits like $200,000 in Google Cloud credits and access to technical support.
Through the program, Aptos, Celo, Flow, HBAR Foundation, Near and the Solana Foundation were each set to offer $1 million worth of grants to accelerate Web3 startup growth.
A Google Cloud spokesperson declined to comment on which startups it has so far supported through the program, or how many. 
But Web3 company Cosmic Wire, which focuses on interoperable blockchain technology, was selected for Google Cloud's program, the firm said in a Wednesday news release. Solana Foundation and Polygon led a $30 million seed round in the firm — though this was an equity investment, not a grant. 
Alireza Ghods, CEO of DePIN device developer Natix, said Google's warming up to crypto has not gone unnoticed by Web3 founders like him. 
Ghods added that Natix — a Germany-based company building a privacy-focused computer vision platform for smartphones — hopes Google will select it for the company's Web3 startup program.
The Natix executive pointed to Google Play easing restrictions for blockchain apps earlier this month as a sign the tech giant is waking up to more possibilities for its role in the space.
"With over 3 billion Android users, it would be much smarter to allow Web3 projects to use Google Play as a platform and charge them a certain fee rather than blocking them," he said. "I believe crypto becoming more and more mainstream and regulated also helped their decision."
The Web3 startup program and the blockchain app policy changes come after Solana Mobile introduced its first Android device, called the Saga, in April.
"A few initiatives like Solana Mobile which aim to create a 100% open and democratized app publishing ecosystem for Android also could have contributed to Google's decision to have an open arm for web3 projects," Ghods added.
---
Don't miss the next big story – join our free daily newsletter.