Is Congress's Infrastructure Deal a Threat to the US Crypto Industry?
Portion of bill outlines "impossible-to-fulfill" reporting requirements, blockchain associations say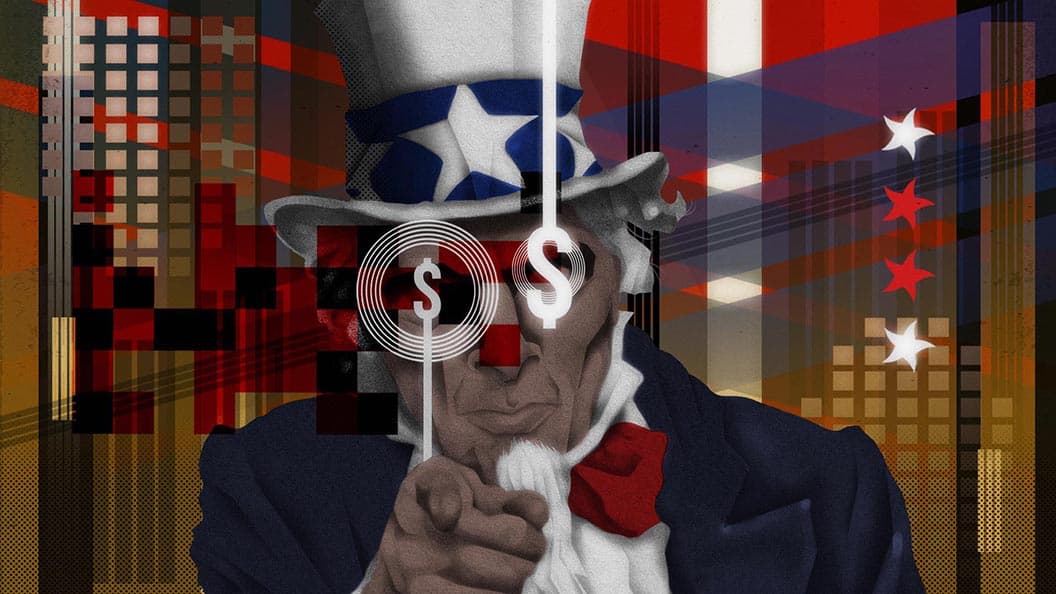 Blockworks exclusive art by axel rangel
key takeaways
$1.2 trillion infrastructure deal is financed in part through stronger tax enforcement around cryptocurrencies
Senator Pat Toomey released a statement Monday saying he planned to offer an amendment to fix what he called "unworkable" text in the provision
A portion of the $1.2 trillion infrastructure deal currently being considered by members of Congress "poses an imminent threat" to the US crypto industry, according to a dozen blockchain associations.
The deal, which includes $550 billion of investment in US infrastructure, is financed in part through strengthening tax enforcement around cryptocurrencies, according to a White House fact sheet.
The federal government could raise $28 billion in the next 10 years through these taxes on crypto, the New York Times reported, according to an estimate by the Joint Committee on Taxation.
But a provision of the bill called "Enhancement of Information Reporting for Brokers and Digital Assets," which offers guidance for traditional cryptocurrency exchanges to report to the IRS, puts new reporting requirements on individual players in the industry who have no way to comply, blockchain association leaders wrote in an open letter to Congress on Friday.
"These individuals will be faced with impossible-to-fulfill reporting requirements that could thwart critical investments in our economy and communities within our states," the letter states. "Smaller tech companies will inevitably begin to move overseas in order to avoid these unfeasible reporting requirements and continue operating."
The portion of the bill could be interpreted to apply to people who don't have access to the information required to be reported, Kristin Smith, executive director of the Blockchain Association, explained in a statement. 
Senate Finance Chair Ron Wyden also shared concerns in several Twitter posts on Sunday, noting that the provision to the infrastructure bill is "an attempt to apply brick and mortar rules to the internet" and does not understand how the technology works.
"This seems very rushed, and that hurried implementation could lead to unintended consequences," Nick Du Cros, head of UK compliance and regulatory affairs at CoinShares, told Blockworks in an email. "Also, based on precedent from other countries, it is likely that some companies may respond to the legislation by simply moving all or part of their operations abroad."
A spokesperson for Republican Sen. Rob Portman, one of the main authors of the infrastructure bill, has told media outlets that the legislative language does not force non-brokers, such as software developers and crypto miners, to comply with IRS reporting obligations.
Rather, the representative said, it clarifies that any person or entity acting as a broker by facilitating trades for clients and receiving cash must comply with standard information reporting.
The New York Times reported Monday morning that lawmakers revised the bill to further clarify the definition of a broker by removing language involving decentralized exchanges or peer-to-peer marketplaces. It instead characterizes brokers as anyone "responsible for regularly providing any service effectuating transfers of digital assets on behalf of another person."
"Yes there were concessions but the latest language can still be interpreted by [the] Treasury to cover miners, lightning nodes, and the like," Jerry Brito, executive director of Coin Center, said in a Twitter post. "If that's not Congress's intent, there are easy fixes they can adopt. There's still time."
Jake Chervinsky, general counsel of Compound Labs, also took to Twitter on Monday to say the crypto provision was moving in the right direction, but that he still had concerns.
"We may reach a point today (or later this week) where our fate rests in the hands of a few Senators," he wrote, "[and] we need to light up their phones with 1,000s of calls in support."
US Senate Banking Committee Ranking Member Pat Toomey, a Republican from Pennsylvania, released a statement Monday saying he planned to offer an amendment to fix what he called "unworkable" text in the provision.
"Congress should not rush forward with this hastily-designed tax reporting regime for cryptocurrency, especially without a full understanding of the consequences," he said. "By including an overly broad definition of broker, the current provision sweeps in non-financial intermediaries like miners, network validators, and other service providers."
Though Majority Leader Chuck Schumer aims to get the bill through the chamber before the Senate leaves for a month-long recess on Aug. 9, the legislation would have to go through the House of Representatives, whose members don't return from their break until Sept. 20.
"As this bill continues to move through the Senate, we urge senators to clarify that the language doesn't capture non-custodial entities in the digital asset ecosystem," Smith said. "We look forward to continuing this dialogue and sincerely thank Senate offices for their engagement and attention to this issue so far."
Want more investor-focused content on digital assets? Join us September 13th and 14th for the Digital Asset Summit (DAS) in NYC. Use code ARTICLE for $75 off your ticket. Buy it now.