Lawsuit Against Grayscale Likely To Drag On, Attorney Says
The firm's GBTC reached a record discount of 47% on Wednesday as Fir Tree Capital Management seeks details into the trust's operations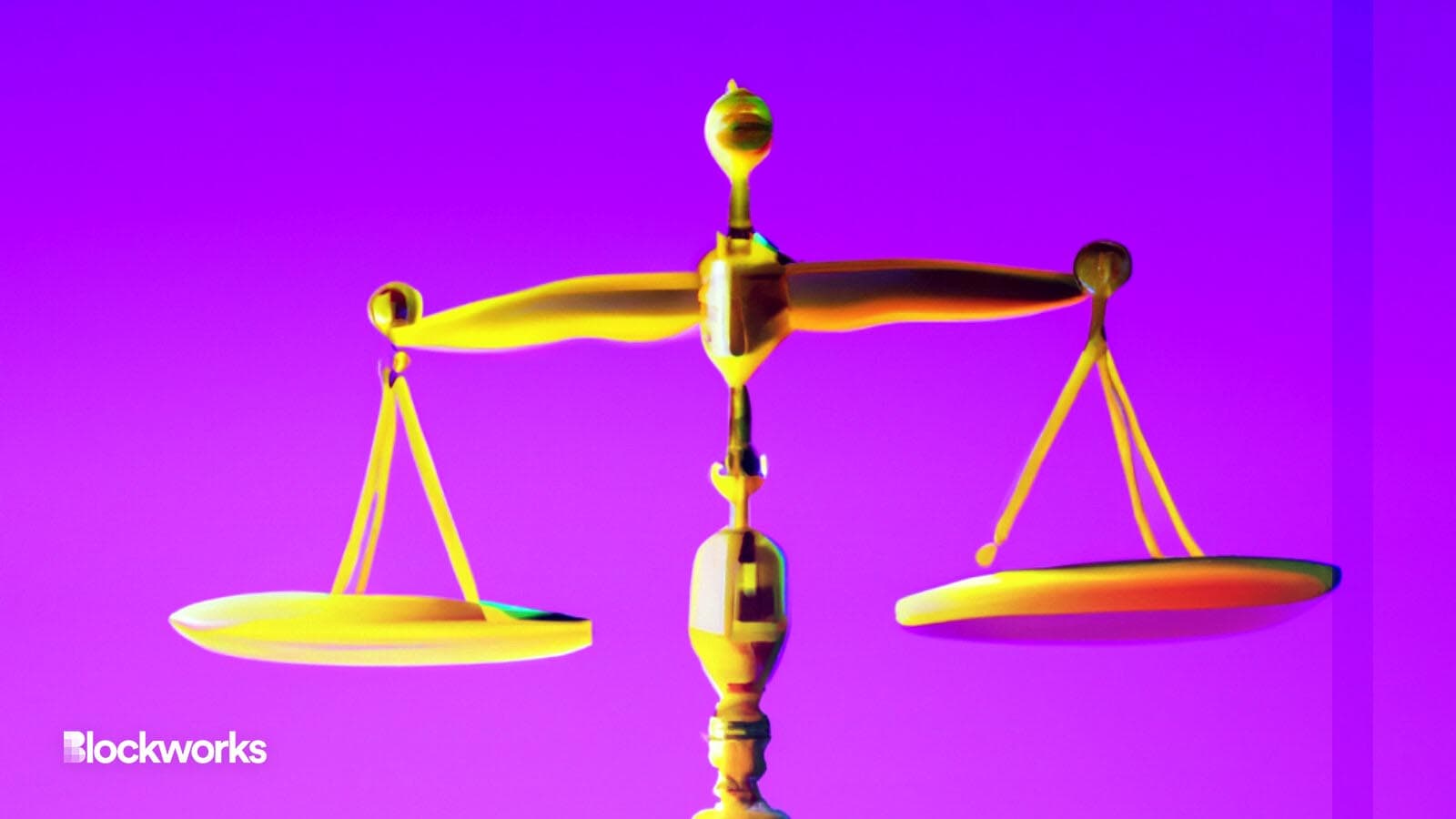 DALL-E modified by Blockworks
A lawsuit against Grayscale to explore potential "mismanagement" of its Bitcoin Trust (GBTC) is likely to give more insight into the trust's inner workings, but could drag on, one attorney predicts. 
The complaint, filed by Fir Tree Capital Management in Delaware's Court of Chancery Tuesday on behalf of its private funds and shareholders, came a day before GBTC began trading at a record discount to its net asset value. 
"Plaintiffs have serious questions about Grayscale's mismanagement of the Trust and the troubling reports about liquidity issues within Digital Currency Group and its corporate affiliates, which have been exacerbated by a recent raft of bankruptcy filings in the digital assets market," the complaint states.
Digital Currency Group is the parent company of Grayscale and Genesis Global Trading.
"We respect the views of our shareholders, and appreciate engaging directly with them on the details of our product structures and operating model," a Grayscale spokesperson said.
A spokesperson for Fir Tree Capital Management did not comment beyond the complaint.  
Brian Newman, an attorney at law firm Dykema, told Blockworks that while there's no question Fir Tree has a right to certain information, the key question is going to be how much. 
"Generally speaking, these types of cases result in the disclosure of much more information than most trusts would like," he said.
A main piece of information that Fir Tree is likely seeking is the exact relationship between Digital Currency and affiliates Grayscale and Genesis.  
The potential interdependence between these companies is "especially troubling" after the collapse of crypto exchange FTX and hedge fund Three Arrows Capital, according to the complaint.
The lending division of Genesis halted customer redemptions and new loan originations in the aftermath of FTX's collapse.
"It really comes down to a fiduciary duty issue," Newman said. "You buy shares in a trust and you are basically handing over control to the trustee to manage your investment, but at the same time, the trustee has an obligation to manage your investment with reasonable business judgment and provide a reasonable amount of information."
Likely a long process
Grayscale lawyers are likely to try to delay the suit, Newman said — particularly as it moves forward with its own lawsuit against the SEC to overturn the regulator's decision to deny GBTC's conversion to an ETF. 
It may take between eight months and a year before this suit could go to trial before a Delaware Chancery Court judge, he said.
"The last thing [Grayscale] wants is anything throwing a wrench into their efforts to convert GBTC to an exchange-traded fund," Newman said.
The complaint calls Grayscale's attempt to convert GBTC to an ETF "wasteful."
"That strategy will likely cost years of litigation, millions of dollars in legal fees, countless hours of lost management time, and goodwill with regulators," the complaint states. "All the while, Grayscale will continue to collect fees from the Trust's dwindling assets."
Founded in 2013, GBTC has $10.6 billion in assets under management and charges a 2% annual fee. 
A Grayscale spokesperson said the firm remains committed to converting GBTC to an ETF, adding that it believes an ETF is the best long-term product structure for the trust.  
Redemptions not allowed as GBTC discount widens
Grayscale amended the trust's agreement in 2018 to prohibit it from operating a redemption program for GBTC shares "unless otherwise determined by the sponsor," according to the complaint. 
"In the absence of any legal prohibition that would restrict the Trust from accommodating redemptions, Grayscale appears to be maintaining this untenable status quo to enrich itself, its management, and its affiliates," according to the complaint.
A Grayscale spokesperson declined to comment on the firm's decision to stop redemptions and if it would consider lifting it.
GBTC's discount to net asset value reached a record high of roughly 47.3% on Wednesday, according to YCharts.com — up from 43.6% on Tuesday. 
"The fact that Grayscale's Bitcoin Trust is now trading at nearly 50% discount is just awful for holders of GBTC," Bradley Duke, co-founder at crypto ETP firm ETC Group, said. "It really highlights the vast differences in structure quality between different investment vehicles."
Industry participants have said the bankruptcy of FTX and its ripple effects hurt the prospect of regulators allowing Grayscale to convert GBTC to an ETF — the method Grayscale has cited as the best way to solve the discount issue.
Some have proposed Grayscale filing for Regulation M with the SEC. Regulation M, if granted, allows for a fund to simultaneously create and redeem shares.
Bryan Armour, director of passive strategies research at Morningstar, previously told Blockworks that Grayscale has not shown the willingness to allow redemption of GBTC shares because it would create costs and lower future revenue from management fees.
Jan van Eck, CEO of ETF issuer VanEck, told Blockworks Wednesday that it's very rare for closed-end fund issuers to open up a fund. 
"GBTC is a regulated fund that is operated according to industry standards and has been reviewed by regulators, so I don't see any merit to the lawsuit," he added.
Casey Wagner contributed reporting.
---
Get the day's top crypto news and insights delivered to your email every evening. Subscribe to Blockworks' free newsletter now.
Want alpha sent directly to your inbox? Get degen trade ideas, governance updates, token performance, can't-miss tweets and more from Blockworks Research's Daily Debrief.
Can't wait? Get our news the fastest way possible. Join us on Telegram and follow us on Google News.
---