Why The Microsoft-Activision Deal Failing May Be Good for Web3
The latest hurdle for Microsoft in its bid to buy Activision Blizzard appears to have some Web3 game developers relieved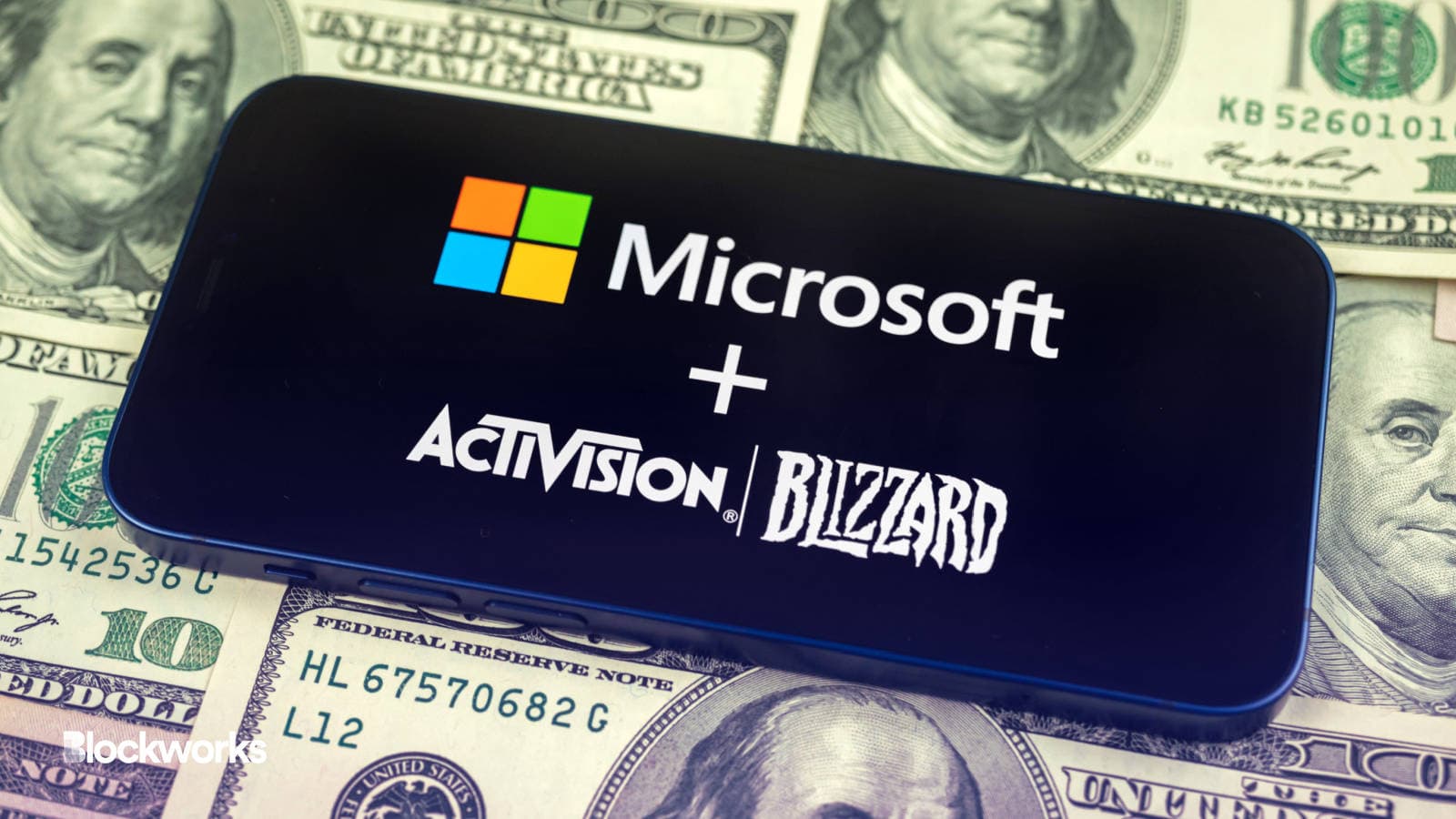 FellowNeko/Shutterstock, modified by Blockworks
Scores of smaller Web3 game developers, as well as venture capitalists who back them, were getting increasingly antsy about Microsoft's long planned deal to snap up Activision Blizzard for a cool $69 billion.
News of the proposed purchase started circulating in Jan. 2022. Microsoft said at the time that the publicly-traded technology company had struck a deal to acquire Activision Blizzard in a massive all-cash deal — sending the game developer's stock soaring 25%.
And sending the Web3 world abuzz when it came to parsing Microsoft's brewing ambitions for its own metaverse products. 
The paths of both companies in the duration hasn't been pretty: Regulators in the US and abroad have repeatedly moved to block the deal — generally on antitrust grounds — and a number of smaller traditional gaming companies and crypto-native outfits have kicked up a fuss.
With expectation building that the purchase would finally happen, more than a year after the buy was first made public, the United Kingdom's Competition and Markets Authority (CMA) unexpectedly stepped in to block it late last week.
Representatives for both Microsoft and Activision have said they're still committed to closing the acquisition. Still, smaller Web3 game developers are now breathing no small sigh of relief. 
Paul Hsu, the co-founder and chief executive of the blockchain-focused venture capital firm Decasonic, told Blockworks in an interview on Friday that the CMA's move is a net positive for the Web3 gaming sector. 
"When I saw this, it was like, 'This is so big and impactful for Web3 gaming," Hsu said. "It certainly impacts so many [in the sector]. The markets reacted correctly, and Microsoft was down, and Sony was up. Clearly this was landscape shifting."
That's true, Hsu said, for small gaming outfits building their titles and related NFT applications on blockchains, as well as their backers and incubators — plus gamers looking for a splash of more variety than long time blockbusters franchises like Call of Duty. 
Blockchain game developers may be lean in terms of resources, Hsu said, but they're "constantly shipping" new titles and iterations on existing games. 
That's contrary, the venture capitalist said, to large traditional gaming studios that may be complacent when it comes to their existing business models and associated revenue streams.
Intellectual property is becoming increasingly important in the Web3 gaming sector, he said.
And the stakes are on the rise, with the likes of Microsoft looking to build out their own intellectual property streams that tap crypto native content. 
"That IP really matters," he said. "In the future of Web3, you're starting to see Web3 native brands emerge." 
FTC tried to block Microsoft-Activision deal first
Microsoft has deep resources at its disposal to purchase crypto native gaming companies — a fact more interesting in lieu of the Activision Blizzard deal. 
In the US, the Federal Trade Commission (FTC), said in December 2022 that it would look to scuttle the deal. The FTC worried it would give Microsoft an unfair leg up in terms of tying Activision Blizzard's number of blue chip gaming titles to Microsoft's Xbox.  
Meanwhile, Web3 defections from executives tied up in the deal have mounted. 
Daniel Alegra, who held the titles of both president and chief operating officer for Activision Blizzard, jumped ship earlier this year to step in as Yuga Labs' next chief executive. 
Read more: Microsoft Culls Metaverse Team It Created 4 Months Ago
Yuga Labs then added another layer to its Web3 gaming push by moving to tap a former Epic Games executive as its chief technology officer. 
---
Get the day's top crypto news and insights delivered to your email every evening. Subscribe to Blockworks' free newsletter now.
Want alpha sent directly to your inbox? Get degen trade ideas, governance updates, token performance, can't-miss tweets and more from Blockworks Research's Daily Debrief.
Can't wait? Get our news the fastest way possible. Join us on Telegram and follow us on Google News.
---