New York Passes Bill Restricting Carbon-fueled Crypto Mining Operations
The proof-of-work moratorium may impact one upstate mine's future growth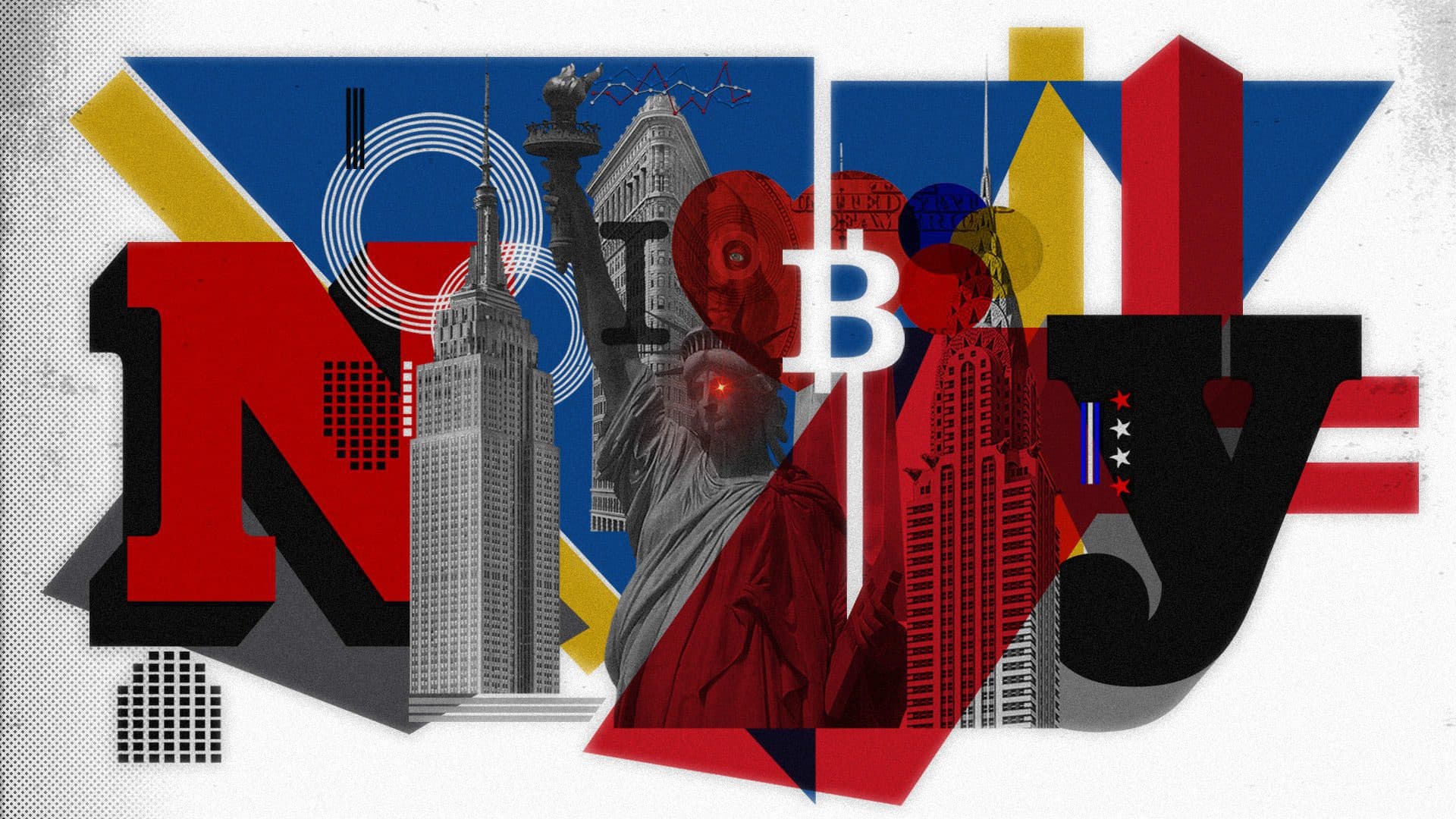 Blockworks exclusive Art by Axel Rangel
key takeaways
The moratorium prohibits any increase to carbon-powered mining operations in the state
Environmentalists praise the effort as a win for carbon-emission reduction but crypto industry advocates argue the measure will send digital-asset businesses to other states
The New York legislature has passed a hotly-debated bill that places a two-year ban on certain proof-of-work cryptocurrency mining operations that depend on carbon-based power.
The bill, which was most recently approved by the Senate after passing the state Assembly in April, now heads to Governor Kathy Hochul, who can sign it into law or veto the measure.
While environmentalists praise the effort as a win for carbon-emission reduction, crypto industry advocates argue the measure will make New York less attractive to digital-asset businesses.
"If signed into law, this legislation will have a significant chilling effect on crypto mining in the state, and threatens to send hundreds of good paying jobs to neighboring states," said Kristin Smith, executive director of lobbying group the Blockchain Association. "Most importantly, it would place New York in the unique position of being the only state to enact a moratorium at a time when other states are either studying the industry or actively welcoming the economic development it creates."
Bill sponsor Rep. Anna Kelles called the early-morning vote on Friday an "essential" step in combating the climate crisis. 
Kelles' inspiration was a mine in Rochester, New York, that brought a retired power plant back into operation when it was converted to a bitcoin mine. 
Private-equity firm Atlas Holdings purchased Greenidge Generation in 2014 and converted the coal-fired power plant to natural gas. In 2021, the company started using the generated power to mine bitcoin.
"The intention of the bill is to prevent new mining operations that would draw power from fossil fuel generation, even if it's partial," John Olsen, the New York lead at Blockchain Association, said. "The impact, though, is really just economic in the sense that good paying jobs are going to be going to other states, and mining operations that would face less regulatory scrutiny, in terms of environmental impact, would be setting up shop [in another state.]"
One firm at the intersection of the energy industry and proof-of-work mining is HashWorks Digital Industries.
The firm, which mostly operates in the US but maintains relationships in Canada, was founded by energy industry veterans including co-founder Todd Esse, who spoke with Blockworks about the implications of New York's moratorium.
Before jumping into Bitcoin, Esse spent 30 years in the energy space and built several merchant commodity desks, having worked at industry giants Sasco Energy and Sempra/AIG. He described the relationship between carbon-based energy sources and renewables as symbiotic. The grid still needs carbon-based generation, Esse said, and it's unrealistic to think that carbon-based power plants can just be removed.
"The whole concept of a decentralized, transactional network supported by a proof-of-work platform can provide grid benefits — not just in response to demand. It actually provides the ability to develop green resources behind the meter."
New York's moratorium prohibits any increase to carbon-powered proof-of-work mining operations in the state. Esse noted that Atlas Mining's Greenidge plant upstate could feel the Senate's vote first-hand. 
Greenidge is not yet at capacity in terms of electricity consumption, as it currently operates with 19 megawatts of capacity, but its plans to increase to 85 megawatts by year-end may be disrupted if the bill becomes law.
---
Get the day's top crypto news and insights delivered to your email every evening. Subscribe to Blockworks' free newsletter now.
Want alpha sent directly to your inbox? Get degen trade ideas, governance updates, token performance, can't-miss tweets and more from Blockworks Research's Daily Debrief.
Can't wait? Get our news the fastest way possible. Join us on Telegram and follow us on Google News.
---