Bitcoin SV Plunges Against BTC After Robinhood Delisting
Compared to its namesake, Craig Wright's BSV is off 13% since Robinhood said it would market sell after delisting on Jan. 25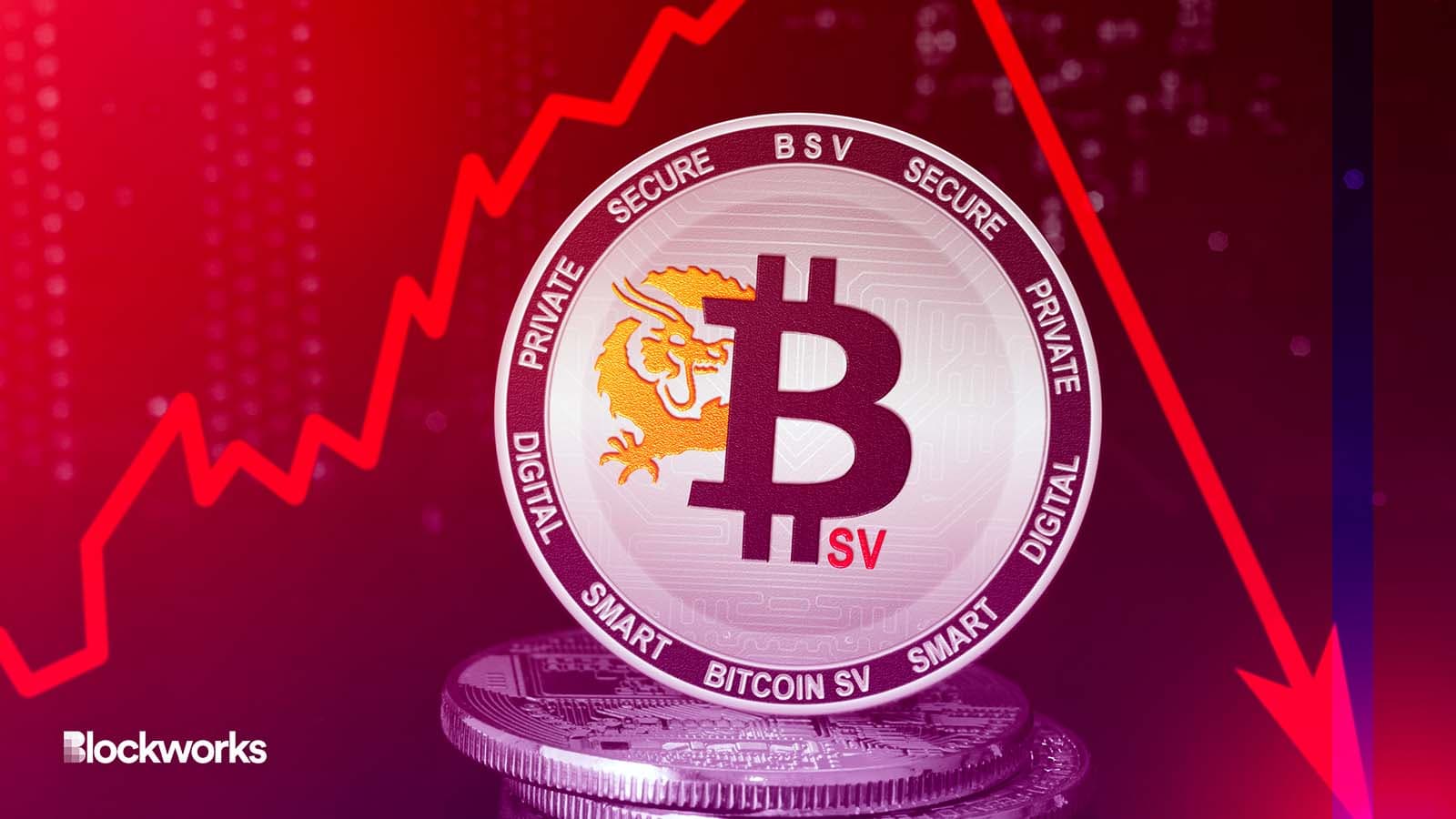 leksiv/Shutterstock.com modified by Blockworks
Robinhood will no longer support the bitcoin fork favored by Craig Wright, the Australian computer scientist who has claimed to be pseudonymous Bitcoin developer Satoshi Nakamoto.
The move has sent Bitcoin Satoshi's Vision (BSV) crashing against BTC, the asset favored by the faction known as Bitcoin Core — but more often as, simply, bitcoin.
In an update to users on Wednesday, the trading app said it would end support for BSV on Jan. 25 as part of a routine review of its crypto products.
With some geographical restrictions, users can continue to trade the token until the deadline.
After entirely delisting the token, Robinhood will sell any remaining BSV for market value, and the proceeds will be credited to user accounts under available funds.
BSV rallied alongside BTC against the US dollar Thursday but is down against BTC to levels not seen since the FTX bankruptcy.
The latest development isn't likely to settle any debates about the legitimacy of the crypto in the pantheon of bitcoin forks, but it does remove one of the few remaining venues where BSV can be traded against actual dollars, as opposed to Tether's USDT. Of the latter, only OKX has significant volume — $17.5 million in 24-hour volume, per Coingecko.
Robinhood didn't provide a specific reason for delisting the token, but the trading app has a "rigorous framework" in place to regularly vet tokens on its platform.
Bitcoin SV was first included under Robinhood's brokerage in November 2018 after it emerged from the hard fork of Bitcoin Cash (BCH). 
Proponents of Bitcoin SV believe that it aims to execute some of the features mentioned in Nakamoto's white paper that appear to be absent in the original Bitcoin blockchain. 
Like its predecessors, Bitcoin SV uses a proof-of-work protocol to verify transactions and sports the same maximum supply of 21 million tokens.
It emerged from political clashes within the Bitcoin Cash community, a little over a year after BCH forked Bitcoin, ostensibly to improve upon the scalability of the protocol and reduce transaction fees which, at the time, were quite high. 
Aside from Wright, Bitcoin SV is championed by Canadian entrepreneur Calvin Ayre, who has described it as the most valuable network in the blockchain space. Ayre reacted to Robinhood's delisting of BSV as "meaningless." 
Wright meanwhile described the trading app as "dishonest," saying "the last thing [Robinhood wants] is a system that stops their frauds."
Wright and the future of his "creation"
Speaking of allegations of fraud, Wright lost a Norwegian libel suit in October that he launched against someone who called him just that for his unproven claims to be Satoshi.
A subsequent defamation suit against podcaster Peter McCormack ended in December and also went against Wright, who was ordered to pay McCormack's legal fees.
And in a blow to Wright's Satoshi narrative, Justice Chamberlain — the judge that oversaw Wright's case against McCormack — emphasized that it is "important to be clear that Dr. Wright has not established that he is Satoshi" — a detail not previously driven home at Wright's other trials.
Justice Chamberlain also wrote that "Dr Wright had advanced a deliberately false case until shortly before trial," adding, "When the falsity was exposed, he changed his case, explaining that he had made inadvertent errors. I rejected that explanation as untrue."
In the aftermath of the ruling, Wright seemed to imply that he would back off on the idea of making his case to be Satoshi in court, instead appealing to the court of public opinion in a Twitter thread that begins, "One day, people will understand," and continues, "I no longer care what you think. I care for my wife, my mother, and my family. I seek to see my creation used."
On the other hand, his lawyers are still busy in the UK suing Bitcoin developers to try to force them to help Wright gain access to Satoshi's dormant bitcoins, which Wright claims were rendered inaccessible due to a case of lost private keys. That case is awaiting a ruling on jurisdiction before possibly proceeding to try the merits of the legal claim on the facts.
Through all this, Bitcoin SV is still ranked the 52nd cryptocurrency based on its market capitalization of around $804 million as of Thursday at 2:30 pm ET, according to data compiled by Blockworks. The token lost as much as 15% on Wednesday before rebounding strongly today along with the rest of the crypto market following the CPI data release by the US Bureau of Labor Statistics.
---
Don't miss the next big story – join our free daily newsletter.