Tether's return to lending a 'step backwards' but unlikely to hurt USDT: Research exec
While the revelation is "a little disappointing," CoinShares head of research says the impact on the stablecoin's "robustness" is likely limited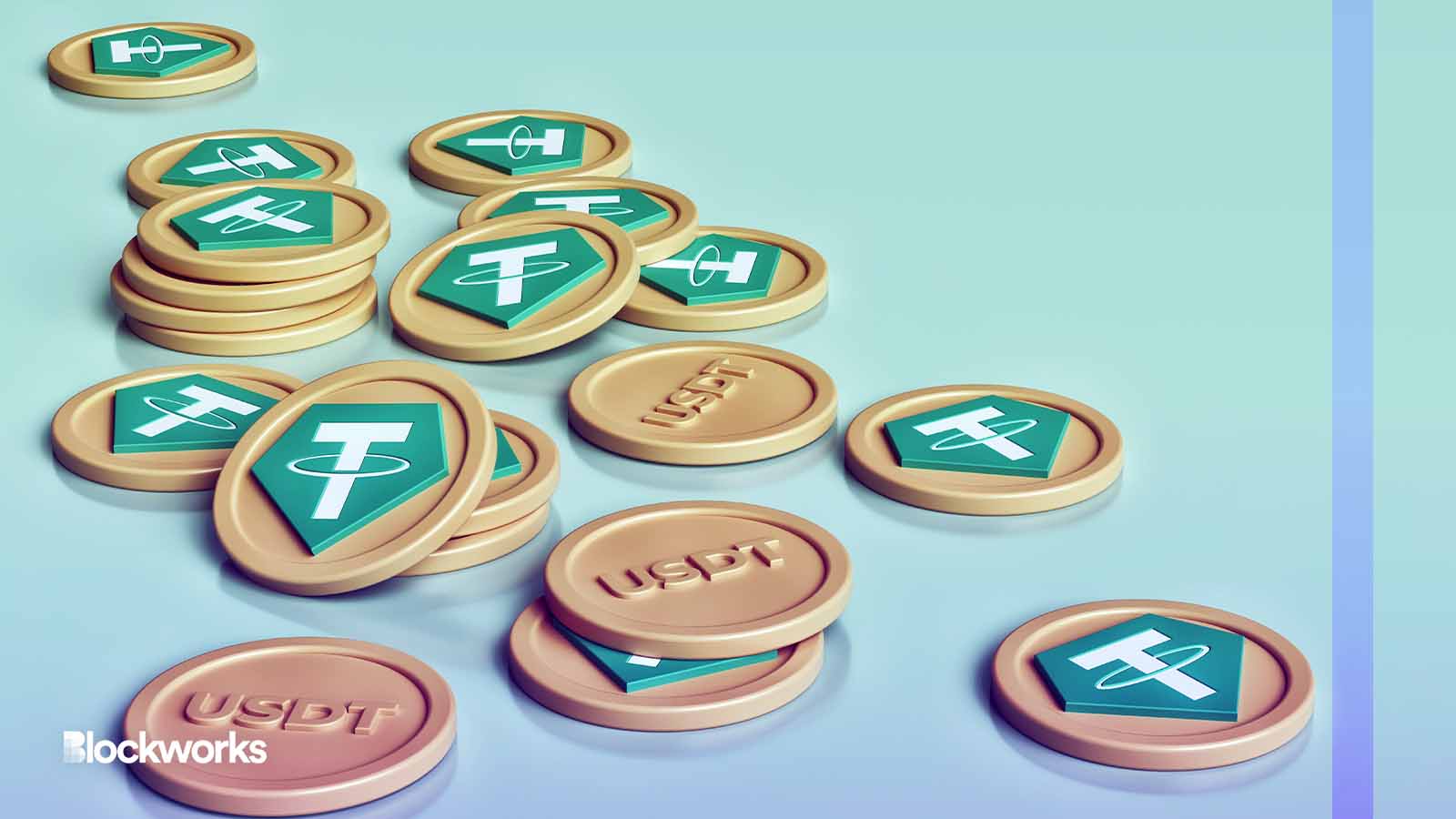 dRender/Shutterstock modified by Blockworks
While some consider Tether's decision to resume lending as questionable, one industry executive believes it won't meaningfully disrupt what is currently the most liquid stablecoin.
Tether (USDT), a stablecoin with a market capitalization of roughly $83 billion, is intended to maintain a value of $1 and can be redeemed for US dollars at any time. 
Its issuer began accommodating short-term loan requests during the second quarter, a Tether spokesperson told the Wall Street Journal Thursday. These loans — to be eliminated by 2024 — were made to clients with which the company has "long-standing relationships," the representative added.
It remains unclear who exactly these borrowers are.
The company's fulfilling of loan requests comes after Tether said in a December 2022 blog post that it would "reduce secured loans in Tether's reserves to zero" throughout 2023.
James Butterfill, head of research at CoinShares, said Tether had improved transparency via quarterly independent audits and saying in October 2022 that it was replacing commercial paper in its reserves with US Treasury bills.
"It is a little disappointing to see them take a step backwards like this," he told Blockworks in an email. "That said…we don't think it will materially impact their robustness as a stablecoin, as investors still have a much clearer idea as to their holdings."
Tether's total assets amounted to roughly $86.5 billion, while total liabilities were about $83.2 billion, as of June 30, according to a July auditor report. Roughly $55.8 billion of its assets — or nearly 65% — were in US Treasury bills, it notes.  
Tether's secured loans — amounting to $5.5 billion, as of June 30, are "fully collateralized by liquid assets…and are measured at [amortized] cost," the report adds. 
"You would have to assume a very high default rate to consume all of their cushion," Butterfill said.
Read more: Stablecoin issuers like tether may book big profits soon
"Anyone with a minimum understanding of financial markets would see how a company having $3.3 billion in excess equity and on track to make a yearly profit of $4 billion is in all effects offsetting the secured loans and retaining such profits within the company balance sheet," Tether said in a Thursday statement in response to the Wall Street Journal story. "Tether is still committed to removing the secured loans from its reserves."
A spokesperson did not return Blockworks' request for further comment.  
Matt Levine, a former investment banker at Goldman Sachs, wrote in an opinion column for Bloomberg News Thursday that there is no financial reason for Tether to want these loans.
"Everyone involved in Tether can get dynastically wealthy and live an easy life by putting all the money in Treasury bills," he wrote. 
The Tether spokesperson told the Wall Street Journal that the company seeks to help borrowers prevent the need to deplete customer liquidity or sell their collateral at potentially unfavorable prices.
"If big crypto firms get margin calls and have to dump their assets, that will drive down the prices of crypto assets," Levine wrote. "Lending them money is not just good for them, it's good for the crypto ecosystem broadly; it prevents fire sales that might drive down prices."
The revelation that Tether has resumed lending comes at a time when its market share has been rapidly increasing amid a regulatory crackdown against US-based competitors, Butterfill noted.
USDC's market capitalization, for example, which peaked around $55 billion in late July 2022, stood at roughly $25.7 billion on Friday.
Read more: Why USDC's market cap is half of what it was a year ago
"Tether remains the most liquid stablecoin out there," Butterfill said.
---
Don't miss the next big story – join our free daily newsletter.