Amazon NFT Initiative Coming Soon: Exclusive
World's largest retailer has been hovering at the edges of Web3 tech for some time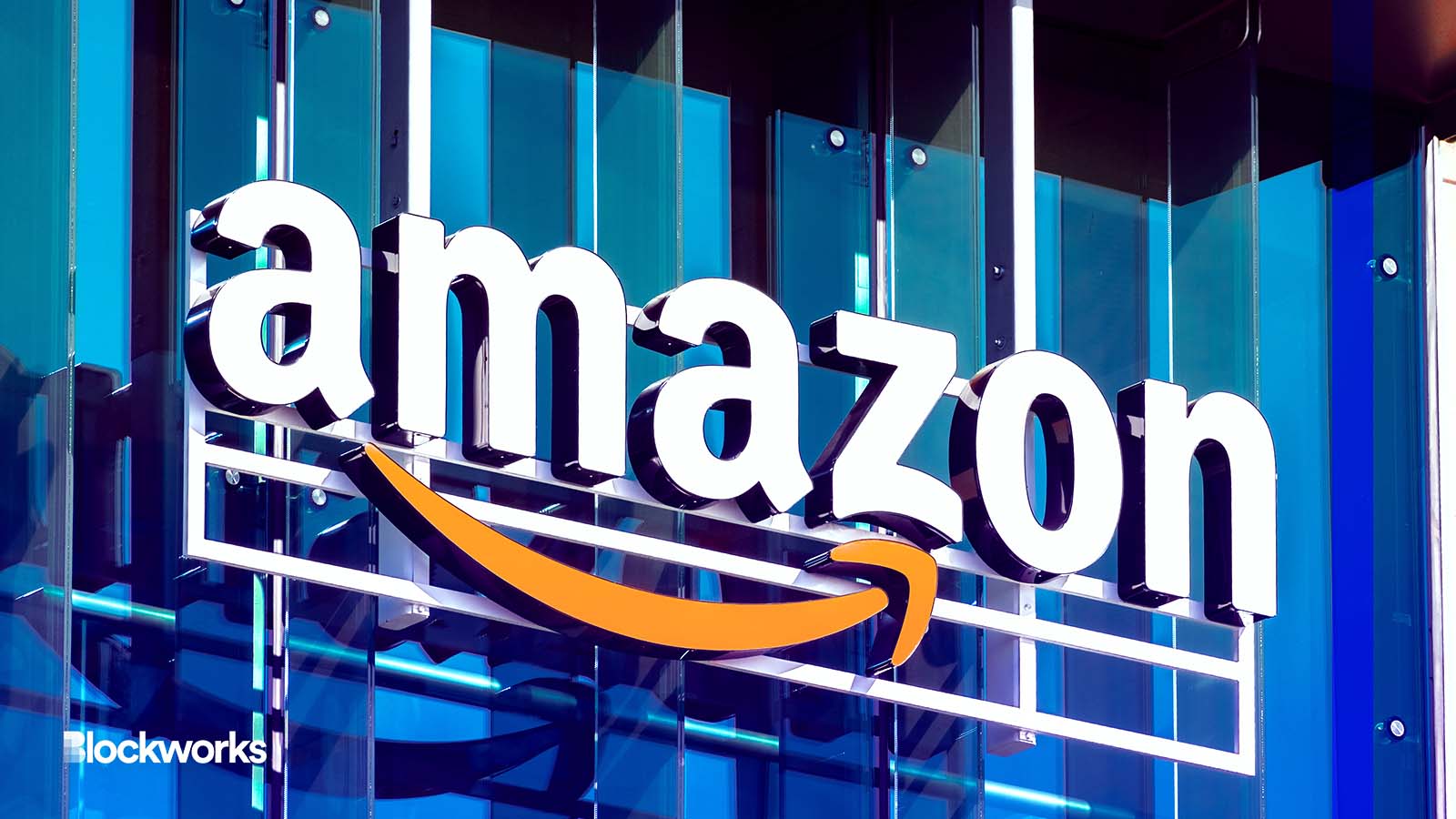 Sundry Photography/Shutterstock.com modified by Blockworks
Amazon is launching a digital assets enterprise, according to four sources familiar with the matter, who said that an NFT initiative is expected in the spring.
Amazon has been shopping the digital collectibles effort to no shortage of power players in the industry, per multiple sources. Said to be among those entities are layer-1 blockchains, blockchain-based gaming startups and developers and digital asset exchanges. There's a focus on blockchain-based gaming and related NFT applications, two sources said. 
One example in the works, per one source: getting Amazon customers to play crypto games and claim free NFTs in the process. 
The effort is still developing, sources said. April appears to have been penciled in for the e-commerce giant to make its bold crypto ambitions public.
Amazon "coming into the space" is "a big one" for crypto "for many different reasons, one source said. 
"We knew it was possible," the source said. "But now it seems like it's really happening. That's going to affect the existing players in the space — if they execute and do this right and are smart about it."
Amazon executives leading the push reached out to at least one family office in recent months, one of the sources said. At the time, the plan, in its earlier iteration, was to do at least one NFT drop with an artist, the same source said. Amazon's Web3 blueprint appears to have significantly evolved since. 
It wasn't immediately clear who in terms of personnel is leading Amazon's NFT initiative. Details about the platform, which would include certain NFT gaming initiatives, are still unfolding, but two sources said the platform is set to run out of Amazon proper, rather than its popular web-hosting platform, Amazon Web Services (AWS).
An additional fifth source said Amazon has been exploring a number of other Web3 initiatives of late. When it comes to both the platform and Amazon's additional crypto forays, a number of internal hires would likely be a prerequisite, one source said. 
While Amazon Web Services has posted occasional roles for developers and engineers in the Web3 realm, the e-commerce site is not as well known for exploring the crypto or blockchain arenas. An Amazon Coins program continues to exist, following an introduction in 2013, but it is more akin to a straightforward loyalty program than a crypto initiative.
Andy Jassy, the CEO of Amazon, has previously stated that he is open to the company selling NFTs — and that the company is not closing the door to cryptocurrencies generally.
Also an open question: the full extent of Amazon's Web3 ambitions and end goals. Whether the company intends to compete with the likes of OpenSea and Rarible isn't exactly clear, but two sources said both entities would view a successful launch as a substantial threat. 
"With the [number] of customers Amazon has, they could make a huge splash in the NFT marketplace," one source said.
Over 2.5 million users have so far interacted with OpenSea, the leading NFT marketplace today by trading volume, according to data from Dune Analytics. There are now multiple well-established places to buy and sell NFTs.
AWS recently inked a partnership with Ava Labs, the company behind the Avalanche blockchain, which Emin Gün Sirer of Ava described as "a huge boon for both individual and enterprise developers to be able to spin up nodes and test networks on the fly with AWS in whatever legal jurisdiction makes the most sense for them."
A representative for Amazon did not immediately have a comment.
Updated Jan. 26 at 4:55 pm ET: Additional context and quotes throughout.
---
Don't miss the next big story – join our free daily newsletter.