The Top 8 NFT Marketplaces – Where to Buy NFTs
Everything you need to know about buying and selling NFTs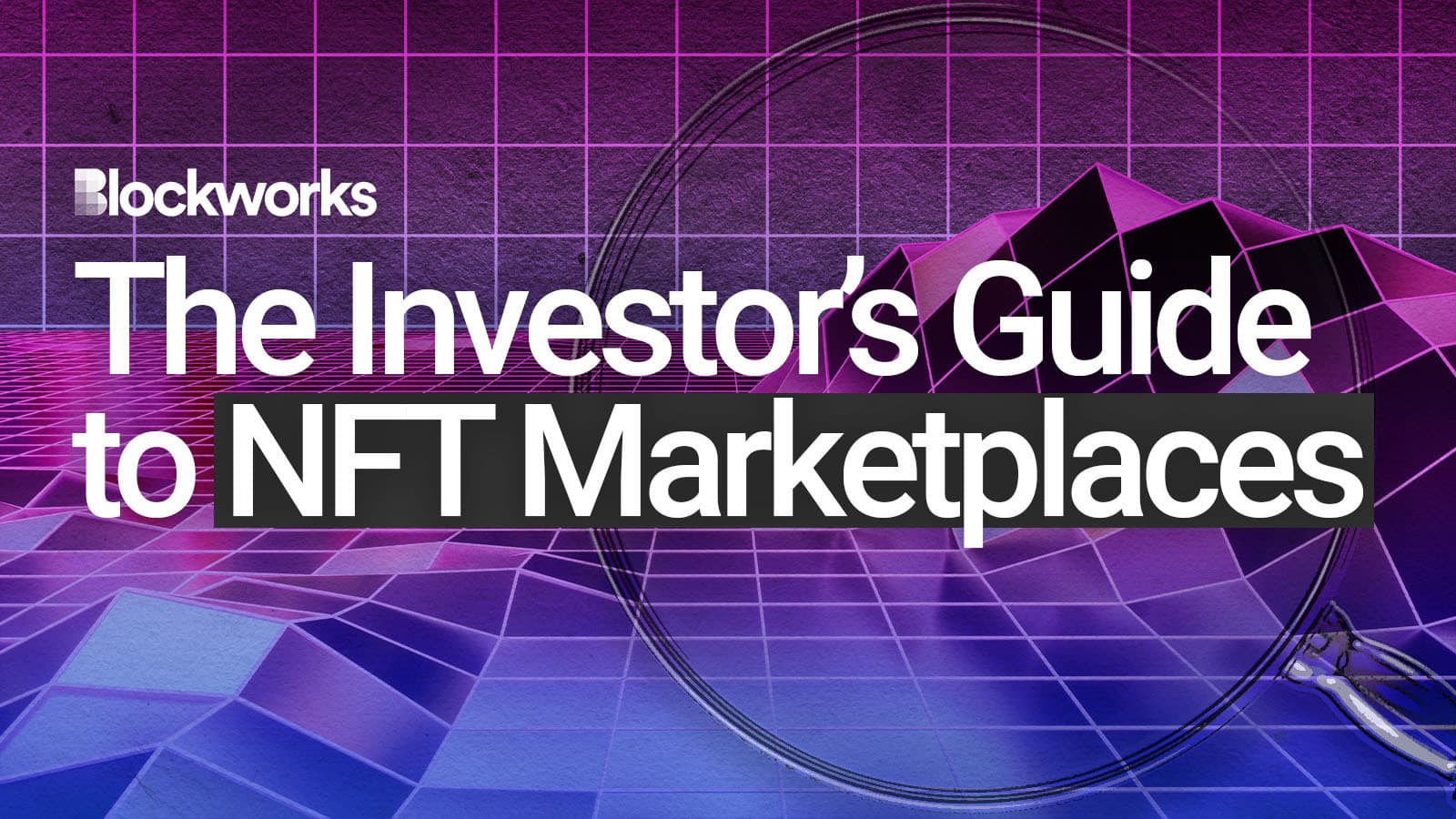 Blockworks Graphic by Crystal Le
First-time NFT creators and collectors often start their journey with a simple Google search. 
But the hunt to find the best place to buy an NFT — which hinges heavily upon unique digital collectible needs — now, more than ever, needs the right context and due diligence. Many holders who snapped up their NFTs via FTX were hit with a rude awakening by the exchange's bankruptcy. Their elaborate and creative expressions of digital art are now, at least for the moment, worth not much more than a 404 error.   
No guide can eliminate entirely the downsides of investing in NFTs, or any other cryptoasset, but this one is designed to break down how and why each exchange can or cannot meet your own NFT wants and needs.
Read more: NFT Investing Explained
Breaking down NFT auctions
Different NFT marketplaces come with different standards for the auctions that govern their transactions.
A Dutch auction, for one, uses a declining price format — unlike the more familiar English model. The seller kicks things off with a relatively high ask price and gradually lowers it until a bidder decides to lock it in. The first bidder to accept the current price wins. Dutch auctions are intended to sell NFTs with enough demand quickly.     
An English NFT auction employs the crypto version of the eBay model. The seller sets a low floor, and bidders compete by placing increasingly higher offers until the auction ends at a pre-determined time — when the highest roller wins out. English auctions help lesser-known artists sell NFTs at a fair price. But sellers can also use the format to bid and manipulate the price anonymously.  
Best NFT Marketplaces
OpenSea 
Blockchains
Arbitrum, Ethereum, Klatyn, Optimism, Polygon, Solana
Focus
Art, collectibles, domain names, music, photography, sport, trading cards, utility, virtual worlds
Fees
2.5% per sale
Auction 
English, Dutch 
Royalties
10% maximum per sale
Best for
Art collectors, NFT flippers
Pros
Easy onboarding, support for multiple wallets
High liquidity
Wide variety of listed NFTs, collections
Advanced tools for creators
Educational guides for beginners
Multi-chain support 
Android, iOS apps
Cons
Marketplace can be somewhat cluttered
Record of security breaches resulting in losses
Past allegations of insider trading 
Launched in December 2017, OpenSea became the first Ethereum-based NFT trading platform. The marketplace rose in prominence as the industry grew and now handles more than 50% of all NFT trading volume — good for the largest marketplace, with more than a million registered users.  
But, since OpenSea is the most popular, sellers are especially forced to compete to get their NFTs noticed by buyers. The setup makes it difficult for new sellers to stand out and may result in lower sales.
OpenSea provides a wide suite of tools for creators to mint and list new collections. It also comes with a minimalistic interface to browse and purchase NFTs — using a range of payment options. From the platform's Ethereum roots, OpenSea has recently expanded to support NFTs on five additional chains, notably Solana and Polygon. 
Example of an OpenSea NFT
Read more: As OpenSea Flexes Marketplace Influence, Some Users Are Worried
Magic Eden
Blockchains
Ethereum, Solana
Focus
Collectibles, art, gaming
Fees
2% per sale 
Auction
Timed auction
Royalties
Defined by creator
Best for
NFT collectors, flippers 
Pros 
User-friendly interface
Decent volumes
Slightly lower fees compared to OpenSea, in parts thanks to Solana-nativity
Drop calendar to track upcoming mints
Supports multiple wallets across listed networks
iOS app
Cons
Supports only Ethereum, Solana
Limited options compared to OpenSea
Only supports verified creators and collections, limiting opportunities for up-and-coming artists
Despite launching in September 2021, Magic Eden is already the most popular NFT marketplace on the Solana (native token, SOL) network. It has the highest number of users among SOL NFT markets, and is the second-largest NFT platform in terms of trading volume, trailing only OpenSea. 
Magic Eden is especially sought-after by collectors hunting for fresh, up-and-coming items. The Magic Eden Launchpad hosts regular NFT mints to connect creators with collectors. While the platform started off as Solana-native, it has expanded to enable support for Ethereum-based NFTs — and has additional networks in the pipeline.
Example of a Magic Eden NFT
Read More: Solana Marketplace Magic Eden To Offer Ethereum NFTs
Rarible
Blockchains
Ethereum, Flow, ImmutableX, Polygon, Solana, Tezos
Focus
Collectibles, art, gaming, virtual worlds
Fees
1% fee from buyer, 1% fee from seller
Auction
English auction
Royalties
10% maximum per sale
Best for
Collectors, gamers
Pros 
Multi-chain support
NFT aggregator for seamless purchases across supported marketplaces
Enables creators to launch individual marketplaces
Android and iOS apps available 
Trading fees distributed between buyer and seller
Cons
Limited NFT options compared to competitors
Relatively difficult for new creators to break through (platform dominated by influencers)
Rarible launched in early 2020 and grabbed a significant portion of overall market share as the NFT industry saw increased adoption later that year. Rarible is one of few NFT marketplaces with a native token, releasing its RARI token roughly one year after launch. The token allows users to influence platform upgrades and access certain unique features.
RARI token holders can submit or vote on proposals regarding trading fees, new features and related governance proposals. Such votes are advisory, not binding, so the Rarible team still has the final call. 
Token holders also decide which NFTs to showcase and feature. NFTs listed first are more likely to attract sales than those buried at the bottom of a long list. 
Rarible has a unique appeal for creators. It provides a filter for buyers to explore top influencers and artists. This feature allows creators to build a closer relationship with their respective collector communities. The platform also offers an aggregator, allowing users to buy NFTs listed on competitors.
Example of a Rarible NFT
Read more: Web3 Watch: Rarible Revamps Marketplace, ApeCoin DAO Adds Bug Bounty
Nifty Gateway
Blockchain
Ethereum
Marketplace focus
Art, collectibles, gaming, music, social, style
Fees
15%
Auction style
English auction
Royalties
Defined by creator — Nifty Gateway takes 5% royalty fee, plus 30 cents per transaction
Best suited for
Power NFT collectors
Pros
Exclusive appeal, rigorous vetting approach attract high-profile buyers
Majority of listed items are top collectibles
Supports fiat payments
Android, iOS apps 
Live customer service via chat
Cons
Only supports Ethereum network, Metamask wallet
Supports few NFT categories compared to competitors
Nifty Gateway ranks high on the NFT marketplace list for influencers, celebrities and brands to create limited-edition items. Since launching in 2018, Nifty Gateway has hosted exclusive drops for celebrities and artists such as Carl Cox, Kenny Scharf, Lil Yatchy and Trevor Jones.
Nifty Gateway famously hosted a $6.6 million sale for a work by the popular net artist, Beeple. Worth mentioning: Nifty Gateway is heavily affiliated with crypto exchange Gemini.
Example of a Nifty Gateway NFT
Read more: Nifty Gateway Wants NFT Curators to Sell Art with 'Publishers' Pilot  
Binance NFT
Blockchain
Ethereum, BNB Chain 
Marketplace focus
Collectibles, gaming, art, music, photography, collectibles, sports, virtual worlds
Fees
1% flat fee
Auction style
English auction
Royalties
10% maximum per sale
Best suited for
Artists and their fans
Pros
Beginner-friendly
Decent liquidity
Fiat deposits, withdrawals
Advanced tools for creators to promote collections
Supports inclusivity with all users able to mint and list NFTs
Cons
Does not list most popular mainstream NFT collections
Requires KYC verification, typically not required elsewhere
The world's largest cryptocurrency exchange, Binance, launched its NFT business in June 2021. Users need to register and verify their identities with Binance to access the platform. Creators and collectors transact in three main cryptocurrencies: BNB, BUSD and ETH. 
Users can purchase individual items or mystery boxes containing various curated collections. There is also a "premium" and "standard" collection listing. Premium collections are exclusive drops from popular influencers, while the standard collection features items minted by typical users.
Since launching, the Binance NFT marketplace has organized NFT drops for popular celebrities and entities, including Russell Simmons, Paulo Del Valle, the Uganda National Museum, Franck Muller and Parimatch. The highest recorded sale on the Binance NFT marketplace for newbies is $2.8 million.
Example of a Binance NFT
Read more: Binance to Debut NFT Marketplace with Warhol, Dali Thursday
Coinbase NFT
Blockchain
Ethereum
Marketplace focus
Art, collectibles, virtual worlds
Fees
None (could change in future)
Auction style
Timed auctions
Royalties
Defined by creator 
Best suited for
Art and collectibles collectors
Pros
Beginner-friendly
Decent liquidity
Aggregate listing option supports direct purchase of NFTs listed on other marketplaces (OpenSea and LooksRare)
NFT drops calendar to track upcoming mints
Curated list of popular creators simplifies decision-making for buyers
Cons
Supports only Ethereum-based NFTs
Lists fewer assets than competitors
Coinbase is another centralized cryptocurrency exchange that recently ventured into the NFT industry. In May 2022, the exchange company began offering a place where you can buy NFT art using Ether (ETH) as the primary accepted cryptocurrency. Notably, users require a self-custodial wallet — Coinbase Wallet — to access the marketplace.
Read more: What Are Seed Phrases and Are They Needed? The New Debate
The Coinbase NFT platform hosts exclusive drops from popular artists and new crypto-native NFT projects. It also lists a range of leading NFT collections, including CryptoPunks, Bored Apes and Otherdeed metaverse land parcels.
Example of a Coinbase NFT
Read more: Coinbase Unveils Social NFT Marketplace
SuperRare
Blockchain
Ethereum
Marketplace focus
Art, music, photography 
Fees
3% paid by buyer
Auction style
Timed
Royalties
SuperRare collects 15% royalty on primary sales and creators receive maximum 10% royalty on secondary sales
Best suited for
NFT art collectors 
Pros
User-friendly interface 
Offers high-profile, collectible-grade artwork
Regular auctions
Educational materials
Customer service via live chat
In-person gallery experience
Cons
Only supports Ethereum network 
Fees on relative high end
Limits new creators to exclusively verified artists
Launched in 2018, SuperRare brands itself as a digital art market on Ethereum. The platform carved a niche for itself and is widely considered as the best NFT marketplace for buying exclusive artwork from verified creators.
SuperRare, too, has a native asset: its RARE token. RARE holders form the RareDAO and have the chance to curate the marketplace, define listing parameters and influence platform upgrades. Since launching in 2018, artists on SuperRare have earned over $760 million, with secondary sales topping $100 million over the same period. 
Example of a SuperRare NFT
Read more: Netgear Joins SuperRare DAO to Develop NFT Art Licensing Model
MakersPlace
Blockchain
Ethereum
Marketplace focus
Art, music, photography
Fees
15%
Auction style
Time-based
Royalties
10% paid to creator, 2.5% to MakersPlace 
Best suited for
Digital art collectors
Pros
User-friendly experience 
Advanced tools for creators to launch digital art storefronts
Support fiat deposits
Both live chat and email support for creators 
Cons:
Exorbitant fees
Supports only Ethereum NFTs
Limited access for new creators
MakersPlace launched in 2018 and primarily offers a platform where you can buy NFT art. Collectors can find exclusive artworks from famous artists such as David Loblaw, Mr. Longshanks, FidJay and many more. The platform has attracted over 100,000 collectors since launch, with $100 million traded in 2021 alone.
The MakersPlace NFT trading platform is notably easy to browse, even for users with no crypto experience. Advanced search filters and support for fiat payment also sets the platform apart as one of the best NFT trading platforms.
Example of a MakersPlace NFT
Read more: How NFT Royalties Work – and Sometimes Don't
Next steps after choosing an NFT trading platform
Evaluate what NFT you want to buy
There are millions of NFT collections. The best NFTs to invest in, however, are generally those with a strong community or artwork that personally appeals to you. It could also be the work of an upcoming artist that has the potential to increase in value as the artist rises in prominence. As a rule of thumb, buying an NFT simply because an influencer promotes it may turn out to be a poor investment.
Buy it
Once you have your mind made up, the next step is to make the purchase. The steps on how to buy an NFT differ from one platform to the next. It typically involves setting up a Web3 wallet, or registering on the NFT marketplace website and completing their KYC process. Next, fund your wallet with the purchase amount, or make the purchase using your credit card if it's supported by the platform.
Store your NFT in a wallet
Like cryptocurrencies, you can store NFTs in a self-custodied wallet. While it is common practice to use mobile or browser-native wallets for NFT storage, a hardware wallet offers the most secure experience. These devices typically store your assets offline and remove a common attack vector for hackers. Ideally, a hardware wallet is a compulsory option for investors putting huge sums into the NFT market. 
Sell NFTs later to book profit
While most NFTs offer an art appeal, they are also investment assets. If you're inclined to sell your NFT, we recommend reading a guide on how to sell an NFT on your chosen NFT trading platform. That way, you can avoid potential losses often associated with listing NFTs for the wrong prices or other potential mishaps. It also allows you to use the best withdrawal method to save on fees and get full value for each sale.
The NFT marketplace as a whole
This article provides an exhaustive NFT marketplace list, reviewing the likes of features and pros and cons, as well as fees. OpenSea and Magic Eden are the most popular to buy from, with a wide range of collections and support for a number of blockchains. 
Rarible, SuperRare, MakersPlace and Nifty Gateway specialize in artwork and exclusive drops from influencers and popular artists. Binance and Coinbase's NFT platforms, meanwhile, have grown in prominence — providing centralized trading venues for investors.
The best NFT marketplace is ultimately the one that meets your profile and specific needs as a creator or collector. Each platform has its own pluses and minuses and could come in handy at different stages of your digital collectibles journey.