Ark Invest's Largest ETF Buys More Coinbase
Fund group's $21B portfolio allocates 5% of its assets to the crypto exchange.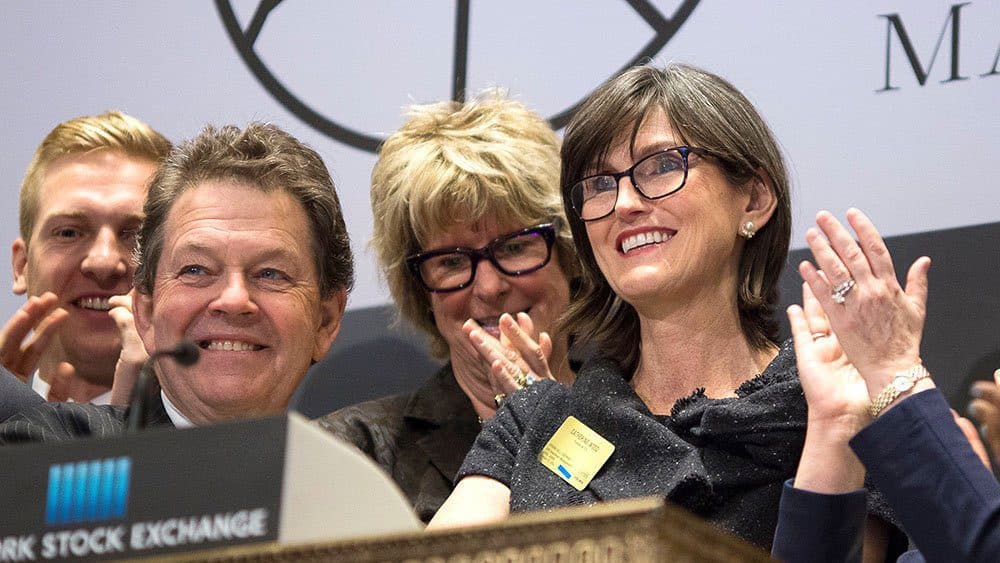 ARK Invest CEO Cathie Wood with her mentor Art Laffer on the NYSE podium on Oct. 21, 2014; Source: ARK Invest
key takeaways
Coinbase is the fourth-largest holding in the Ark Innovation ETF (ARKK), behind only Tesla, Teledoc Health and Roku
Ark had bought more than 1 million shares of Grayscale's Bitcoin Trust and about 215,000 shares of Coinbase on a single day in June amid bitcoin price drop
Ark Invest has bought more Coinbase for its largest ETF focused on cutting-edge firms as the fund group remains bullish on crypto.
The investment manager bought 184,199 shares of Coinbase, worth about $42 million, for the Ark Innovation ETF (ARKK), according to a firm disclosure on Tuesday. ARKK, which has about $21 billion assets under management, holds a 5% allocation in the crypto exchange, according to Ark's website, making it the fourth-largest holding in the portfolio.
ARKK added roughly 105,000 Coinbase shares across a two-day span last week, separate disclosures show.
An Ark spokesperson did not immediately respond to Blockworks' request for comment.
The share purchases come after SkyBridge Capital Founder Anthony Scaramucci told Bloomberg that he predicts a large bank to one day buy a crypto company like Coinbase. The exchange, which went public in April, reported about $2.2 billion of revenue in this year's second quarter. 
Coinbase last week put off its plans to launch a lending product after the company claimed it was threatened by the SEC. But executives said the exchange is working on a regulatory proposal to submit to US lawmakers, citing a need for clarity and fairness in the space.   
The company announced on Monday that users will soon be able to directly deposit any percentage of their paycheck into their accounts on its platform. It also revealed that its Coinbase Card would become available to all US-based customers this Fall.
Ark Invest also bought about 164,000 shares — worth nearly $40 million — of Square, the Tuesday disclosure indicated. Square, a digital payments service company led by Twitter CEO Jack Dorsey, represents about 4% of ARKK's holdings. 
Dorsey announced in July that Square would build a hardware wallet and service to make bitcoin custody more mainstream. In a second quarter shareholder letter, the company reported that its revenue from bitcoin-related services was up 200% on-year.
Ark chief investment officer Cathie Wood said at the SALT conference in New York City earlier this month that bitcoin's price could go above $500,000 if companies continue to diversify their cash into bitcoin and institutional investors start allocating 5% of their funds to the cryptocurrency.
The fund group had bought more than 1 million shares of Grayscale's Bitcoin Trust and about 215,000 shares of Coinbase on a single day in June as bitcoin fell below $30,000.