BlockFi Wins Iowa License Weeks After State Regulator Fined the Lender $943,000
After Iowa ordered BlockFi to pay a hefty fine, the state securities regulator has granted the firm a stablecoin trading license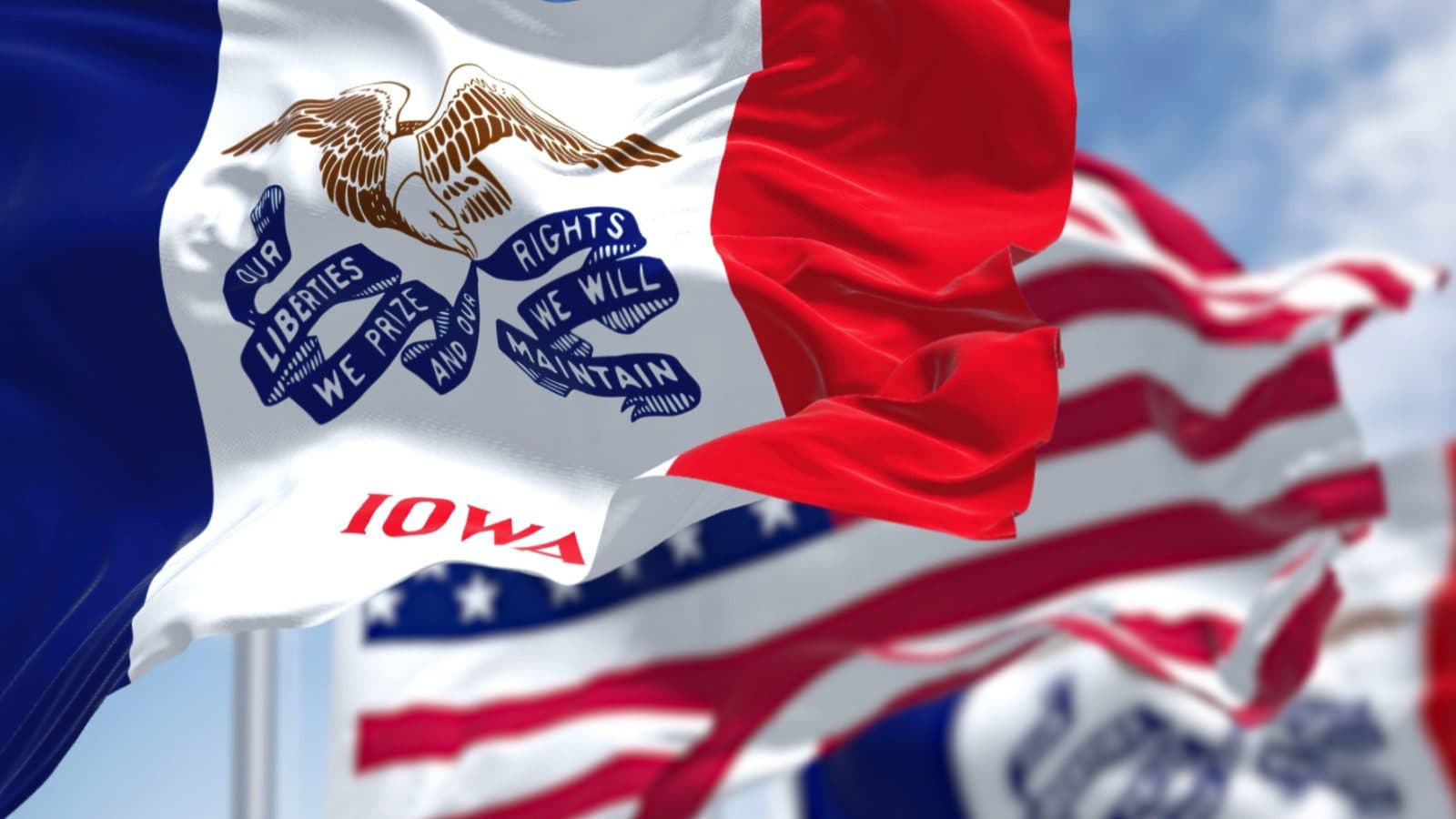 Iowa state flag | Source: Shutterstock
key takeaways
In February, the company was hit with one of the largest fines on record imposed on a crypto firm
Crypto exchange FTX offered BlockFi a $250 million credit deal to ease its liquidity woes
BlockFi has secured a payments license in Iowa, two weeks after the troubled cryptocurrency lender was fined in the state for selling unregistered securities.
The firm's approval in the Midwestern state comes as liquidity issues continue to crop up across the industry, with crypto lender Celsius being the first domino to fall. BlockFi earlier this month announced it had liquidated a "large client" that failed to meet obligations.
The firm made the payments license announcement in a tweet on Tuesday. Iowa's Money Service License allows BlockFi to offer stablecoin trading services and instant fund transfers to customers in the state.
According to its website, the company's interest-bearing crypto accounts have not been registered and may not be offered or sold in the US. BlockFi didn't mention in its tweet whether Iowa's license covers its yield-generating product.
BlockFi didn't return Blockworks' request to elaborate on its license.
Iowa's securities regulator on June 14 ordered BlockFi to pay a fine of around $943,000 for allegedly selling securities (its crypto interest accounts) without being registered as a broker-dealer.
That penalty was part of a broader $100 million fine to settle allegations levied by the SEC and other state regulators in February. It was reportedly one of the largest fines on record imposed on a cryptocurrency company.
Earlier this month, BlockFi was said to be looking to raise cash at a valuation shy of $1 billion, after raising money to a valuation of $5 billion last year, highlighting the current distressed conditions of the crypto market.
BlockFi said on June 16 it had liquidated a "large client" that failed to meet obligations, with reports pointing to venture capital firm Three Arrows Capital (3AC) as the unnamed counterparty. 
BlockFi CEO Zac Prince said on Twitter that no client funds had been impacted by its 3AC exposure. Yet crypto exchange FTX came to its rescue last week, agreeing to extend a $250 million credit deal to ease BlockFi's liquidity fears. Now longtime backer Morgan Creek Digital is reportedly competing with FTX to acquire a majority stake in the lender.
Fears of contagion have spread rapidly across the crypto industry ever since BlockFi rival Celsius froze withdrawals on its platform on June 12. Industry commentators have said Celsius' potential insolvency could prove harsh for the industry in terms of retail investor trust.
While crypto markets are heavily depressed, Martin Hiesboeck, head of blockchain and crypto research at Uphold, told Blockworks he hasn't observed contagion spilling into traditional markets so far.
"This could change if the price of bitcoin remains between $10k and $20k for a prolonged time and more protocols backed by traditional financial firms fail," he said. "As it stands the sums involved can probably be covered by existing crypto behemoths like FTX and Binance, which have moved enormous amounts of USDT and BTC over the network as our on-chain analysis shows."
---
Don't miss the next big story – join our free daily newsletter.
Follow Sam Bankman-Fried's trial with the latest news from the courtroom.