DOJ Crypto Chief Signals Crackdown on Exchanges
The DOJ is targeting exchanges to send a strong message to businesses evading anti-money laundering and client identification rules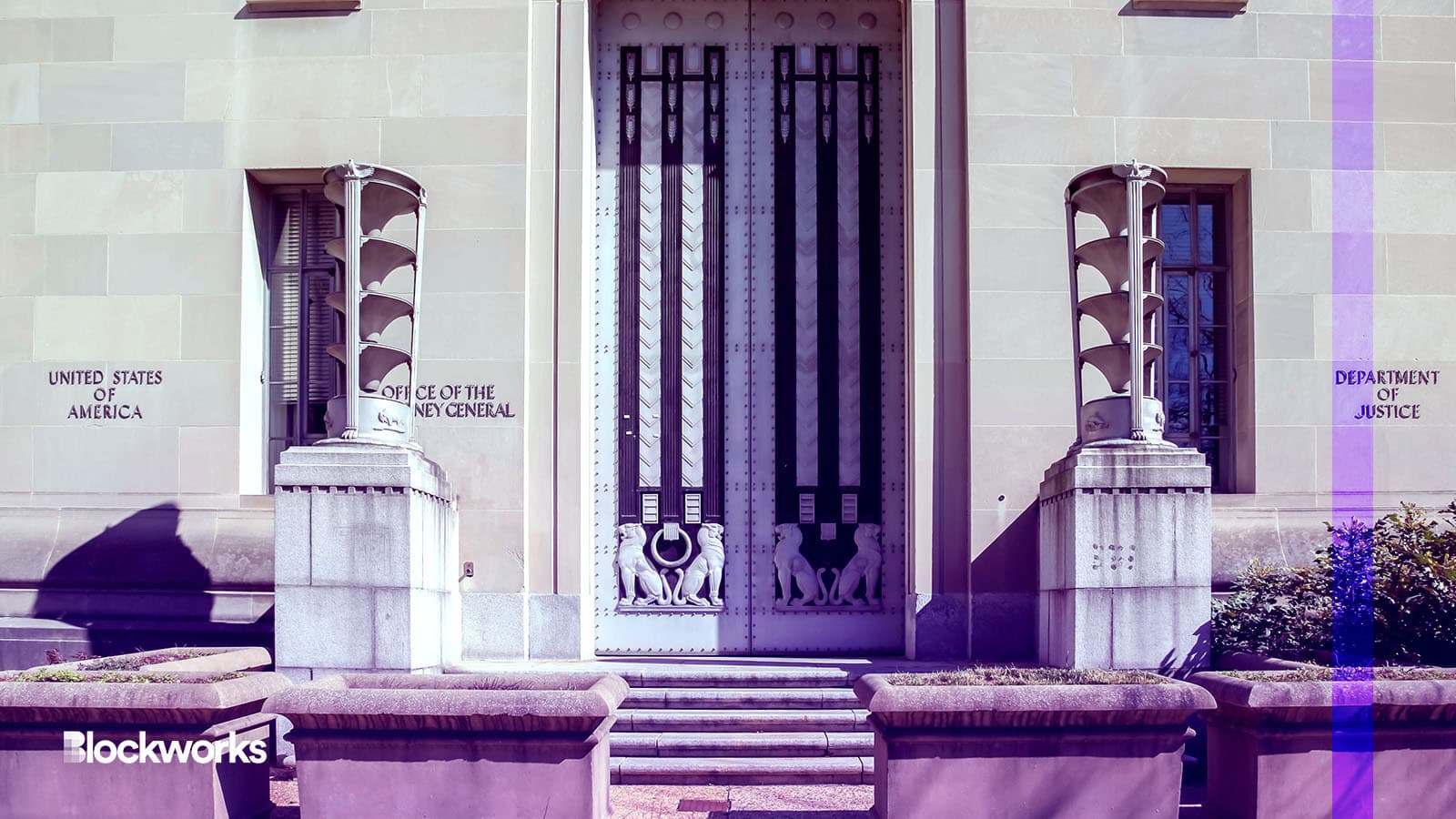 JHVEPhoto/Shutterstock, modified by Blockworks
The Department of Justice's (DOJ) crypto-focused enforcement unit is intensifying efforts to unleash a relentless pursuit against illicit activities.
Leading the charge, the unit's head pledged to take decisive action against illegal activities occurring on digital platforms.
Eun Young Choi, the director of the DOJ's National Crypto Enforcement Team (NCET), emphasized the substantial rise in crypto-related criminal incidents over the past four years in a recent interview published by the Financial Times on Monday.
She spoke about the agency's focus on combating criminal activities within the crypto exchange realm. This includes addressing exchanges that engage in illicit behavior or facilitate crimes, such as money laundering. 
After assuming her director role last year, Choi appears to be determined to prioritize these exchanges as a crucial part of the agency's continuous endeavor to maintain law and order within the crypto industry. 
Choi said this emphasis would send a preventive message to businesses that skirt anti-money laundering or client identification rules and who are investing in solid compliance and risk mitigation practices. She didn't specify any particular names.
Binance, a titan among crypto exchanges, has faced its share of scrutiny, accused of unlawful operations with the US. Simultaneously, Coinbase CEO Brian Armstrong raised the possibility of relocating the exchange's headquarters beyond US borders unless regulatory approaches transform.
In a move to tackle the underworld of crypto, the DOJ launched the NCET in Oct. 2021. Its aim is to combat money laundering, cybercrime and various other crypto-related offenses.
Choi, who says the illicit use of digital assets has gone hand in hand with widespread adoption, indicated that the department will reject considering a company's size when assessing potential charges.
She made it clear that the DOJ will not grant immunity to companies that achieve significant market share through flagrant violations of US criminal law. Their growth cannot be wielded as a shield against accountability.
In addition to exchanges, the DOJ's crypto unit is poised to take decisive enforcement action against investment scams. The surge in funds lost to these fraudulent schemes skyrocketed from about $900 million in 2021 to over $2.5 billion last year, spurring protective measures, the FT said, citing reports of victims submitted to the FBI.
In April, the DOJ seized over $112 million in crypto scams, commonly called "pig butchering" (deceptive victimization schemes). 
In its pursuit of tackling theft and hacks in the DeFi realm, the DOJ has also sights set on cross-chain bridges, which have been a prime target for malicious attacks.
Choi's remarks follow a tumultuous year in the crypto industry, including the downfall of Terraform Labs, Three Arrows Capital and FTX.
---
Get the day's top crypto news and insights delivered to your email every evening. Subscribe to Blockworks' free newsletter now.
Want alpha sent directly to your inbox? Get degen trade ideas, governance updates, token performance, can't-miss tweets and more from Blockworks Research's Daily Debrief.
Can't wait? Get our news the fastest way possible. Join us on Telegram and follow us on Google News.
---