European Crypto Regulations Enter Final Phase
The European Parliament's ECON Committee confirms MiCA deal, setting up the regulation to enter force in 2024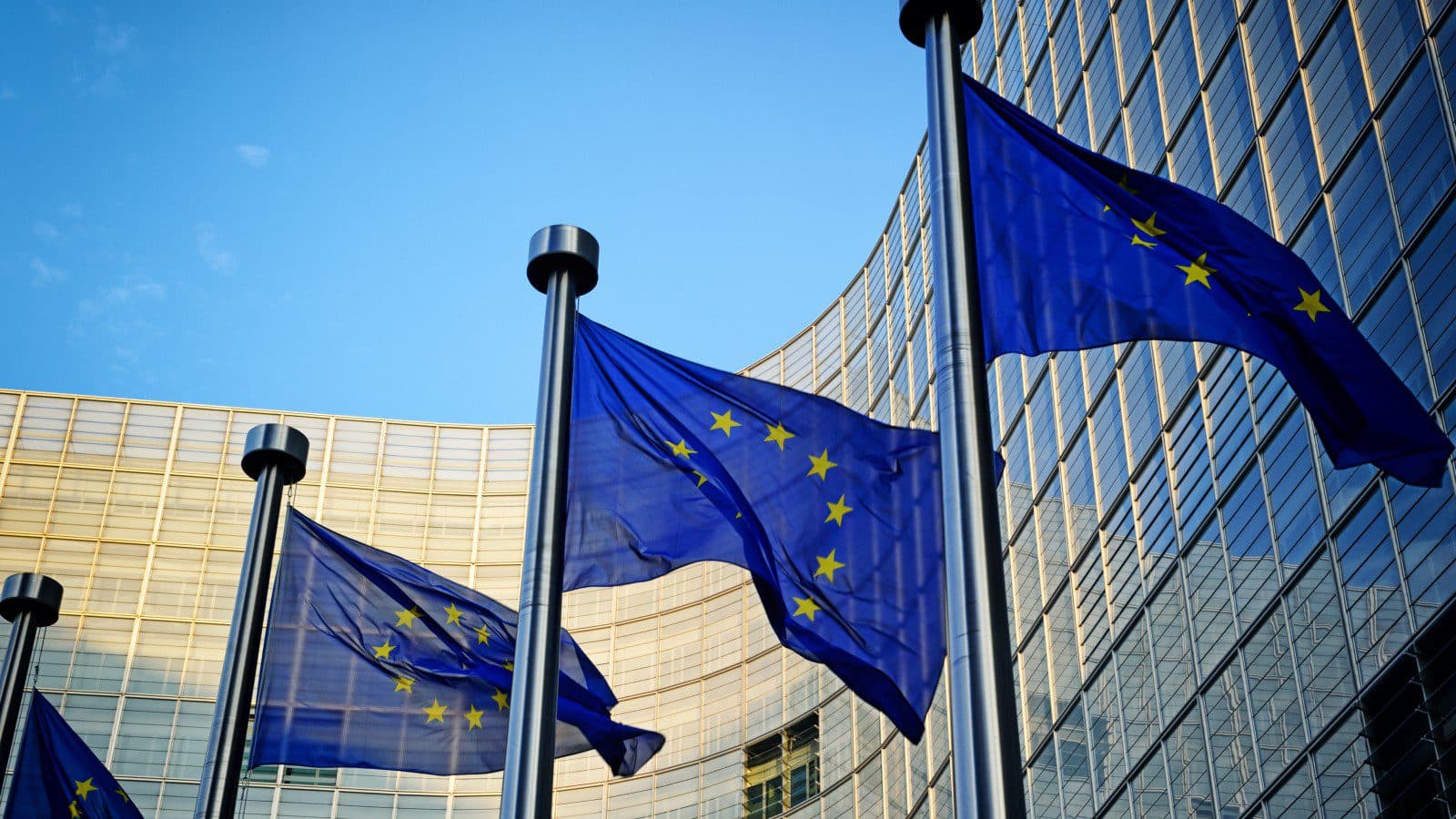 EU flags in front of European Commission in Brussels | Source: Shutterstock
key takeaways
Lawmakers voted 28-to-1 in favor of MiCA
The Transfer of Funds Regulation (TFR) was approved soon after MiCA deal was reached
European lawmakers overwhelmingly voted in favor of the Markets in Crypto Assets bill (MiCA) which would introduce provisions on supervision, consumer protection and environmental safeguards for cryptoassets. 
The European Parliament Committee on Economic and Monetary Affairs (ECON committee) confirmed, in a 28-to-1 vote, a preliminary deal for the new legal framework for cryptocurrency assets.
Negotiations determined that MiCA will oversee all cryptoassets which are not regulated by existing financial services legislation, and it will be up to the European Securities and Markets Authority (ESMA) to determine guidelines for what will be considered a cryptoasset subject to the new regulation.
The classification of NFTs will be determined by ESMA. Any NFT that is offered at a fixed price, including digital art collectibles, in-game clothing and cinema tickets, will not fall under the scope of MiCA. On the other hand, it is likely that NFTs which serve as financial instruments will. 
Stefan Berger, the lead member of the European Parliament (MEP) said in a statement that MiCA will set the global standard for cryptoasset regulation.
"MiCA is a European success. We are the first continent to have a crypto-asset regulation," Berger said in a statement.
The following steps for this agreement will be to receive approval from the Economic and Monetary Affairs Committee, followed by a plenary vote and approval from the European Council before coming into force. 
Soon after the MiCA Vote, EU lawmakers also reached a provisional deal on the Transfer of Funds Regulation (TFR), aimed at tracing and blocking suspicious transactions. 
Ernest Urtasun, co-rapporteur for ECON, said this regulation would ensure that sanctioned addresses can fully trace cryptoassets and prevent money laundering and fraudulent activity. 
"This regulation introduces one of the most ambitious travel rules for transfers of crypto assets in the world," Urtasun said. "We hope other jurisdictions will follow the ambitious and rigorous approach the co-legislators agreed today."
Not everyone is happy about the TFR, however. In March, Coinbase CEO Brian Armstrong tweeted that the bill would require exchanges to report any crypto transactions over 1,000 euros to authorities, even if there is no indication of any suspicious activity.
"This eviscerates all of the EU's work to be a global leader in privacy law and policy," Armstrong tweeted. "It also disproportionately punishes crypto holders and erodes their individual rights in deeply concerning ways. It's bad policy."
---
Get the day's top crypto news and insights delivered to your email every evening. Subscribe to Blockworks' free newsletter now.
Want alpha sent directly to your inbox? Get degen trade ideas, governance updates, token performance, can't-miss tweets and more from Blockworks Research's Daily Debrief.
Can't wait? Get our news the fastest way possible. Join us on Telegram and follow us on Google News.
---