FTX began to unravel one year ago today: A timeline
Blockworks took a look at what really happened behind the scenes at FTX and Alameda in the days leading up to the demise of both firms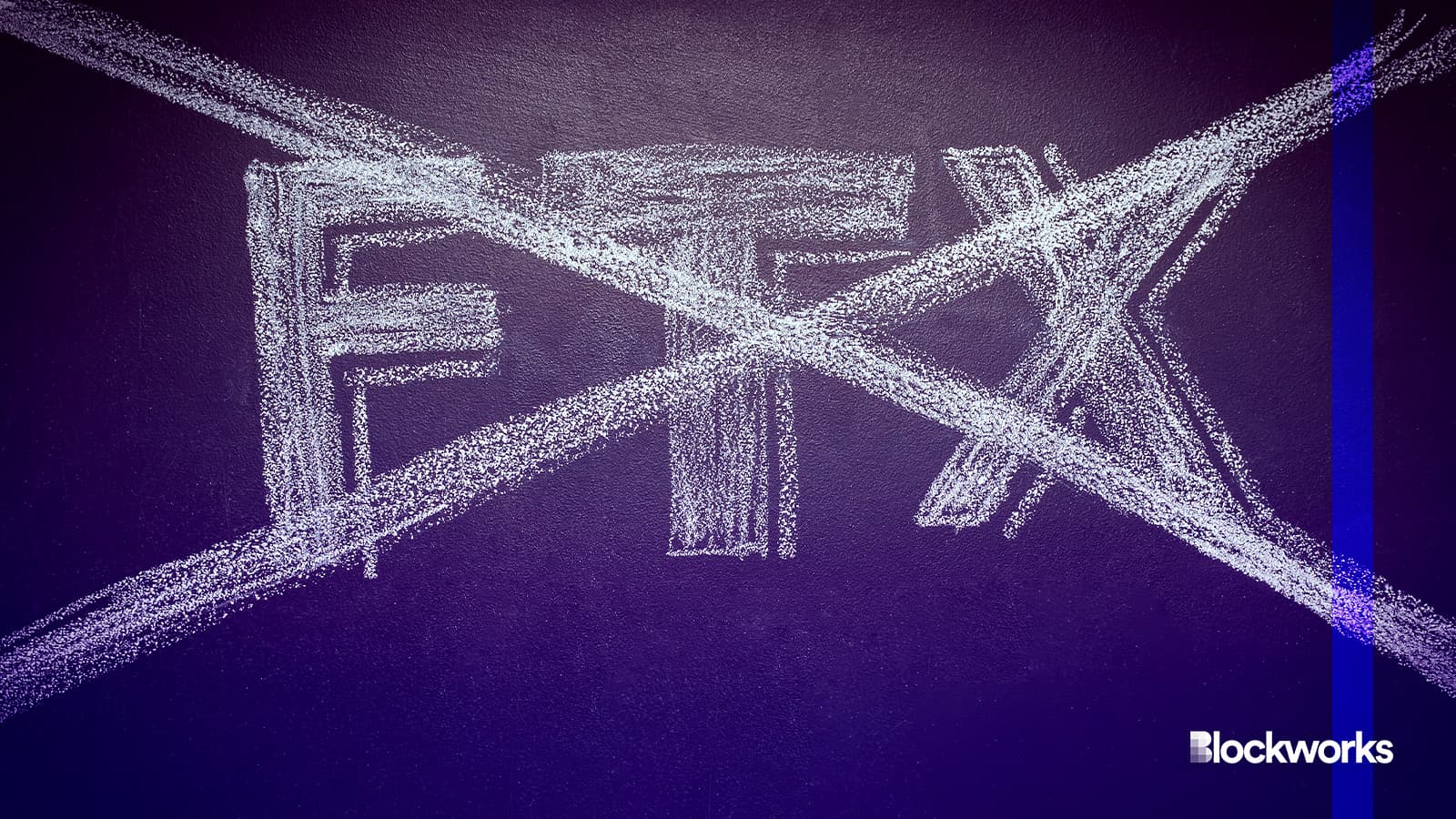 Venn-Photo/Shutterstock modified by Blockworks
Serious cracks began to form in Sam Bankman-Fried's crypto empire one year ago.
Within six days, FTX went from being the second largest crypto exchange to a bankrupt entity with an alarming $8 billion in customer deposits unaccounted for.
This would all come to light in the months after FTX's fall. Rigorous investigations, led by the current FTX CEO, John J. Ray III — made famous by Enron — were corroborated by testimonies from employees and key members of Bankman-Fried's team during his October 2023 trial.
Ex-Alameda CEO Caroline Ellison claimed he demanded seven falsified versions of Alameda's real balance sheet. Bankman-Fried disputed this in his testimony, claiming that he didn't recall the alternative versions Ellison allegedly created.
"I recall [Ellison] saying that she was tentatively planning on sending something like this out, that she had thought about a few different ways of constructing it," Bankman-Fried testified.
Former FTX director of engineering Nishad Singh said Bankman-Fried knew of a $13 billion hole in FTX's balance sheet as early as September. Adam Yedidia, a software engineer at FTX, got Bankman-Fried to admit FTX was not "bulletproof" back in June 2022. 
Bankman-Fried confirmed, in part, the conversation with Yedidia. He did use the word "bulletproof," he said, but not in the context his former employee claimed. And, when asked about the $13 billion hole brought up by Singh, Bankman-Fried told prosecutor Danielle Sassoon that he "probably" discussed it on Signal with Ellison.
Here's a look at what transpired last November.
Wednesday, Nov. 2 to Saturday, Nov. 6: Leaked Alameda balance sheet and aftermath
A crucial catalyst for the eventual collapse was a Wednesday, Nov. 2 CoinDesk report revealing that just over a quarter of Alameda's balance sheet was $3.66 billion worth "unlocked FTT." There was another $2.16 billion of "FTT collateral."
Of Alameda's $14.6 billion in total assets, nearly $6 billion was in FTT, a token conceptualized by Bankman-Fried specifically for FTX. A considerable chunk of this sum acted as collateral for its loans.
Then-Alameda CEO Ellison didn't comment on the CoinDesk story, but she would eventually tell all on the stand in Bankman-Fried's criminal trial less than a year later. 
Sunday, Nov. 6: Binance sells all its FTT
Four days after the CoinDesk report, Binance CEO Changpeng Zhao strutted onto the scene.
He announced that Binance would fully remove FTT from its balance sheet. Binance had acquired numerous FTT tokens when it sold its company equity back to FTX in 2021, a deal worth $2.1 billion.
"Due to recent revelations that have came [sic] to light, we have decided to liquidate any remaining FTT on our books," Zhao wrote. "Regarding any speculation as to whether this is a move against a competitor, it is not. Our industry is in it's [sic] nascency and every time a project publicly fails it hurts every user and every platform."
Monday, Nov. 7: "FTX is fine. Assets are fine."
Bankman-Fried, through a tweet, sought to reassure investors by claiming "a competitor is trying to go after us with false rumors," and "FTX is fine. Assets are fine."
Former FTX chief technical officer Gary Wang contradicted that statement completely in his testimony on Oct. 6, 2023.
"FTX did not have enough assets for customer withdrawals," Wang said. "FTX did not in fact have enough assets to cover all client holdings…because Alameda had withdrawn a lot of it."
Bankman-Fried, in his direct examination, claimed, "At the point where I posted [the tweet], Alameda still had a net asset value of roughly positive $10 billion. FTX had no holes on its balance sheet. And there had been no attack on the customer assets. And so my view at the time was that the exchange was okay and that there, you know, there was…no hole in terms of assets."
However, he alleged that he deleted the tweet once he found out that everything was, well, not fine.
Tuesday, Nov. 8: Binance swoops in to save the day?
FTX is in absolute crisis mode by Nov. 8. The exchange had seen customers withdraw roughly $6 billion in the previous 72 hours. It now paused withdrawals.
Given the $8 billion hole that would later be found, FTX was looking for an out, and fast.
Binance announced on that Tuesday it would be buying FTX.com, the non-US business, just days after it told the world that it was selling all its roughly $529 million worth of FTT. 
Zhao revealed that FTX asked for help from Binance to cover its "liquidity crunch." FTX's competitor signed a non-binding letter of intent to acquire the troubled exchange.
FTT then began to tank. After starting Nov. 8 at a price of nearly $17, it collapsed to a low of $4.23 by the end of the day, according to CoinGecko.
Christian Drappi, a software engineer at Alameda during this time, testified that he had been working throughout November to speed up FTX customer withdrawals. He was stationed in the Hong Kong office shared by Alameda and FTX employees. Ellison was there with him, along with two Alameda traders.
On Nov. 8 at around 11 am ET (11 pm in Hong Kong), Drappi stopped working after he found out about the acquisition.
"I was utterly shocked," Drappi said. 
Wednesday, Nov. 9: Binance backs out, leaving little to no hope
Binance pulled out of its letter of intent on Nov. 9. 
"As a result of corporate due diligence, as well as the latest news reports regarding mishandled customer funds and alleged US agency investigations, we have decided that we will not pursue the potential acquisition of FTX.com," Binance wrote. "The issues are beyond our control or ability to help."
This was the death blow for FTX. According to Ellison, Bankman-Fried allegedly tried and failed to get more capital from Saudi Crown Prince Mohammed Bin Salman. The former FTX CEO also attempted to get last minute financing from Apollo, according to the testimonies of former FTX attorney Can Sun and Bankman-Fried himself.
Thursday, Nov. 10: SBF says he f**ked up
Just three days after telling the world that FTX was fine and that its assets were fine, Bankman-Fried said via Twitter he was "sorry" and that he "should have done better."
This was the beginning of Bankman-Fried's go-to defense that he was an incompetent CEO and that he wasn't completely aware of what was going on at his two companies. 
"…At the end of the day, I was CEO, which means that *I* was responsible for making sure that things went well.  *I*, ultimately, should have been on top of everything," Bankman-Fried wrote. "I clearly failed in that. I'm sorry."
Bankman-Fried also announced that Alameda would be winding down.
Bahamian authorities then proceeded to freeze the assets of FTX Digital Markets, the subsidiary of parent FTX Trading. The subsidiary's business license was also canceled by the Securities Commission of the Bahamas.
Friday, Nov. 11: FTX declares bankruptcy, SBF out as CEO
FTX and Alameda were bankrupt, and Bankman-Fried stepped down as CEO. Ray took over the company to begin sorting through the wreckage.
Despite tweeting on Nov. 10 that FTX.US was "100% liquid," Bankman-Fried's bankruptcy announcement tweet on Nov. 11 included both FTX and its US counterpart.
"I'm piecing together all of the details, but I was shocked to see things unravel the way they did earlier this week," Bankman-Fried wrote. 
Adam Yedidia, a software engineer at FTX who testified at Bankman-Fried's trial less than a year after that tweet, made short work of his old boss's plea of ignorance.
"FTX defrauded all of its customers," Yedidia said on the stand.
---
Don't miss the next big story – join our free daily newsletter.