Nishad Singh's respect for 'formidable' SBF 'eroded' over time: SBF trial live updates
Former FTX engineering head Nishad Singh is expected on the stand this morning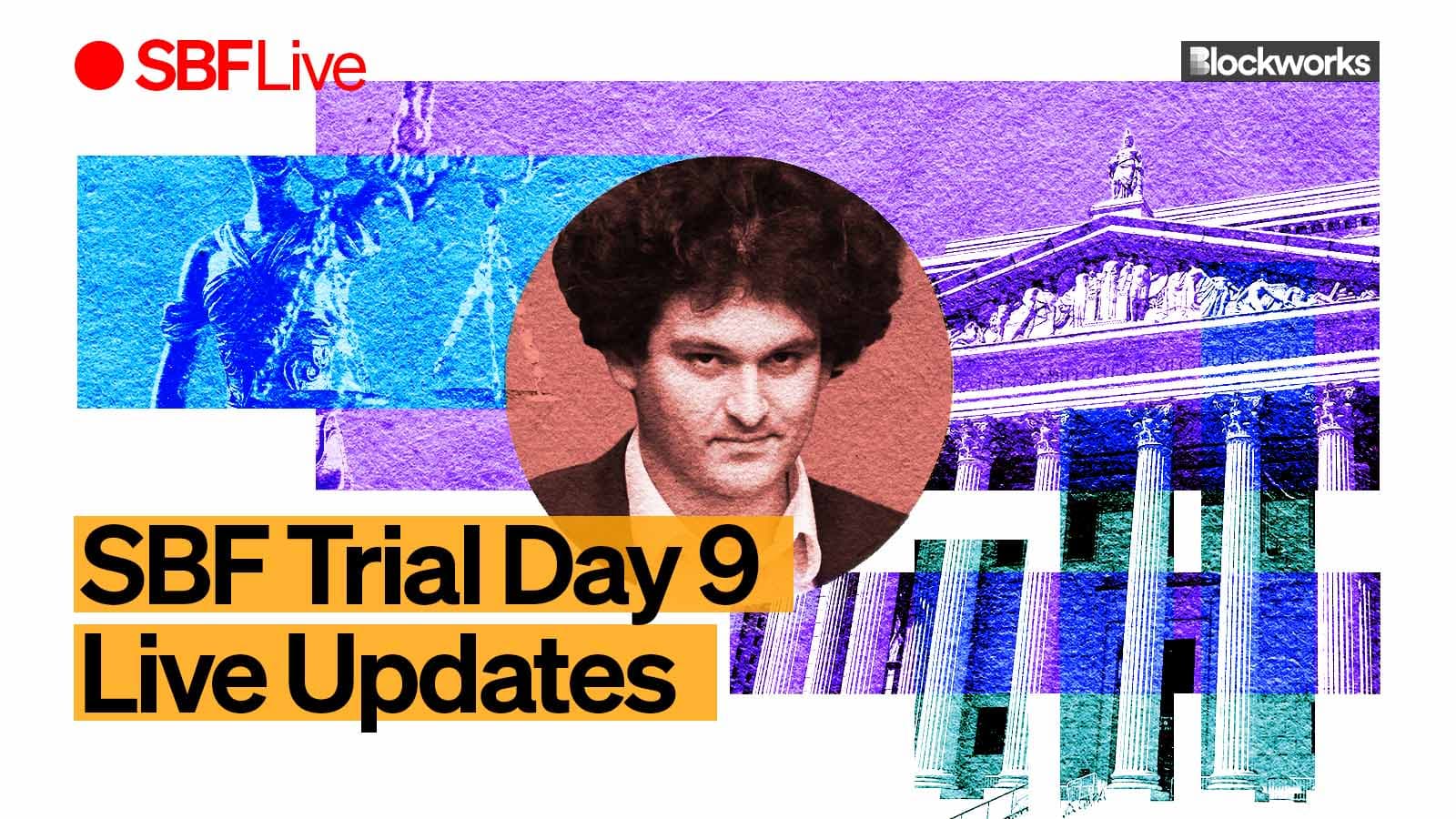 FTX co-founder Sam Bankman-Fried faces seven federal charges in a criminal trial taking place in Manhattan. The former crypto exchange exec is accused of misappropriating billions of dollars of customer funds for real estate, donations, political contributions and investments. 
The current state of play: FTX's former head of engineering, Nishad Singh, is expected to take the stand this week alongside two FTX customers. Former Alameda employee Delaney Ornelas and an FBI agent will round out the prosecution's witness list. Last week, the court heard from FTX co-founder Gary Wang, former Alameda CEO Caroline Ellison, former Alameda employee Christian Drappi and former BlockFi CEO Zac Prince. Read more here.
---
6:05 pm ET: What the hell is the plan?
Singh and SBF met on their apartment balcony in September 2022. (Maybe the paddle tennis court was taken?)
Singh said he confronted his former roommate and boss about the $13 billion hole in the FTX balance sheet — something Singh found out earlier that month from Gary Wang — to which Bankman-Fried allegedly said, "Right, that. We are a little short on deliverables." How exactly does one define short in this scenario? Asking for a friend. 
Don't worry though, Bankman-Fried apparently said — in the same conversation — "this has been taking me some 5-10% of my productivity." Oh, whew. 
"I asked what the hell the plan was….Sam was not too worried," Singh said.
Singh said of the entire situation leading up to the collapse, "I was blindsided and horrified…really betrayed." The feeling was probably mutual for thousands of people who felt a similar way a short time later when they couldn't withdraw their fiat and crypto.
US attorney Roos inquired about political donations that were made in Singh's name to various Democratic party candidates and political action committees. 
According to Singh, Gabriel Bankman-Fried, Sam's brother and the head of the political action group Guardians Against Pandemics, would request a donation from Singh in a Signal chat with SBF. 
Then, FTX Digital Markets CEO Ryan Salame would physically make the wire transfer from Singh's account with Prime Trust, with Singh approving the transfer of funds via email. 
Bankman-Fried's brother would sometimes fly his assistant out to the Bahamas solely to retrieve signed checks from Singh with a blank amount. Then she'd fly back with the signed checks ready to deposit them for political donations.
Roos asked where the money being used for political donations came from, to which Singh said "customers." Singh also said these donations were done in his name for "advantageous optics," so it looked like he was personally donating rather than FTX.
While Bankman-Fried faces a number of charges, campaign finance violations are not on the docket in this trial, though Singh pled guilty to a charge back in February, Judge Lewis Kaplan told the jury this afternoon.
A document was floated between the FTX executives titled "We came, we saw, we researched." It essentially outlined reasons to shut Alameda down.
Singh suggested shutting Alameda down specifically on FTX. However, this would have meant that they would have had to change the over-the-counter (OTC) system and close accounts. 
At the time, Alameda was market making roughly 2% of trades, and was deemed replaceable on FTX.
For Tuesday, expect the defense's cross-examination of Singh to last for four to five hours. That's at least according to Cohen. We'll see if he's right.
Live from the courtroom: US attorney Damian Williams made another appearance this afternoon.
1:45 pm ET: More spreadsheets on deck…
After the first break of the day, Singh's testimony got technical. Really technical. There were more spreadsheets (I thought Danielle Sassoon said we were done with these) and the jury is falling asleep (again), but let's break it down. 
Singh told the court that in June 2022, he was tasked with working on a project to ascertain Alameda's true financial condition in relation to its accounts on the FTX exchange. This took place at the same time software developer Adam Yedidia was trying to fix a bug with Alameda's fiat liability, overstating what Alameda owed to FTX to the tune of about $8 billion.
Alameda CEO Caroline Ellison sent Singh a spreadsheet detailing the crypto trading firm's actual balances to aid him in the project. He called the balances "extremely negative," adding that he hadn't concerned himself with Alameda's finances before June 2022. 
The line of questioning then segued into Singh discussing the now-infamous "allow negative" feature that was granted to Alameda's trading accounts on FTX. 
Singh referenced the "allow negative" feature, but referred to it as a "flag" that Alameda had on its FTX account leading Judge Lewis Kaplan to step in, asking Singh to explain what he meant by "flag."
"I don't imagine it's 'don't tread on me,'" Kaplan quipped. 
Singh said that initially, his impression was that the "allow negative" feature was a positive, allowing Alameda to unlock FTT and provide other services to FTX. 
"Initially, it allowed [Alameda] to go negative" in its trading accounts up until they hit their collateral limit, Singh explained.
Also in June 2022, Wang's calculations showed that the total of all of Alameda and Bankman-Fried-controlled accounts on FTX showed a balance of more than negative $10 billion.
Singh said that seeing the negative balance "seriously concerned me…seemed like a serious abuse" of a feature that he believed had been meant to serve FTX, not "hurt anyone."
In 2020, a feature in the code was changed so Alameda's accounts could go past their collateral limit and they would never be liquidated. Roos repeatedly punctuated Singh's points about FTX code by asking who was involved, to which Singh answered Wang and SBF.
Oh, and the infamous $35 million penthouse apartment? Singh said he didn't even want to live there. Apparently, the group of roommates had already agreed on a living location, but then Bankman-Fried vetoed it in favor of the apartment. 
Live from the courtroom: US attorney Damian Williams made a brief surprise guest appearance this morning.
12:00 pm ET: Former head of engineering takes the stand
Like FTX co-founder Gary Wang and former Alameda CEO Caroline Ellison, former head of engineering Nishad Singh took the stand — and immediately admitted guilt to crimes. 
"I defrauded customers, investors," of FTX, Singh said. He added that he committed money laundering and violated campaign finance laws.
He pleaded guilty to six federal charges in February, including a charge of conspiring to violate federal campaign finances laws.
Singh claims he learned of the $8 billion "hole" in FTX's balance sheet in September 2022, just a month from the crypto exchange's collapse on Nov. 11, 2022. 
The former FTX executive started as a software engineer at Alameda in 2017 before moving over to a similar position at FTX in mid-2019.
His direct examination so far has been very focused on the role SBF played in the coding process. Singh claimed Bankman-Fried was "really involved in the minutia of the architecture of FTX," claiming that he designed the margin trading system and the auto-liquidation engine that closes out customers' accounts in the case of large losses.
It sounds like SBF rocked a lot of different hats when he led FTX. He also, according to Singh, had a monitor (one of six) devoted to Alameda's trading positions in his office.
Bankman-Fried was portrayed by Singh as an almost larger-than-life character who graced the cover of magazines and met with celebrities. He was also the ultimate decision-maker on FTX marketing, investment decisions, endorsement deals, and other high-level business decisions.
"Sam's a formidable character," Singh said. "Over time," Singh's respect for SBF "eroded" and he claimed he grew to be "distrustful."
But Singh stayed on with FTX until the very end, however. Asked to describe his former boss's spending habits, Singh responded tersely.
"Excessive," he told the jury, raising an objection from the defense.
Adding to the spending discussion, prosecutor Nicholas Roos focused heavily on the many endorsement deals, and high-dollar investments Bankman-Fried allegedly directed.
At a dinner hosted by Michael Kives, investment firm K5's CEO, SBF was connected to a number of celebrities. 
Singh, when asked to name the celebs, named former presidential candidate Hillary Clinton as well as Katy Perry, Orlando Bloom, and Kendall and Kris Jenner.
"I honestly could not tell you what they do," Singh said after naming the Jenners, which made the whole court laugh. Roos, too, smiled reservedly and gave a little chuckle.
Live from the courthouse: SBF's father, who left during Prince's direct examination on Friday, is not present today, though Bankman-Fried's mother is in attendance.
10:30 am ET: Court's back in session
Since the court adjourned Friday afternoon, two new letters were filed — one by the prosecution and the other by the defense. 
In an early morning filing on Monday, Sam Bankman-Fried's lawyers raised concerns about SBF's Adderall. SBF's Adderall has been mentioned multiple times — both in letter motions and in the courtroom — Judge Lewis Kaplan initially pointed the defense attorneys to the Bureau of Prisons, but the lawyers claim to have received no response to emails and "voice messages."
On Friday, prior to court being adjourned for the weekend, the defense brought up the issue of SBF's Adderall. The defense noted that the prosecution also has been trying to work out a solution for the issue. 
The prosecution said that the BOP agreed to a schedule involving an extended-release dose of Adderall, which is echoed in the defense's letter to Judge Kaplan Monday morning. 
The "current proposal is to give Mr. Bankrnan-Fried a 12-hour extended-release 20mg dose of Adderall in the morning before he is transported to the courthouse for trial" on Monday.
Read more: Here's what you missed during week 2 of the Sam Bankman-Fried trial
If the proposal does not work, the defense is pushing for the court to adjourn for one day to work out a solution. This would mean a break on Tuesday, Oct. 17.
"However, as we approach the defense case and the critical decision of whether Mr. Bankrnan-Fried will testify, the defense has a growing concern that because of Mr. Bankman-Fried's lack of access to Adderall he has not been able to concentrate at the level he ordinarily would and that he will not be able to meaningfully participate in the presentation of the defense case," the defense said.
But wait, there's more.
The prosecution, in response to a letter filed by the defense last week, pushed back on Friday evening against the defense's argument that the US government needs to establish a "violation of the terms of the contract" to prove misappropriation of funds and therefore wire fraud. 
Looks like the lawyers ignored the late-night moratorium on filings from Judge Kaplan last week. 
Read more: White-collar defense lawyer weighs in on SBF trial: 'If I had to place a wager…'
However, the prosecution refuted the point, saying that misappropriation occurs when fiduciary duty or a "similar relationship of trust and confidence" is breached and the relationship is not just part of a "written contract."
The prosecution argued that they've already shown, through evidence, that Sam Bankman-Fried "authorized statements, beyond the Terms of Service, that indicate his own acknowledgment that FTX had such a relationship of trust with its customers."
Additionally, the government has no issues with the defense pursuing cross-examination focused on the witness relationships with FTX. The lawyers note that they retain the right to object to certain questions (something we've seen a lot of so far in this trial from both sides).
---
Don't miss the next big story – join our free daily newsletter.