German Conglomerate Siemens Issues €60M Digital Bond on Polygon
Siemens is just the latest European company to issue digital securities on public blockchains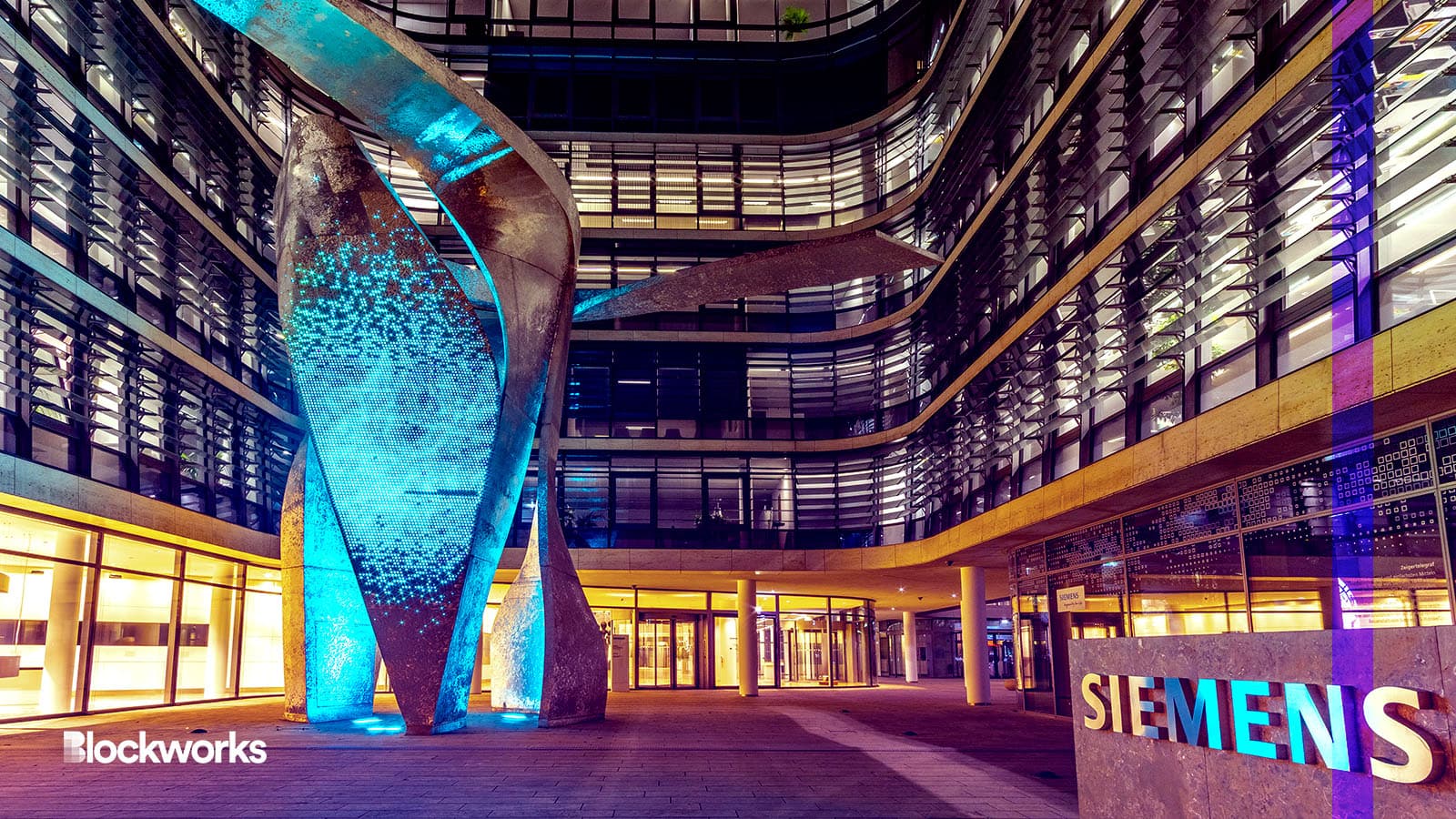 Source: Shutterstock / Uwe Seidner, modified by Blockworks
German engineering company Siemens issued its first digital bond on a public blockchain as the company looks to reduce intermediaries and access a wider pool of buyers.
Siemens, the largest industrial manufacturer in Europe, chose Polygon's public mainnet as the blockchain to issue the bond worth 60 million euros ($64 million), which has a one-year maturity in accordance with Germany's Electronic Securities Act.
The act, which came into force in June 2021, allows the issuances of securities in electronic form and does not require a physical securities certificate. 
Such a bond issuance makes paperwork more efficient and removes the requirement of a central clearinghouse, according to a Tuesday press release Tuesday. There was no mention of an interest rate on the bond.
DekaBank, DZ Bank and Union Investment are among investors in the digital bond. Siemens said payments for the bond were made using classic methods since the digital euro isn't yet available, and the transaction was completed within two days. A Polygon spokesperson confirmed the transaction took place but declined to give further detail, including transaction IDs.
"By moving away from paper and toward public blockchains for issuing securities, we can execute transactions significantly faster and more efficiently than when issuing bonds in the past," Peter Rathgeb, corporate treasurer at Siemens, said. 
Munich-based Siemens has previously worked on a blockchain-based project. In 2021, JPMorgan collaborated with the German company to develop a blockchain system to manage payments between its own accounts. 
Sandeep Nailwal, Polygon's CEO, said he hadn't realized the network was being used by Siemens, adding that it is truly becoming the hub of institutional DeFi.
Issuing digital bonds seems to be popular among European banking institutions. The European Investment Bank has already issued two blockchain bonds. The first one, announced in 2021, was deployed on Ethereum while the second was issued on HSBC's tokenization platform, with a secondary record issued on Ethereum, per press materials.
Société Générale and Santander have also issued bonds on Ethereum. Swiss bank UBS launched a similar bond using both blockchain-based and traditional exchanges. And more recently, ABN Amro issued a corporate bond on an undisclosed public blockchain with custody help from Fireblocks.
---
Don't miss the next big story – join our free daily newsletter.
Follow Sam Bankman-Fried's trial with the latest news from the courtroom.