Global X Offers Different Type of Bitcoin Futures ETF
Firm's latest product also invests in equity securities of blockchain companies.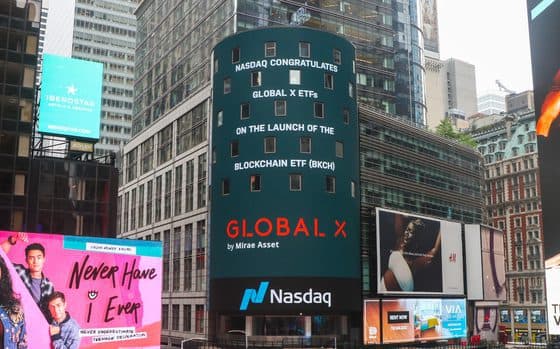 Global X launched a blockchain ETF on July 14. One week later, it filed for a bitcoin ETF with the SEC.
key takeaways
The Global X Blockchain & Bitcoin Strategy ETF (BITS) has a fee of 65 basis points, compared to the 95bps fee of ProShares and Valkyrie bitcoin futures products
Fund launch comes on the same day as the VanEck Bitcoin Strategy ETF, though blended nature of fund differentiates the offering from the three other US bitcoin futures-focused ETFs, Bloomberg Intelligence ETF analyst says
Global X's latest ETF is set to join other recently launched bitcoin-linked offerings in the US market Tuesday, though the firm's product goes beyond just investing in futures contracts.
In addition to long positions on US-listed bitcoin futures contracts, the Global X Blockchain & Bitcoin Strategy ETF (BITS) invests in the equity securities of global issuers that the firm believes are positioned to benefit from further advances in blockchain technology. 
These include companies that derive, or expect to obtain, at least half of their revenues, operating income or assets from digital asset mining or blockchain-related applications, transactions, integration and hardware, according to the fund's summary prospectus. 
BITS may also invest in US companies that directly own digital assets and may gain access to blockchain companies indirectly through ETFs, the filing notes.
"As blockchain technologies advance and digital assets see increased adoption, we believe there will be winners across both equities and digital assets themselves, and therefore we want to maintain exposure to both pieces of the theme's ecosystem," Global X Research Analyst Matt Kunke told Blockworks.
The fund comes after the launch of the first bitcoin futures ETF in the US — the ProShares Bitcoin Strategy ETF (BITO), which hit the market on Oct. 19. Valkyrie Investments' Bitcoin Strategy ETF (BTF) launched three days later. 
BITS is being listed the same day as VanEck's Bitcoin Strategy ETF (XBTF). These two funds charge a fee of 65 basis points — lower than the 95bps fee of the ProShares and Valkyrie offerings.
BITO, BTF and XBTF primarily invest in bitcoin futures contracts.
Targeting roughly 50% bitcoin futures exposure should enhance the Global X fund's capacity, given futures position limits at the CME, Kunke explained. Maintaining a smaller allocation to bitcoin futures also allows the firm to be "nimbler" to potentially find better value and reduce roll costs, he added.
"Many of the existing products today are designed to be access vehicles for bitcoin futures, which we believe are more geared to shorter-term investors," Kunke explained. "BITS takes a distinct approach focused more thematically on the bitcoin and digital assets, which believe is more relevant to long-term investors."
Bloomberg Intelligence ETF Analyst James Seyffart noted that the Global X fund's focus on blockchain companies makes it more similar to crypto thematic equity funds than the bitcoin futures ETFs already on the market. 
"There's obviously demand for products like this with high correlation to bitcoin and crypto more broadly," he told Blockworks. 
The largest blockchain fund in the US is Amplify Investments' Transformational Data Sharing ETF (BLOK). That fund launched in January 2018 and currently has about $1.7 billion assets under management. 
Founded in 2008, Global X has 88 ETFs trading in the US with combined assets of roughly $44 billion, according to ETF.com. 
Though Global X's newest ETF is actively managed, the firm launched an index-based Blockchain ETF (BKCH) in July. The fund, which has an expense ratio of 50 basis points, has returned 25.6% in the trailing three months, as of Nov. 11, according to data by FactSet. 
BKCH's top five holdings are Marathon Digital, Coinbase, Riot Blockchain, Hut 8 Mining and Voyager Digital.
Global X also proposed to the US Securities and Exchange Commission (SEC) in July to launch a bitcoin trust, which would hold the crypto asset directly. The SEC denied VanEck's planned spot bitcoin ETF last week, and many other similar products await regulatory approval.
This story was updated on Nov. 16, 2021, at 12:45 p.m. ET.
---
Get the day's top crypto news and insights delivered to your inbox every evening. Subscribe to Blockworks' free newsletter now.
---