Bitcoin White Paper Sets a Kraken Pace at F1 Australian Grand Prix
The Australian Grand Prix will feature the world's fastest Bitcoin white paper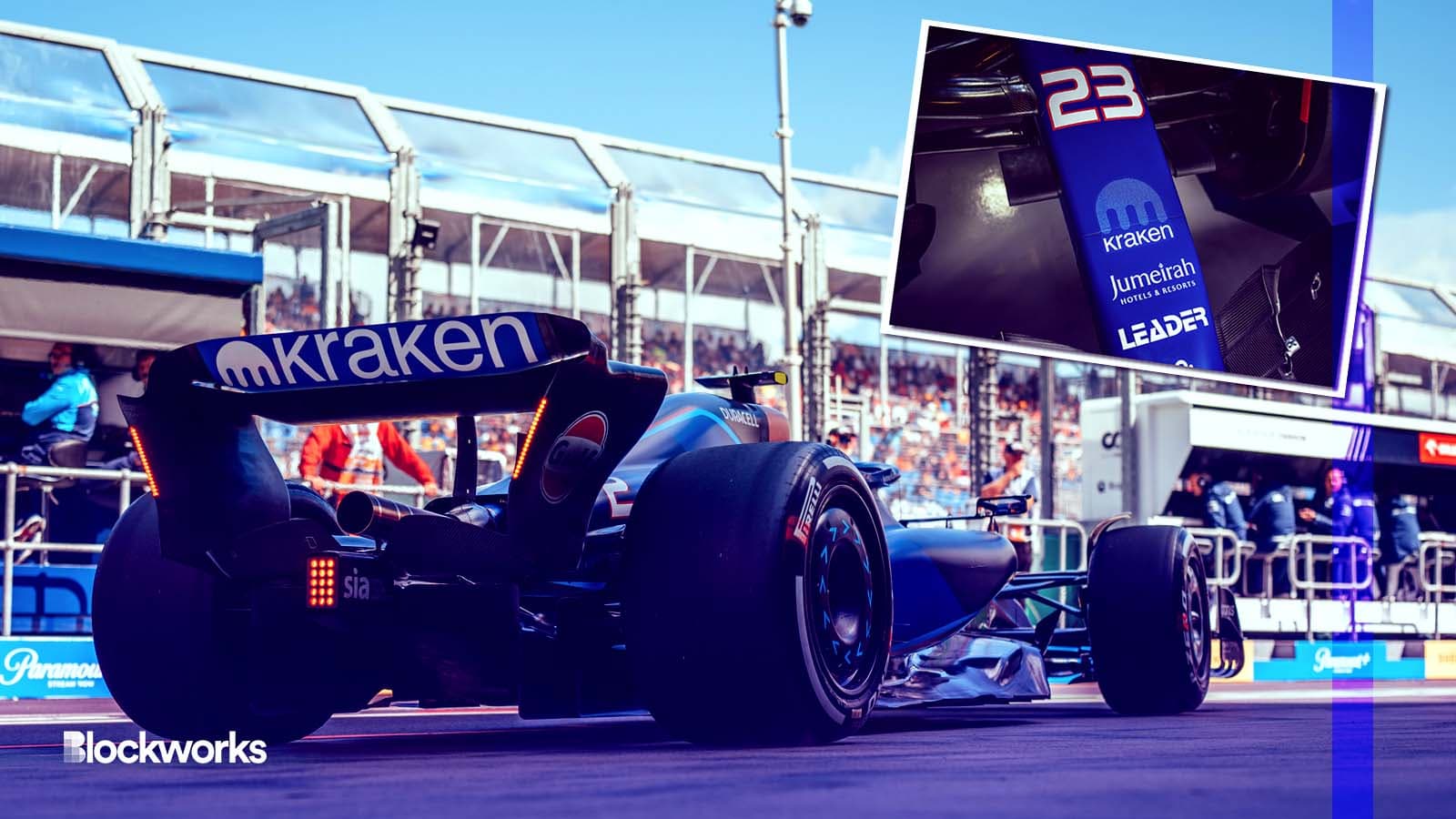 Kraken/modified by Blockworks
The Lakeside Drive straight is the fastest section of the course at the Melbourne Formula One Grand Prix circuit, where drivers can accelerate to over 200 mph in less than a mile.
So if you're going to read the Bitcoin white paper on the nose of the Williams cars, you're going to have to be a serious speed reader.
Crypto exchange Kraken is a new sponsor of the Williams Racing F1 team, and to kick off the partnership the firm has pasted Satoshi Nakamoto's seminal paper onto the nosecone of the Williams cars driven by Alex Albon and Logan Sargeant.
The Formula One series attracts 1.3 billion viewers per year, and Kraken is not the first to see the potential to reach one of the world's largest sporting audiences. Rival exchange Crypto.com has also maintained an F1 presence with the Aston Martin team, Tezos sponsors McLaren, and Red Bull and Bybit have a sponsorship agreement. Mercedes-AMG drew the short straw and featured FTX during the 2022 season.
But Kraken Chief Marketing Officer Mayur Gupta hopes that the partnership with Williams will involve more than simply adding a logo to the car.
Gupta told Blockworks that "Featuring the bitcoin whitepaper on the Williams car is a symbol of our belief and commitment to crypto's mission, and a celebration of how far we've come in the past 12 years. It's an opportunity to showcase the original document that brought this entire movement to life."
NFT art on a Formula One car?
Kraken is also looking to involve fans in their sponsorship, Gupta says, and intends to run competitions for future NFT holders to win the opportunity to feature their artwork on the rear wing of the car.
"In the coming weeks and months, we aim to showcase how NFTs can enable both creators and fans to engage in whole new ways in a sport they passionately love. This isn't about sponsoring a sports team to acquire new clients, it's about sharing the ethos and principles of crypto — such as financial freedom — and highlighting how critical it is to every community around the world."
"We want this win for Kraken to be a win for the industry," he added.
In a nod to the growing importance of overseas markets to US-domiciled exchanges, particularly at a time when regulatory authorities in the US arguably dominate news cycles more than the technology they are attempting to regulate, Mayur noted that "Like crypto, F1 transcends geographical boundaries and builds communities out of a shared passion for engineering excellence and speed. F1's popularity has skyrocketed globally, especially after Netflix's Drive to Survive, bringing a younger and more diverse fanbase to the sport, including from countries such as India, Spain and Mexico."
Williams has a storied history in Formula One, with nine constructors' championships and seven drivers' championships over the years. The team's roster currently features Albon, a Thai-British driver in the FW45 number 23 car, and Sargeant, an American, in the number 02 car. 
---
---
Get the day's top crypto news and insights delivered to your email every evening. Subscribe to Blockworks' free newsletter now.
Want alpha sent directly to your inbox? Get degen trade ideas, governance updates, token performance, can't-miss tweets and more from Blockworks Research's Daily Debrief.
Can't wait? Get our news the fastest way possible. Join us on Telegram and follow us on Google News.
---