New Planned ETF Targets NFT-related Stocks
The index-tracking ETF would invest in companies within NFT industries, such as gaming, arts and entertainment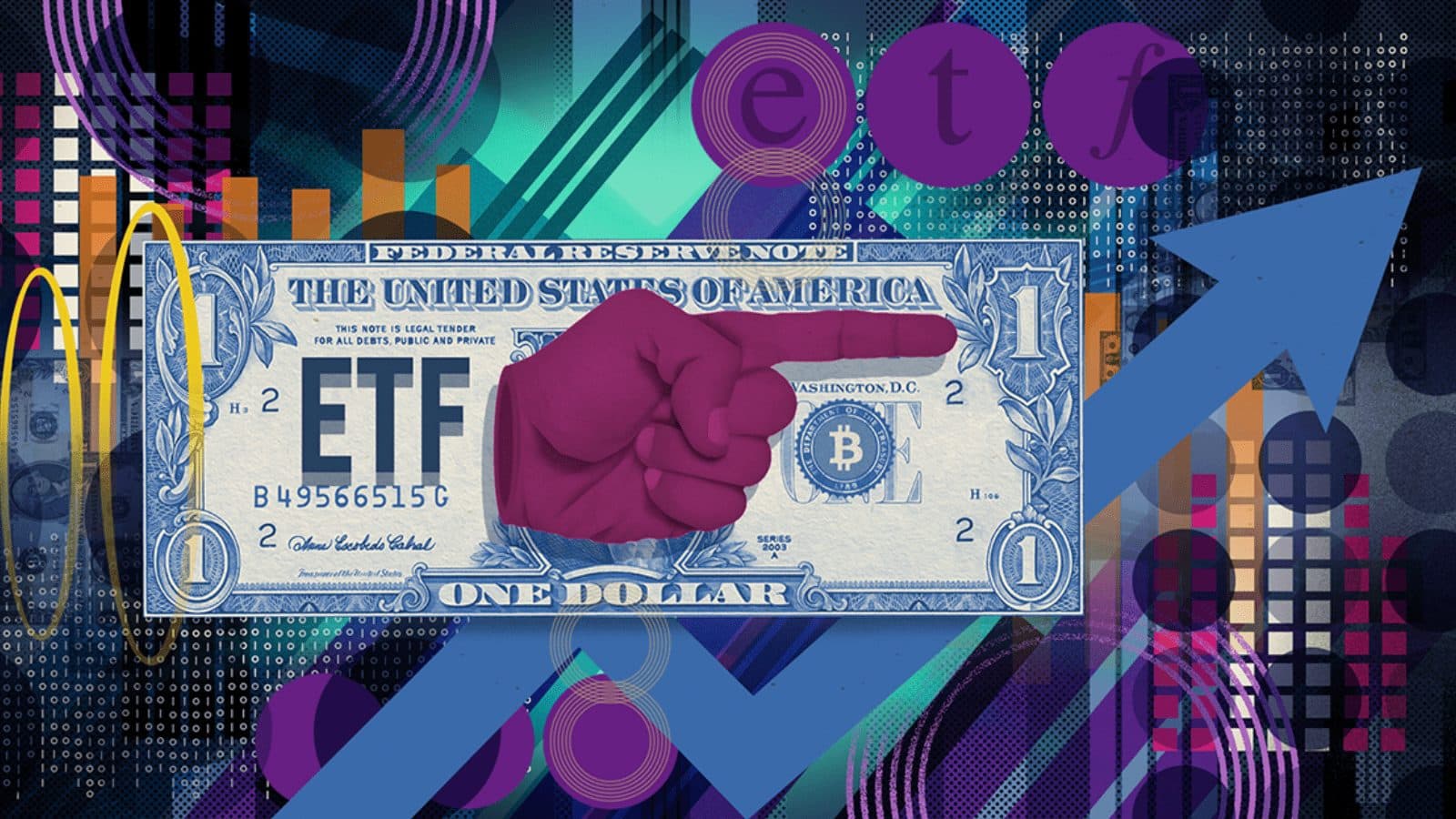 Blockworks exclusive art by axel rangel
key takeaways
The filing comes as the SEC rejected proposed spot bitcoin ETFs from fund issuers NYDIG and Global X Thursday
Exchange Traded Concepts launched the Fount Metaverse ETF in October
Private label ETF issuer Exchange Traded Concepts is planning to launch an index-tracking ETF that targets NFT companies. 
The ETF, which tracks a Fount Investment Company index, is designed to track the performance of businesses that develop, manufacture, distribute or sell products or services in token technology subindustries, according to a Thursday regulatory disclosure. 
That includes arts and entertainment, gaming, blockchain technology and NFT (non-fungible token) infrastructure.
"Each token economy company's one year forecasted revenue is reviewed and only companies that are expected to derive more than 50% of their revenue from a token technology sub-industry may be included in the index," the filing states.
The disclosure notes that NFTs are a way for individuals to own, collect and sell digital works of art. But the firm predicts that these non-fungible tokens will also "significantly alter traditional business models operated within the gaming industry." 
Integrating NFTs into gaming introduces a play-to-earn model where gamers can earn one-of-a-kind assets, such as plots of land, characters and costumes, which can be traded or sold. 
The future of NFTs
Executives at Pantera Capital, which has $1 billion in commitments for a blockchain fund, labeled gaming as "a huge sector for years to come," saying NFTs will help make that happen. 
Crypto exchange FTX last month unveiled a new gaming division to allow developers to launch tokens and build NFTs within their online worlds.
Blockchain software technology company ConsenSys said it's looking to use ​​NFTs to onboard the next tens of millions of users into its main product, Metamask, and is exploring collateralization, fractionalization, swapping, borrowing and lending.
Beyond collectibles, Johnna Powell, global co-head of ConsenSys NFTs, said a person's resume, medical records or driver's license could be NFTs.
"NFTs are at its core a structural innovation," Upshot CEO Nick Emmons said during an ETHDenver panel last month. "As more exotic and esoteric financial instruments and vehicles come online, they will be represented as NFTs and will be able to fill in the rest of this picture of what a truly decentralized expressive financial system looks like."
In the absence of spot crypto ETFs
The number of crypto-related ETFs in registration and on the market has grown in recent months as the Securities and Exchange Commission has not yet approved an ETF that would invest in bitcoin directly. 
The SEC on Thursday rejected spot bitcoin ETF proposals from fund issuers NYDIG and Global X.
Exchange Traded Concepts launched the Fount Metaverse ETF (MTVR) in October. The fund has roughly $11 million assets under management.
Defiance ETFs in December launched its Digital Revolution ETF (NFTZ), which invests in NFT marketplaces and issuers. That product currently also manages about $11 million of assets.
The Thursday filing did not indicate a ticker or expense ratio for the proposed Fount Token Economy ETF. A spokesperson for the company did not immediately return a request for comment.
---
Get the day's top crypto news and insights delivered to your email every evening. Subscribe to Blockworks' free newsletter now.
Want alpha sent directly to your inbox? Get degen trade ideas, governance updates, token performance, can't-miss tweets and more from Blockworks Research's Daily Debrief.
Can't wait? Get our news the fastest way possible. Join us on Telegram and follow us on Google News.
---