New York Mayor-Elect Gives City Token Seal of Approval
After MiamiCoin raked in over $21 million, New York City is hopping on the CityCoins trend.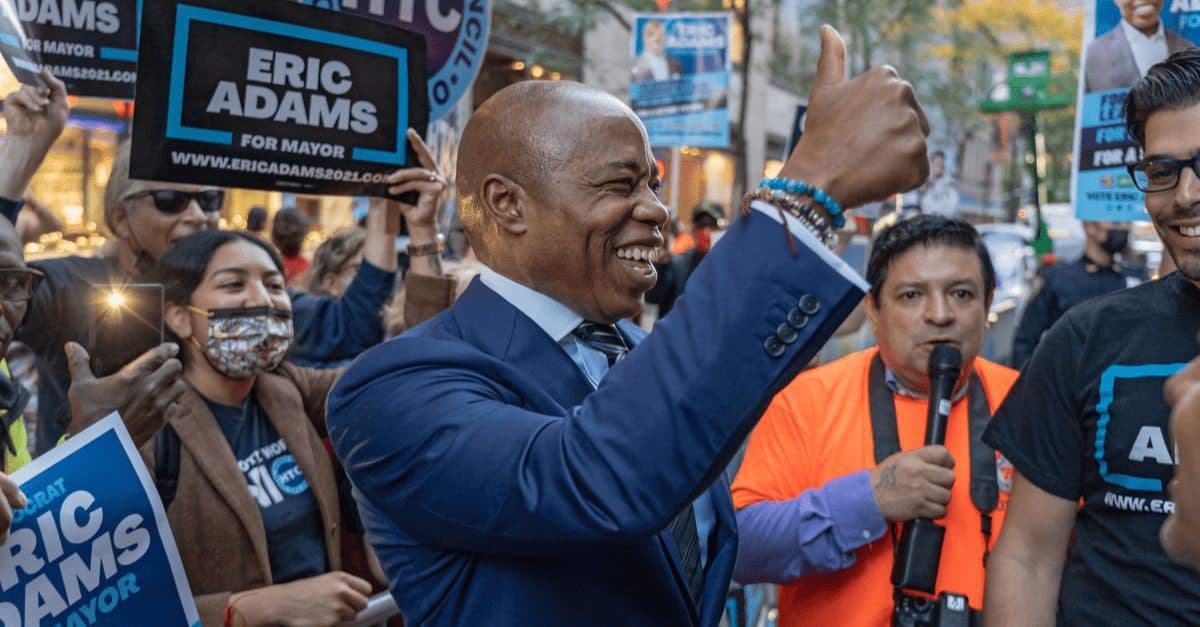 Mayor-elect Eric Adams; Source: Shutterstock
key takeaways
NYCCoin began mining Wednesday and is expected to start trading soon
Mayor-elect Adams is excited about the opportunities crypto presents for New York
Thanks to New York City Mayor-elect Eric Adams, the 'NYCCoin' token will become community-led project CityCoins' second launch. 
The announcement comes after CityCoins' first project, MiamiCoin, brought in $21.3 million dollars for the South Florida city since it began trading in August. 
Anyone can transfer Stacks (STX) tokens to mine MiamiCoin, and a percentage is placed in Miami's cryptocurrency wallet. MiamiCoin is available to trade on crypto exchange OKCoin. 
"Miami has been an incredible success," said Patrick Stanley, a CityCoins community lead. "The citizens of Miami have benefited to the tune of $21 million so far, and that's only going to grow, it's going to grow forever. The amount of money in Stacks that's contributed never goes backwards and never stops, never stalls, it just keeps going up."
Adams has quickly become known as a crypto-friendly mayor. He called bitcoin a "new way of paying for goods and services throughout the entire globe" during a CNN interview Monday, and has said that schools "must" teach about blockchain technology.
NYCCoin mining began on Wednesday, according to the CityCoins. Adams welcomed the project on Twitter, saying "we're counting on tech and innovation to help drive our city forward."
Miami officials voted to approve access to the funds, held in a crypto wallet, in September. On  Thursday, Miami mayor Francis Suarez told CoinDesk TV that the city will soon be distributing "bitcoin yield" to citizens, earned from staking MiamiCoin. 
"We're going to be the first city in America to give a bitcoin yield as a dividend directly to its residents," Suarez said during the interview. 
Adams has not yet commented how NYCCoin funds may be used, but he did follow Suarez's lead and stated that he would be accepting his first three paychecks in bitcoin. The two leaders expressed on Twitter their desire to make their respective cities into "crypto capitals." 
"Having a leader like Mayor Suarez," said Stanley, "who is not Republican, he's not Democrat, he just wants to move forward, and same with Eric Adams…They're like the perfect archetypes for leadership in the crypto era, and they're going to accelerate and modernize their city as a function of just having the CityCoins." 
Suarez is in fact a registered Republican, although the mayor's office in Miami is officially nonpartisan. Adams is a Democrat. 
The CityCoins project is not the first to try a community token model. The Colu DLT platform shut down its blockchain-based Colu Local Network (CLN) token following a 2018 ICO that raised $23 million in ether. CLN was used for retail purchases and encouraged consumers to shop locally with incentives. 
The token launched in four cities, including London and Tel Aviv, but Colu later cited regulatory and technical challenges as the reason for ending the project. The company repurchased and burned all tokens in 2019. 
CityCoins is currently working on AustinCoin, according to its website. "Mining is coming soon," the page states. In late September, the site listed SanFranciscoCoin as "coming soon," although it has since been removed and no additional information has been released about the project.
---
Get the day's top crypto news and insights delivered to your inbox every evening. Subscribe to Blockworks' free newsletter now.
---