BlockFi 'forced' into bankruptcy following FTX, Alameda collapses: SBF trial live updates
Friday marks a shorter day in court (hopefully) with Judge Lewis Kaplan eyeing a 1 pm end time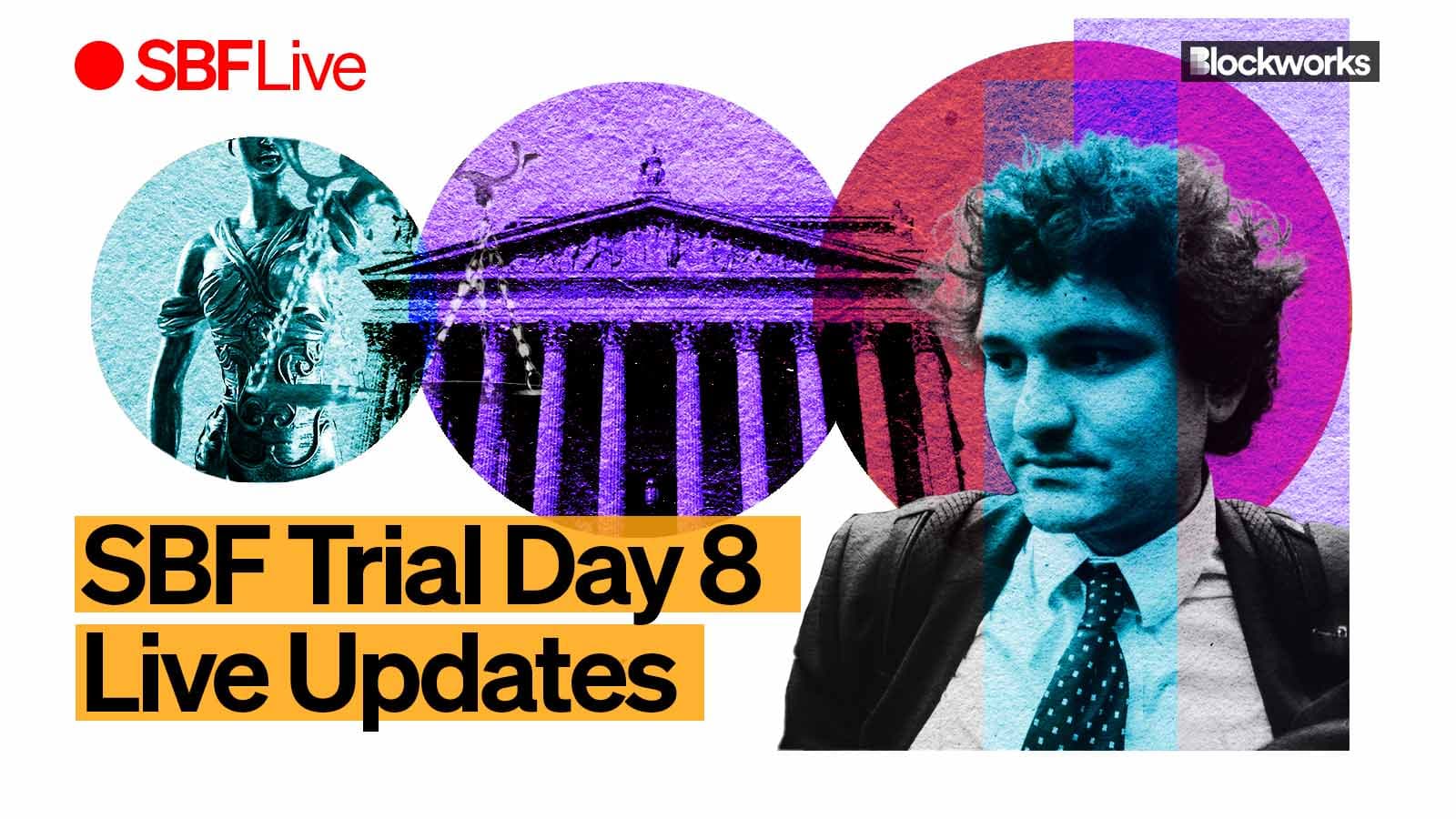 FTX co-founder Sam Bankman-Fried faces seven federal charges in a criminal trial taking place in Manhattan. The former crypto exchange exec is accused of misappropriating billions of dollars of customer funds for real estate, donations, political contributions and investments. 
The current state of play: Caroline Ellison's time in the courtroom is over after a short cross-examination. A former Alameda employee took the stand after her to recount a November 2022 all-hands meeting. Former BlockFi CEO Zac Prince began his testimony yesterday, which continues today. Read more here.
---
1:45 pm ET: Court adjourns for the weekend
The end of week two saw the conclusion of ex-BlockFi CEO Zac Prince's testimony. He was one of the first government witnesses to really speak to the jury, rather than just the courtroom or lawyers. 
Prince confirmed that BlockFi started lending to Alameda at the end of 2021. He added, though, that had BlockFi known that Alameda was borrowing from FTX, then "I think we wouldn't have worked with them."
Unfortunately for Prince, they didn't know and ended up lending around $1 billion to Alameda because they were a "good borrower."
At one point, as Prince was discussing both due diligence and know-your-customer (KYC) policies, Bankman-Fried appeared to scribble on a post-it and passed it to his lawyer. Oh to be a fly circling around SBF? You get the point, we want to see the Post-it.
Prince was also engaging enough for SBF to let his laptop screen turn off from inactivity, though he was seen shaking his head at certain points — including when Prince was discussing FTX US.
The former CEO confirmed that balance sheets were one of the primary ways for BlockFi to gauge the health of Alameda specifically. Ellison, earlier this week, testified that she — for Genesis, not BlockFi — once came up with seven different balance sheets for Bankman-Fried to pick from and share with the lender. 
Prince testified that the balance sheet he received from Alameda made BlockFi believe that the former firm "remained a good candidate for lending." 
Bankman-Fried's father, who had been in attendance pretty much every day of the trial, left the courtroom during Prince's direct examination. 
SBF's team took a crack at Prince to end the day. 
Prince confirmed to Cohen that BlockFi "frequently received" audited financials, though crypto firms were "majority unaudited" because crypto firms struggled to make deals with auditors. Prince added that it was possible to only choose to lend to audited borrowers. Lesson learned?
Cohen also introduced an internal credit memo where BlockFi's risk management team advised against lending to Alameda because of its exposure to FTT months before BlockFi eventually gave Alameda a loan. 
At the end of the day on Friday, prosecutors teased FTX's former chief of engineering, Nishad Singh, as a possible witness next week. Two former FTX customers, an FBI agent, and an FTX employee named Delaney Ornelas are also slated to testify.
12:00 pm ET: Could the prosecution's strategy pay off?
Week two solidified the current approaches of both the prosecution and defense teams. 
The approaches, like anything in a trial this big, are subject to change — especially as we expect a six-week long trial. 
But, for now, the prosecution came out with a very clear strategy: put their biggest witnesses — the former Alameda CEO, Caroline Ellison, and FTX co-founder Gary Wang — up first. 
Opinion editor Molly Jane Zuckerman commented on the defense's strategy, saying that the defense's initial crack at Ellison contained repeated misstatements and conflations of different FTX money accounts. This led the prosecution to declare that the cross-examination was confusing, a point that Judge Lewis Kaplan agreed with.
To learn more, Blockworks reporter Ben Strack conferred with Jack Sharman, a white-collar attorney on the strategy.
"If I had to place a wager right now, it's still early days, but I think I'd bet on a conviction," Sharman told Strack. 
Sharman noted that, in his experience, jurors can be skeptical of the CEO attempting to argue that they didn't know what the subordinates were doing. 
"Unless there's some real evidence I think you can bring out on [cross-examination] to establish that, I think most jurors don't like that," Sharman said.
In Thursday's cross-examination, SBF lawyer Mark Cohen tried to do just that with Ellison. Cohen, through questioning, was able to get Ellison to admit that Bankman-Fried wasn't always looking over her shoulder. 
A point that the prosecution made sure to make fairly quickly in their direct examination of the ex-Alameda CEO. 
"There were times when" Bankman-Fried wouldn't be paying much attention to Alameda, Ellison said. However, Ellison also claims that she committed crimes at SF's direction and that Bankman-Fried told her to send falsified balance sheets to deceive both investors and lenders.
10:30 am ET: Zac's back
Former BlockFi CEO Zac Prince is testifying this morning to kick off what will be a short day in court. On Thursday, Judge Lewis Kaplan said he wants to end the court day at 1 pm ET.
Prince's name was floated by prosecutors at the end of the week, though he was switched out for ex-Alameda CEO Caroline Ellison. 
BlockFi declared bankruptcy in late November 2022, just weeks after FTX fell apart. In the eight minutes of testimony from Prince yesterday, he very quickly focused on how the FTX and Alameda collapse impacted BlockFi. 
"As a result of FTX and Alameda's bankruptcy, because of our lending to Alameda but also some exposure we had to the FTX platform, BlockFi was forced into…bankruptcy," Prince said.
Prince's short testimony backs up what the committee of unsecured BlockFi creditors found when they released a 92-page investigation into the firm's collapse back in July. 
However, while the report detailed the relationship between the former lender and crypto hedge fund, it also found that the risk management team warned Prince of potential risks related to the Alameda loans.
Read more: White-collar defense lawyer weighs in on SBF trial: 'If I had to place a wager…'
A 2021 memo from BlockFi's credit risk team cautioned that Alameda had "wrong-way risk, had unaudited financials, relied on illiquid tokens, and was offering volatile collateral." 
Former Chief Risk Officer Rene van Kesteren, according to the investigation, was "uncomfortable with the risk profile presented by additional FTT as collateral." 
Prince reportedly "expressed interest" in doing more business with Alameda. Per the report, he even "pushed to increase exposure to (and revenue from) Alameda by allowing Alameda to use FTT as collateral, despite concerns from the risk management team regarding its illiquidity."
In his testimony Thursday, Prince admitted that "there was a time that we called back all the open-term loans that we had to Alameda, which was in June of 2022." 
And yet, by the time Alameda declared bankruptcy, the firm owed BlockFi a staggering $650 million.
---
Don't miss the next big story – join our free daily newsletter.