What is SocialFi? Unpacking crypto's answer to social media
Investors and founders give their perspectives on what Web3's answer to social media could look like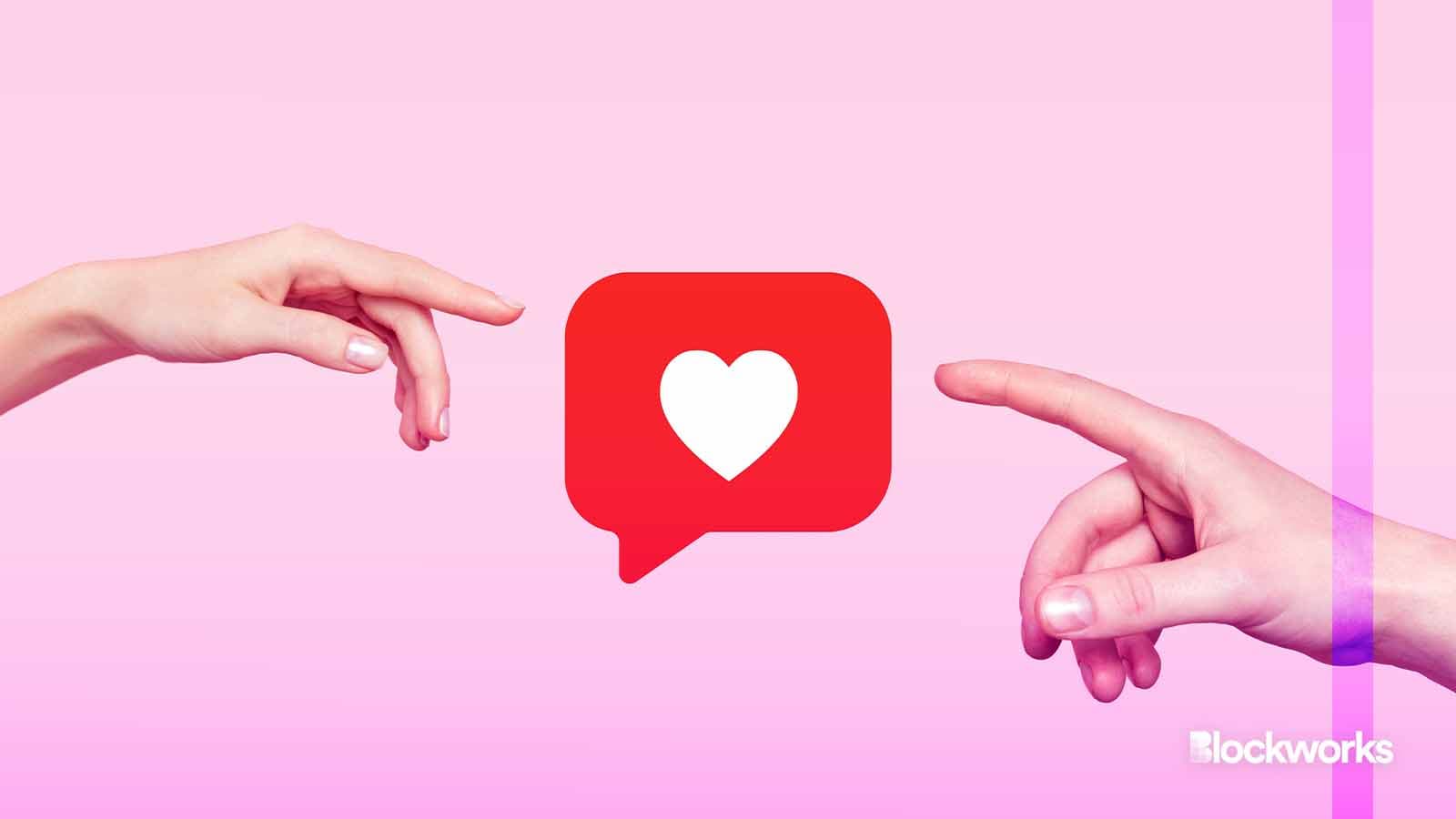 Roman Samborskyi/Shutterstock modified by Blockworks
SocialFi is having its moment. 
Since launching in August, Friend.tech has seen inflows of more than $420 million, according to a Dune Analytics dashboard. Meanwhile, the Web3 mobile social apps Phaver and RepubliK both announced fundraises last week. 
Hype surrounding crypto-native social media is nothing new, but a fresh crop of Web3 social apps are taking their swing at the entrenched social media giants. And as the incumbent Web2 social titans struggle with content moderation and fair creator payouts, founders and investors say they spy an opportunity.
What is SocialFi?
In short, SocialFi uses blockchain to monetize social interactions. 
SocialFi platforms use avenues built on top of crypto infrastructure, allowing content creators to cash in on their influence and users to earn rewards for scrolling. Industry participants say SocialFi presents a more desirable business model in comparison to that of today's social media giants.
"The normal revenue model is the users are the product," Gary Henderson, creator of a Solana-native SocialFi app, said. "Here, we're saying the users are our [clients] and we're selling to our users and they're supporting their favorite creators and we're pulling a chunk of that condition out of the middle."
The most buzzy SocialFi app of the past few months is Friend.tech, which has inspired several spin-offs and accounts for 46% of all activity on Coinbase's layer-2 app BASE, according to a Blockworks Research dashboard.
Read more: Base protocol is spearheading 'the next generation of the internet': Coinbase's Jesse Pollak
Is Friend.tech the archetype for SocialFi apps?
Among the sources Blockworks spoke to, there was a general consensus that Friend.tech has yet to prove its sustainability.
For starters, the app is highly financialized. Friend.tech allows users to buy and sell tokenized "keys" that provide access to group chats with the creators behind X accounts. The key prices are subject to bonding curves that make keys far more expensive the more they are purchased. This setup allows users to essentially place bets on creators — early buyers can sell for big mark-ups if their keys ascend the bonding curve. 
Read more: Decentralized social media app Friend.tech is surging
Users must connect a crypto wallet to access Friend.tech, and much of the culture coming out of the app connects to making a profit — such as (3,3), a game theory reference where users reciprocally buy keys.
"Does the average person want to be paying money to have access to social media? I don't think so," Sam Lehman, associate at Symbolic Capital, said.
Niklas Polk, a senior research analyst at Nansen, said Friend.tech's bonding curve is good for driving adoption as users try to snag keys before their prices skyrocket. But Polk thinks Friend.tech needs to tinker with its fee model to keep users from jumping ship when key trading slows down. 
And the Friend.tech model has run out of steam before. BitClout made waves in 2021 with its bonding curve-priced tokenized social profiles but flamed out amid controversy and unworkable economics. Blockworks previously reported BitClout's top creators would have had difficulty converting their theoretical in-app gains to fiat.
A creative middle class
Legacy social media brands are vying to incentivize content creation by returning financial rewards to creators. X piloted its ad revenue sharing program this summer. TikTok and Snapchat creators can receive payouts, too. 
But those building SocialFi apps think their platforms will ultimately be more enticing to creators.
Social media creators sometimes find themselves at the mercy of content moderators who can demonetize them for opaque reasons. SocialFi founders promise greater transparency surrounding monetization paired with minimal censorship. 
"You can create a platform that does allow folks to capture some of the value that they are bringing to the platform but in a way where you can't have the floor pulled out from under you," Lehman said.
Multiple sources expressed optimism about a creative middle class on SocialFi, where small-time creators could have better luck monetizing their online personas, perhaps even to the detriment of the largest creators. 
"It's not financially beneficial for Taylor Swift or someone like that to limit themselves at this level," Henderson said. "The local musician that's maybe doing some really cool stuff could turn SocialFi into a $10, 20, 30,000 a month income stream with only maybe 500 or 1000 true fans."
What's in it for regular users?
Some SocialFi apps are experimenting with providing financial rewards for simply using an app. RepubliK, for instance, lets users earn XP for things like liking posts and joining in-app challenges. The platform plans to airdrop its native token to users based on their amount of XP. 
Lehman said SocialFi platforms are seeking to reward users for the value they create in helping platforms improve based on their usage. 
"It's kind of like the penny slots in the casino, you know? I could be playing the baccarat table for $1000 or I could be playing for pennies. I still have a stake in it," Adi Sideman, founder of the social collectibles platform Revel, said.
Some SocialFi platforms are also playing around with a social version of staking. On Phaver, for instance, users can put staking tokens on content they think will become popular. If the post goes viral, the user earns a token reward for their stake in the content.
Why does SocialFi need to be on-chain?
SocialFi is done crypto-natively, but many of its principles could ostensibly be copied by well-heeled social media giants on private servers. 
Tekin Salimi, founder of the crypto investment fund dao5, said censorship resistance is the biggest selling point for on-chain social media, particularly as interest in financial speculation is muted by the bear market. Salimi said controversial content moderation policies at legacy social media brands have alienated portions of their user bases. 
As platforms struggle to find a reasonable middle ground on content moderation, Salimi thinks democratic on-chain SocialFi could swoop in.
"Crypto social is one of those things where it's not just like you have left option and right option," Salimi said, comparing SocialFi platforms to a "pendulum" that can swing on content moderation based on users' preferences.
Multiple sources pointed to the sometimes-arbitrary nature of content moderation and demonetization as selling points for permissionless social media. Animoca Games was banned from the App Store in 2012 for gaming its way up the rankings, Lehman recalled.
But users may not be drawn to the blockchain for blockchain's sake. Daniel He, cofounder of the SocialFi app RepubliK, said his team asked over 1,000 creators if they cared about likes, comments and content going on-chain so the creators could own their online interactions.
"They actually completely didn't give a shit," He said. Instead, creators reported caring about using blockchain to verify the identity of users and proving whether fans had enough assets in their wallet to afford premium interactions. 
What is a social graph and why should I care about owning it?
A social graph is the network of social interactions that compose someone's social media presence — the posts, comments, likes and follows that form a complex web of connections between online profiles. Social graphs are currently owned by social media companies — and their sum total is quite valuable. 
"Elon Musk [has] one of the biggest text databases in the world, and there's a [monetary] reason why he closed his API," Eric Na, a developer at INLEO, said. 
The Aave-developed Lens protocol is developing infrastructure to decentralize social graph ownership. Users create an NFT profile on Lens, and their social graph is then moved on-chain, meant to be interoperable between different platforms. The protocol brands itself as "your last social handle."
"Owning your digital profile and social graph[…]means you have full control of your digital identity, including the ability to set privacy parameters, distribute your content how you choose, and belong to a variety of social networks," Christina Beltramini, head of growth at Aave, said in a statement shared with Blockworks.
Lens announced a $15 million fundraise over the summer.
In theory, even if a user gets booted from one platform, she wouldn't lose her entire social media presence if her social graph was on-chain. And interoperable social graphs would mean users could switch platforms more easily if they were to disagree with monetization or content moderation.
So, how big can SocialFi get?
Despite the hype surrounding Friend.tech and its fellow upstarts, SocialFi looks to be playing catch-up for quite some time. A Dune Analytics dashboard from Impossible Finance showed around 300,000 users during the last week of September across a smattering of SocialFi platforms, including Friend.tech and Lens. Compare that to X's disappointing recent report of 225 million daily active users. 
"Friend.tech is extremely popular for a crypto app," Polk said. "It doesn't really come close to the super popular Web2 apps."
Read more: Friend.tech copycats eager to capitalize on social finance craze
The general sentiment among Blockworks' sources was that SocialFi needs to mature before being ready for adoption. Friend.tech has a buggy interface. The momentarily ascendent Stars Arena was exploited for $3 million. And platforms built on financial speculation may not be sustainable. 
Salimi said his firm, alongside other investors in the space, are mostly in "wait and see mode" on SocialFi. Lehman said the current crop of financialized SocialFi apps may not prove "sticky" for users. 
But as the popular crypto mantra goes, it's still early. Many of the ideas in the SocialFi orbit haven't been tried yet at scale. Legacy social media is playing with a head start and deeper pockets. And in a social media industry that's been headlined by the same few incumbents for the better part of a decade, participants in SocialFi feel like they're taking part in something fresh.
"They're fun, they're kind of unique experiences…it feels like you're part of an inner circle and you're early to something that's very exciting," Lehman said.
---
Don't miss the next big story – join our free daily newsletter.