The Investor's Guide to DAOs
The top articles on DAOs curated by industry professionals.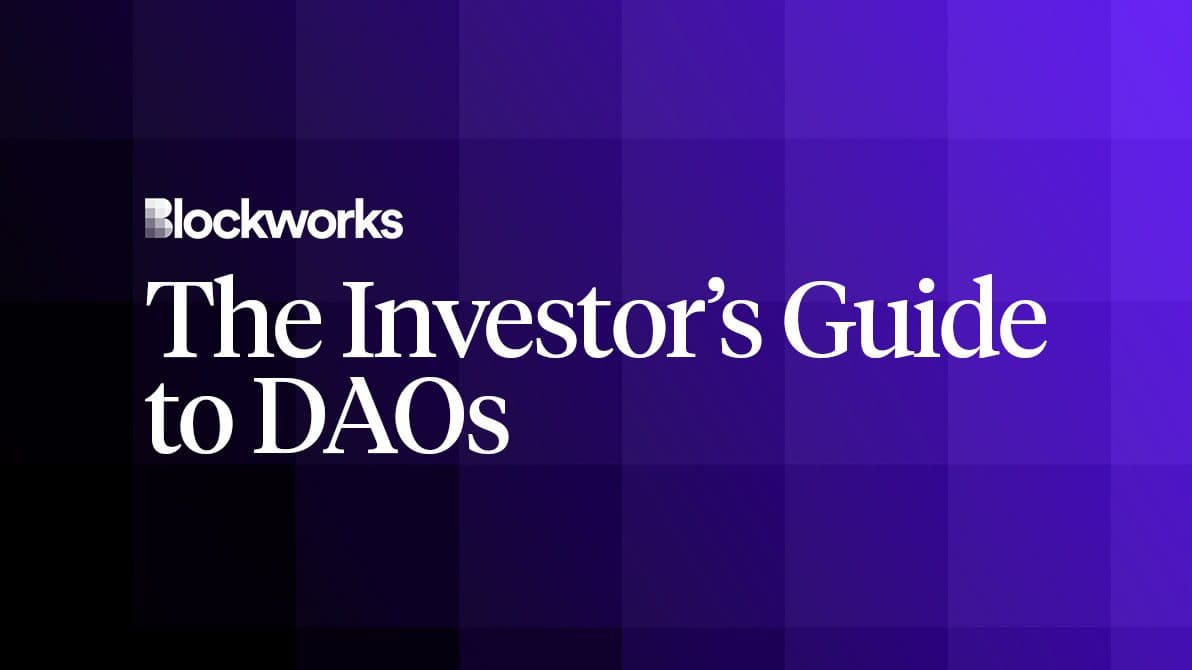 The best articles, podcasts and resources to learn about investing in decentralized autonomous organizations (DAOs)
Scroll to the bottom for a list of our Investor's Guides.
Articles and Blogs
Foundation Team, April 28, 2021, Foundation Blog
"What if you could build something with a group of like-minded people and, together, invest your resources to support common goals? The good news is that with DAOs, the fundamentals of how you can do that are becoming more fluid, open-ended, and accessible to a broader audience.
As NFTs continue to capture the imagination of creators and collectors, DAOs increasingly represent an important piece of the blockchain-enabled puzzle. Collaboration and creativity go hand in hand, and DAOs unlock the next wave of possibility for artist-led ventures, cooperative gallery models, collaborative investment funds, and so much more. With this in mind, we're here to share some tips about how they work, what you need to start one, and the potential they can unlock for building a more collaborative future. …"
Vitalik Buterin, May 6, 2014, Ethereum Foundation Block
"One of the most popular topics in the digital consensus space (a new term for cryptocurrency 2.0 that I'm beta-testing) is the concept of decentralized autonomous entities. There are now a number of groups rapidly getting involved in the space, including Bitshares (also known as Invictus Innovations) developing 'decentralized autonomous companies', BitAngels' David Johnston with decentralized applications, our own concept of decentralized autonomous corporations which has since transformed into the much more general and not necessarily financial 'decentralized autonomous organizations' (DAOs);
All in all, it is safe to say that "DAOism" is well on its way to becoming a quasi-cyber-religion. However, one of the hidden problems lurking beneath the space is a rather blatant one: no one even knows what all of these individual terms mean. …"
Aragon, July 6, 2021, Aragon.org
"As people self-organize into DAOs, we will see the world transformed by a Cambrian explosion of activity that will do for organizations what the internet did for communication.
The history of DAOs began inauspiciously in 2016 when Slock.it launched 'TheDAO' on Ethereum as a way to coordinate investment in, and governance of, a treasury of $theDAO tokens. By the end of the 4-week sale, $150m worth of $ETH had been deposited in exchange for 1.2bn tokens, priced at 0.01 $ETH each. With hindsight, this was an unbearable weight to be placed on such young shoulders: Solidity – the language that TheDAO smart contract was written in – was only a few months old and lacked the documentation and battle-testing needed to be production-ready. …"
Linda Xie, March 12, 2021, mirror.xyz
"A decentralized autonomous organization (DAO) is a group organized around a mission that coordinates through a shared set of rules enforced on a blockchain.
One of the main benefits of a DAO is that they are more transparent than traditional companies since all actions and funding in the DAO are viewable by anyone. This significantly reduces the risk of corruption and censorship. Publicly traded companies must provide independently audited financial statements, but shareholders only get to see the financial health of the organization at a snapshot in time. Since a DAO's balance sheet exists on a public blockchain, it is completely transparent at all times, down to every single transaction. …"
Theodor Marcu, June 30, 2021, 1729.com
"As of June 2021, over $1 billion has been committed towards blockchain-native analogs of traditional corporations called decentralized autonomous organizations or DAOs. A DAO uses blockchains and smart contracts to organize the mechanics of corporate governance, thereby facilitating collective participation of distributed participants in the funding and production of community goods. There are now several prominent DAOs in the Ethereum community, and recent legal moves in places like Wyoming have begun establishing bridges between traditional legal structures and these new on-chain entities.
In this post, we'll explore what DAOs are and why they're important. We'll also look at some of the most exciting DAO projects out there. …"
Kain Warwick, July 1, 2021, Synthetix Blog
"One of the most fun and terrifying aspects of DeFi is the constant innovation, there are new and crazy projects forming constantly. Low barriers to entry mean experimentation has never been easier, enabling global permissionless innovation in finance. Over the last few years, I've been in the privileged position to speak to almost one hundred teams raising their first rounds of funding.
Out of these conversations, I've found many founders still struggle to identify the optimal way of raising capital for DeFi and crypto projects. These days I advocate a fairly novel form of capital formation which I will outline in this post. You could call this approach "DAO first", and it's been used to generate powerful communities numerous times now – some examples are Barnbridge, dHEDGE, Illuvium, Spool, Thales, Universe.xyz and Lyra. …"
Coopahtroopah, June 24, 2021, Mirror.xyz
"DAOs are internet communities with a shared cap table and bank account. 
Members work together to create, distribute and capture value relative to a shared mission. Ownership shares economic, social and political components, creating best practices for digital coordination.
In this post, we'll break down the DAO landscape and examine the relationship between financial and social capital. …"
White Star Capital, June 29, 2021, Medium
"The strategy of venture capital is evolving beneath our feet at this very moment. The introduction of crypto networks and token-based projects has ushered in a new era for industry-defining businesses.
With a global perspective in mind from the inception of White Star Capital's investment platform, truly global, decentralized networks seemed like a natural progression for us. In line with sharing our views on the digital asset ecosystem, we've put together a piece highlighting the fundamentals of decentralized autonomous organizations (DAOs) and where we believe they are headed. …"
Erik Voorhees, July 14, 2021, Medium
"Starting last fall, ShapeShift began integrating decentralized exchanges (DEXs) to replace its own trading systems. In January we integrated 0x's DEX aggregator for decentralized ETH and ERC-20 trading. And on April 15 we enabled THORChain upon its launch for trading Bitcoin and other leading chains in a decentralized model. . .
With our integration of these DEXs, ShapeShift no longer provided trading services, and yet users didn't lose their ability to trade. We outsourced the regulated activity to an immutable decentralized protocol. This was better for our users, better for us, and appropriately in line with the ethos of crypto: privacy, immutability, and self-sovereignty in finance. …"
Packy McCormick, March 22, 2021, Notboring.co
"The Ether (ETH) that hackers stole from The DAO on June 17, 2016 would be worth $6.6 billion today if it weren't for the fork. 
Launched on April 30, 2016, The DAO was an early Decentralized Autonomous Organization (DAO) and venture capital fund. 11,000 people invested 11.5 million ETH, 14% of the total supply at the time, worth roughly $150 million, which they planned to collectively invest in crypto projects. 
Unlike a traditional fund, in which institutions and high net worth individuals (Limited Partners or LPs) invest money into a fund that other people (General Partners or GPs) invest into companies, investors in The DAO would be able to vote on proposals based on pre-set rules, established in smart contracts. Each person's vote was weighted by the number of tokens they held, which was based on how much they had invested. If a proposed project received enough votes, the smart contract automatically triggered the investment of The DAO's funds into the project's ETH wallet. …"
Podcasts
Empire with host Jason Yanowitz, Mike Ippolito, and Cooper Turley, October 21, 2021
"Cooper is an an operator, advisor & thought leader in the fast evolving DAO ecosystem. Cooper has worked on projects such as Friends with Benefits, Forefront, Seed Club & many more. In this episode, Cooper shares his thoughts on the transition from web 2.0 to web 3.0, four steps to creating a DAO, the creator economy, how to invest in the ecosystem & the outlook for the rest of 2021. …"
Other Resources
Last updated November 7, 2021 (at time of publishing)
Deep DAO is a data analysis tool that ranks and analyzes DAOs according a wide variety of metrics, including USD value, member count, voter participation, and more.
Community-managed, updated consistently
This collection of data is a community-maintained spreadsheet tracking noteworthy details about more than 100 DAOs and counting. Data include member, funding, and founding information, as well as important links and dates for each organization.
The content of this webpage is not investment advice and does not constitute any offer or solicitation to offer or recommendation of any company, product, or idea. It is for general educational purposes only and does not take into account your individual needs, investment objectives or specific financial circumstances.