What 2022's Hottest Crypto Apps Say About Where We're Headed
The 10 most popular crypto services of 2022 reflect some of last year's most prevalent digital asset adoption trends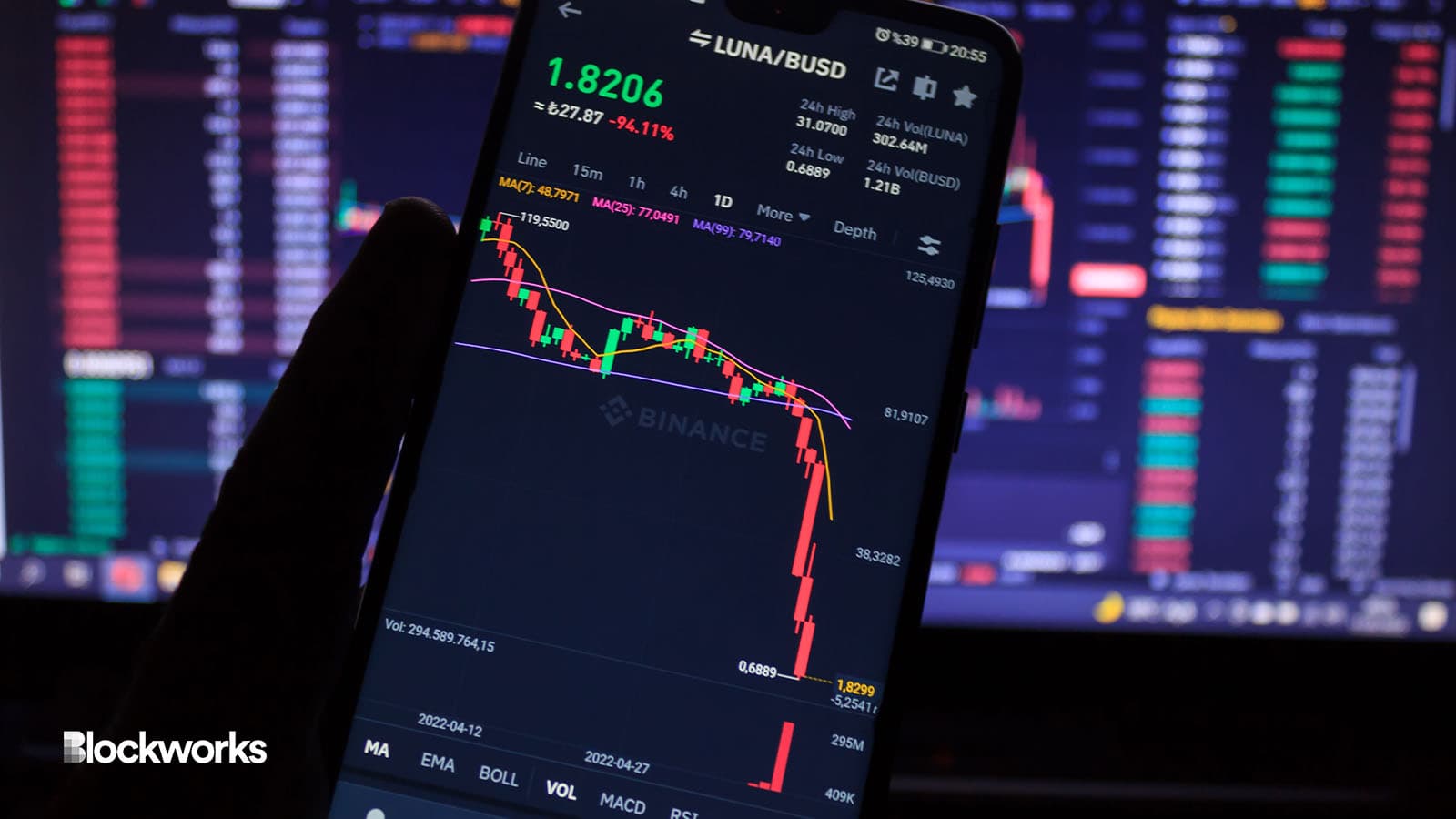 Hasbi Sahin/Shutterstock modified by Blockworks
People searched "bitcoin price" some 7.5 million times a month in 2022 — more than double the 3.4 million monthly estimate for "bitcoin" alone. 
As crypto traders spent the last 12 months checking (or were unable to turn away from) the typically plummeting price of their digital assets, Cloudflare Radar tracked their behavior. 
The firm found that eight of the top 10 crypto services visited in 2022 were either data pricing tools or exchanges. The only exceptions were NiceHash, a platform for buying and selling shares of the hash power behind bitcoin mining, and Etherscan, an Ethereum data-driven blockchain explorer.
Should the overwhelming obsession with price be a concern for crypto? 
Industry critics say it's yet more evidence that the asset class is all but a speculative bubble. The question, though, is really a debate of degrees.
Every revolution in technology, like the rise of the internet, comes with a cycle of hype and speculation. The difference between the revolutions that succeed and fail is in the ratio of speculative to real demand. A closer look at Cloudflare's data and adoption trends reveals that the demand behind these services goes beyond compulsive habit. 
The most popular crypto services of 2022:
Binance
Coingecko
Coinbase
NiceHash
CoinMarketCap
OKX
Etherscan
Crypto.com
MEXC
Kucoin
Source: Cloudflare
This ranking saw only one major— and unsurprising — disruption on the year. In November, FTX fell from the seventh spot to 21st place following its bankruptcy declaration. Rivals Binance and Coinbase did not lose any ground. Despite the shock, awe and, yes, headlines proclaiming the death of exchanges, they remained mostly dominant.  
Binance and Coingecko, in fact, both made it into the top 10 ranking of financial services:
PayPal
Stripe
Alipay
TradingView
Google Pay
Binance
Intuit
Chase
Spots nine and 10 were considered a tie by Coingecko, with American Express, Bank of America Merrill Lynch and CompareCards jostling for those positions throughout November.
Source: Cloudflare 
Crypto adoption trends for 2022
Industry setbacks have not come close to erasing a decade of crypto adoption progress. Global adoption remains well above its pre-bull market 2019 levels, according to Chainalysis.
Case in point: When bitcoin dropped to $20,000 (72% off its all-time high of $69,000) in the second quarter of 2022, the adoption index only slightly decreased, from 51% to 50% from its peak. 
The rise of crypto adoption among emerging nations has been a driving force behind this resilience. The economies of 10 of the top 20 countries in Chainalysis' 2022 adoption ranking were dubbed "lower middle income," the third lowest of four such designations (Indonesia, India, Kenya, Morocco, Nepal, Nigeria, Pakistan, The Philippines, Ukraine and Vietnam).
Only two were considered "high income" (US and The United Kingdom), and the remaining eight were categorized as "upper middle income" (Argentina, Brazil, China, Colombia, Ecuador, Russia, Thailand and Turkey).
Turkey booked record high inflation of 83% in 2022. Other countries in a similar position turned to cryptocurrencies to preserve purchasing power. According to SimilarWeb, Turkey was the top country sending desktop traffic to binance.com in November 2022. 
And, in a recent survey, 38% of Binance users cited a lack of confidence in their country's existing currency and financial system as one of the main reasons for using the exchange. 
This need to escape poor monetary policy may, in part, explain Binance's user growth in 2022. The crypto exchange's active monthly users increased from 28 million in 2021 to 29 million in the second quarter of 2022. 
That may seem minor, but it is nonetheless impressive, considering that the bear market has not been kind to retail-focused stock trading apps like Robinhood. The broker's active users decreased from 22.5 million in 2021 to 14 million in the second quarter of 2022. 
Decentralization on the rise
Even though all featured exchanges are centralized, decentralized solutions, including DEXs, notched exponential growth following the FTX bankruptcy. Trading volume at decentralized exchanges (DEXs) reached $91 billion in November, a 79% month-over-month pop. 
Consider that Uniswap on Nov. 14 booked more ether (ETH) trading volume than all other centralized exchanges, save Binance.
November was also a big month for decentralized social media platform Mastodon, whose active monthly users exploded from 300,000 to 2.5 million. Cloudflare's rankings for popular internet services placed Mastodon at #200 in January, but it gradually improved throughout the year until reaching a turning point in November, climbing from #190 to #140.
The timing of that growth corresponds to the time Elon Musk acquired Twitter. Some have speculated that the influx in users are from people protesting the new management and content policy standards. 
The increase in popularity may also represent a larger trend toward more niche, independent online communities. This trend is represented in the rise in popularity of Facebook groups. They make up a majority of the platform's user activity. In 2021, Facebook reported 1.8 billion people use its groups. And 77% of those surveyed said the most important group they belong to is online. 
Mastodon is similar to Facebook groups in that users can create their own profiles, post and interact with one another — and join communities centered around specific topics or interests. But, unlike the tech giant, it is made up of a network of independent servers, or "instances," that are run by individual users or organizations.
Each Mastodon instance is governed by its own administrator and has its own set of rules and policies, which can and do vary. 
The decentralized and permissionless nature of the platform are not features that attract users wanting to protest the lack of content moderation on Twitter. These users could have easily chosen a centralized alternative like Discord, instead. 
Discord, however, did not see a spike in users during Musk's acquisition of Twitter in December. The number of downloads decreased 5.79% from October to November, and the number of daily users dropped 0.05%.
Mastodon's rise is better explained by the fact that it is meeting a specific market demand — one for an open source and decentralized version of Discord and Facebook groups. And while the platform has nothing to do with blockchain or crypto, it demonstrates there is ample opportunity for Web3 social platforms to grab market share. 
The state of crypto apps 
For all of crypto's 2022 changes, some things have stayed the same. 
Crypto's adherents are still conditioned to chase euphoric highs. Decentralized application (dapp) and app developers alike are still tempted by that compulsive instinct to bake recursive and speculative tokenomics into their projects. 
But the growth of Mastodon, DEXs, and cryptocurrencies abroad proves it's no longer needed — if it ever was. 
There is a real and growing hunger for genuine decentralization. The next generation of blockchain applications are poised to find new ways to rebrand the embattled industry — and maybe even shake the long running addiction to "number go up."
---
Get the day's top crypto news and insights delivered to your email every evening. Subscribe to Blockworks' free newsletter now.
Want alpha sent directly to your inbox? Get degen trade ideas, governance updates, token performance, can't-miss tweets and more from Blockworks Research's Daily Debrief.
Can't wait? Get our news the fastest way possible. Join us on Telegram and follow us on Google News.
---