Blurring the Battle Lines on OpenSea Royalties for NFT Creators
Upstart NFT marketplace Blur tells creators to block their collections from trading on OpenSea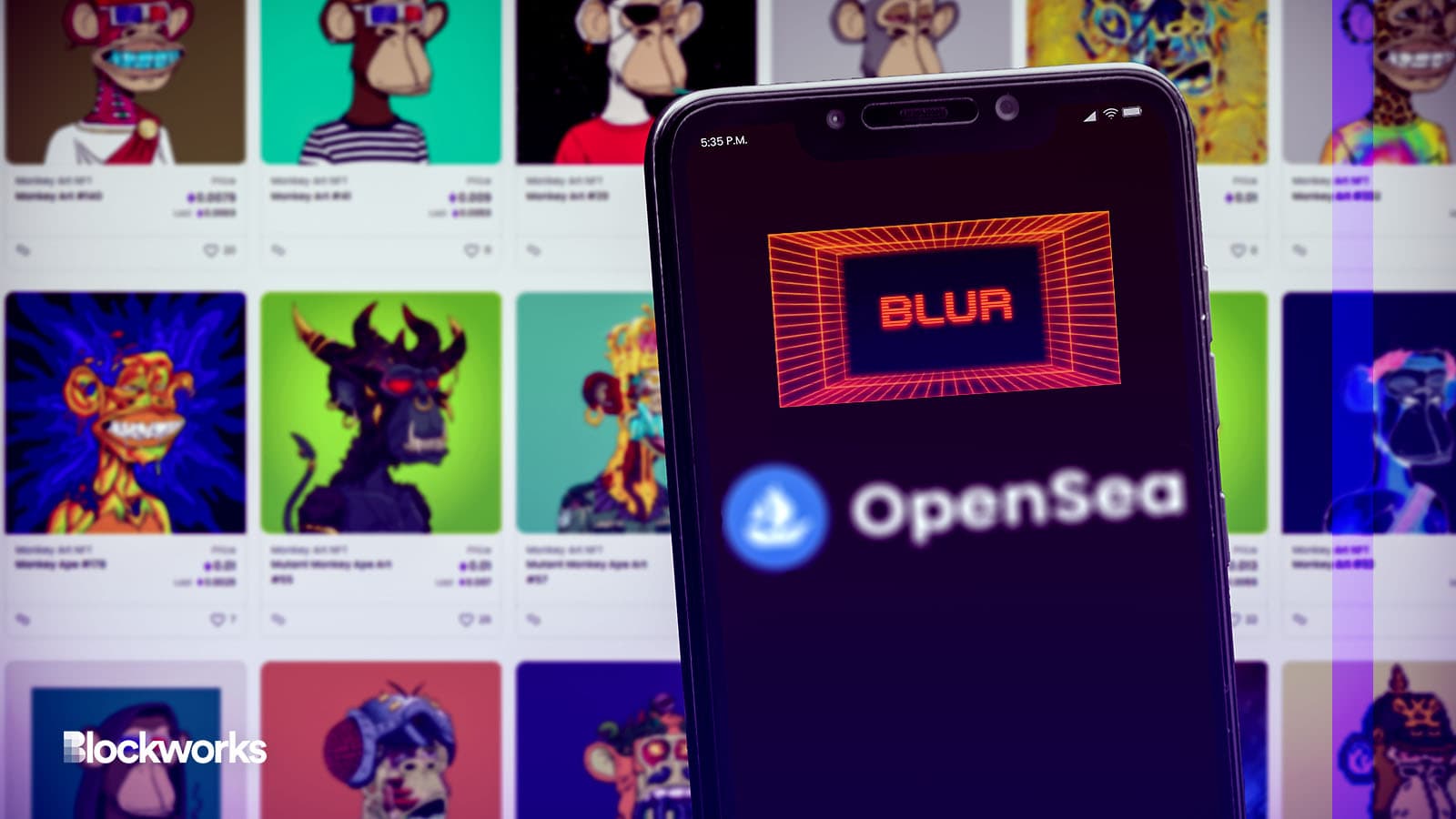 Source: Shutterstock / JOCA_PH, modified by Blockworks
Blur has updated its royalty policy in an effort to grab more market share from rival NFT platform OpenSea.
The fast-rising NFT marketplace raised an open battle against OpenSea, saying it's working to help NFT creators earn full royalties everywhere and not just on one platform at a time like its competitor.
"Today, creators can't earn royalties on Blur and OpenSea at the same time," Blur said in a blog published Wednesday. "Instead, they can only earn full royalties on OpenSea, or Blur, but not both together."
When Blur launched in November, it stayed away from enforcing full royalties, meaning that it didn't enforce a fee creators collect upon secondary sales of their digital collectibles. Instead, it left the option to buyers to decide whether to honor an artist's royalty policy. It then changed tack by expanding royalties with a minimum fee of 0.5%.
But now Blur has said that if NFT creators want to request full royalty fees, they can do so, provided they block their collection on OpenSea. This option isn't a default setting and users will have to opt in for it. 
"Our preference is that creators should be able to earn royalties on all marketplaces that they whitelist, rather than being forced to choose," Blur said.
Blur calls itself the NFT marketplace for pro traders and says it outranks other marketplaces as it is 10x faster than other aggregators and 20% more gas-efficient than Gem, OpenSea's NFT aggregator for experienced traders. 
Blur has been trying to topple OpenSea's dominance of the NFT space. Oskari Tempakka of Token Terminal told Blockworks that its user experience is extremely appealing for NFT traders and has less complex features than other platforms. 
Late last year, OpenSea reportedly required new collections to block Blur to receive enforced royalties. Blur then tried to bypass this blocklist by creating a new marketplace on OpenSea's Seaport protocol, meaning that all creators were able to receive full royalties on both platforms. 
Then in November, OpenSea announced collections that sought enforced royalties must block marketplaces that don't fully honor them. 
OpenSea didn't return Blockworks' request for comment by press time.
Blur said in its blog that OpenSea benefits from having creators block Blur. 
"OpenSea has primarily cited Blur's policy on old collections without filters as the reason for why Blur should still be filtered by new collections," it said. "Their proposed solution, however, has serious flaws, which is why Blur has taken a different approach that has a better chance of solving the issue for good."
BLUR, the governance token of the NFT marketplace, was airdropped to the platform's users on Tuesday. The tokens already accumulated over $1 billion in trading volume, according to CoinGecko.
In terms of NFT trading volumes, DappRadar already puts Blur ahead of the much longer-running X2Y2 and closing in on LooksRare.
---
Don't miss the next big story – join our free daily newsletter.
Follow Sam Bankman-Fried's trial with the latest news from the courtroom.