Bridge Protocols Race To Win Consumer Trust
DeFi platforms are rolling out novel cross-chain solutions following major bridge hacks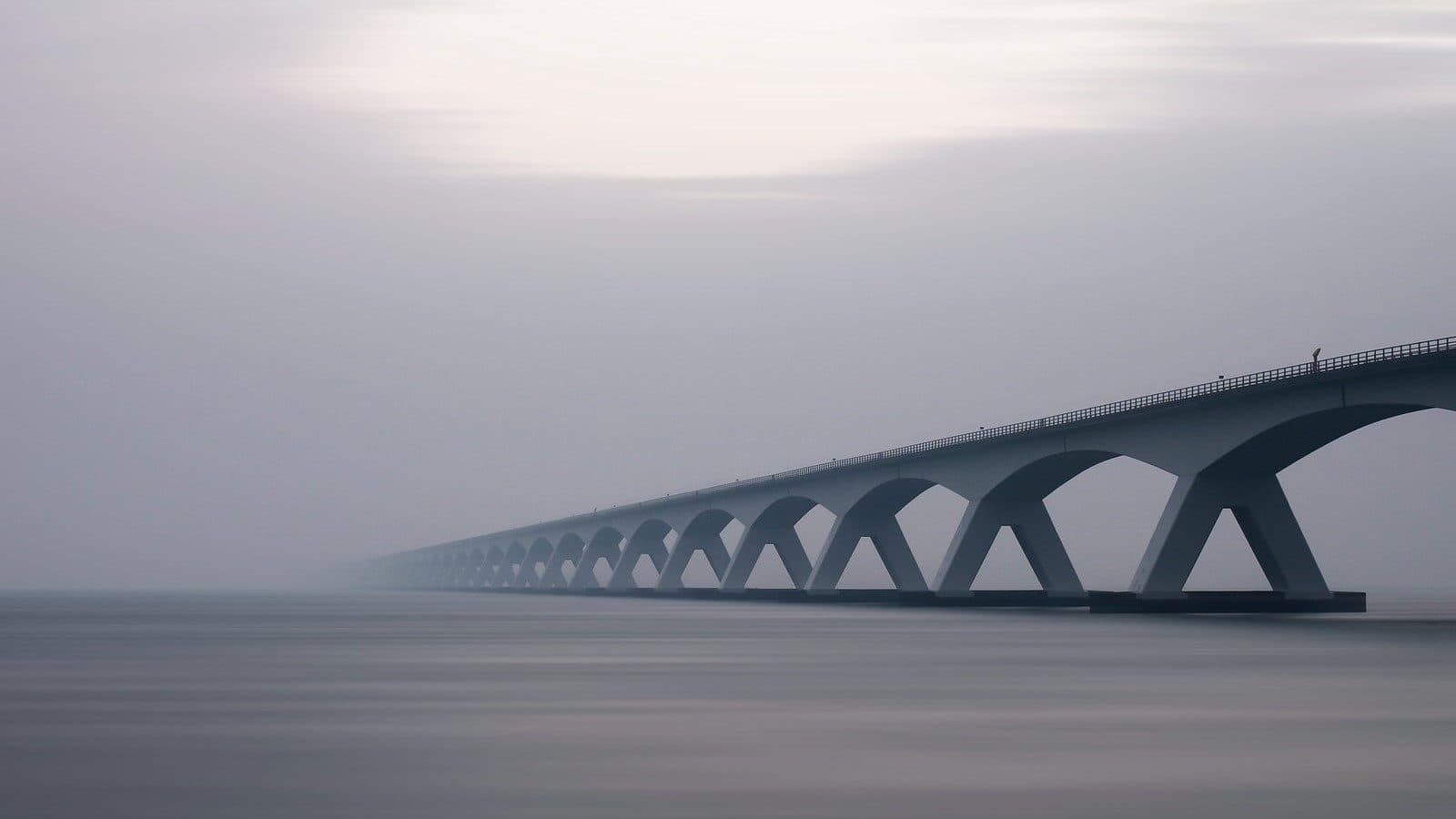 Zeeland Bridge, Netherlands. Credit: Unsplash
key takeaways
"You should be scared of bridges. There's a huge risk profile," the head of DAOs at Alliance said
DeFi bridges create trade-offs between simplicity, decentralization and cost
Bridge protocols, designed to offer relatively seamless transfers between different blockchains, have been struggling to attract users as cryptocurrency markets continue to churn largely sideways. 
Multichain, the largest such cross-chain bridge, has seen its total value locked (TVL) shrink to under $2 billion from $7 billion in March, according to crypto data firm DeFi Llama.
As competition for users intensifies, DeFi platforms are jockeying to become the preferred cross-chain protocol investors wary of bridges — which have wiped out more than $1 billion in 2022, largely via avoidable hacks. 
Cross-chain bridging proliferated during the 2021 yield-farming bonanza. Will Robinson, the head of community at digital assets-focused investment manager Alliance, said consumers ought to do their research before using bridges.
"You should be scared of bridges," Robinson told Blockworks. "There's a huge risk profile. They're still new, they break for unexpected reasons, and you don't know what you're getting into."
Alternative bridging solutions
Osmosis recently partnered with the decentralized network Axelar on a "one-click" bridge that runs on Ethereum. The cross-chain protocol's security lies in its decentralization, according to Sergey Gorbunov, co-founder of Axelar.
"Other bridges have permissioned nodes that participate in the system, but Axelar requires no trust for liveness or safety," Gorbunov told Blockworks. "Even if people can't operate their machines, Axelar still works on smart contracts."
Permissioned bridging was largely to blame for the $625 million Ronin Bridge exploit, where multiple validators securing the Axie Infinity bridge were housed by the company. Axie has since increased and further decentralized its validators.
Axelar delegates most bridging legwork to the protocol, so all consumers see is assets moved from one chain to another — regardless of swaps on the back end.
With bridges receiving lots of bad press in 2022, some DeFi (decentralized finance) platforms are hoping to do away with the technology altogether.
The decentralized exchange (DEX) Hashflow went on a media blitz this year advertising its "bridgeless" cross-chain swap protocol. Rather than having smart contracts perform swaps, Hashflow moves assets by having dedicated market makers agree on prices.
"Mint-and-burn bridges can only generate representational assets escrowed by the underlying chain," Varun Kumar, CEO of Hashflow, said in an email. Hashflow uses a "request-for-quote" model where market makers set prices and "off-chain components handle the gnarly parts where slippage and MEV would be introduced."
Dominic Williams, founder of the protocol Internet Computer, believes bridging protocols like Axelar and Hashflow are not decentralized enough. 
"If you have a centralized entity that's taking funds, sooner or later things are gonna go wrong and you'll get hacked," Williams said to Blockworks. "Bridges require a trusted operator, so you get the same old problems." 
With wrapped tokens, "you're basically asking the bridge to look after your money," Williams said.
Wrapped assets are a common bridging practice where a protocol holds onto an investor's original assets while providing an IOU to be swapped on different blockchains. Security breaches cause wrapped assets to lose their value. After the Wormhole hack, a $320 million bailout was needed to save Solana protocols that accepted wrapped ether as collateral.
Williams said his Internet Computer network will allow asset movement without bridges through an innovation called chain key cryptography — the splitting of validator keys into pieces to make a blockchain publicly accessible. 
Internet Computer received over $100 million in funding from venture capital firms a16z and Polychain Capital in 2018 — before a 2021 market downturn stripped the project's token of 95% of its value in just two weeks. 
Internet Computer says its bridgeless protocol will soon integrate with Bitcoin, though the company has not provided a specific date.
Vitalik Buterin, co-founder of Ethereum, warned cross-chain bridges would have trouble keeping assets safe early this year. Security will likely remain an inherent risk investors take when moving assets between chains, but DeFi is a young industry, industry participants say. 
In each of this year's major bridge hacks, "protocols broke for way dumber reasons" than Buterin imagined, Robinson said. As DeFi matures, fake job offers will be less viable means for exploiting consumer wallets.
---
Don't miss the next big story – join our free daily newsletter.
Follow Sam Bankman-Fried's trial with the latest news from the courtroom.