Central Bank Digital Currencies Will Be Implemented Within Five Years
CBDCs may soon be the norm, says DAS London panel, but what will become of stablecoins?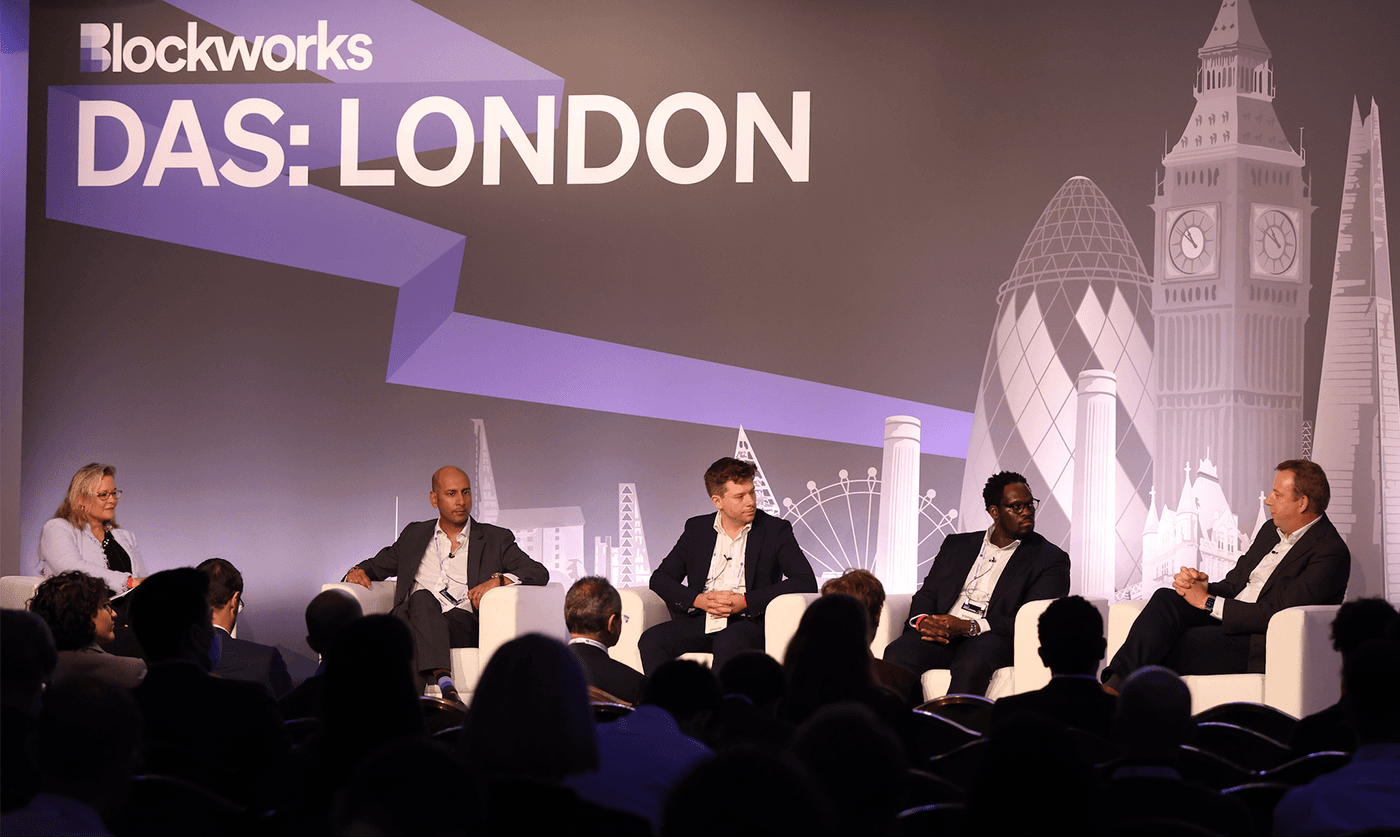 (L to R) Dr. Ruth Wandhöfer, Julian Sawyer, Previn Singh, Stephen Richardson, Andrew Turner; Source: Ian Walton for Blockworks
key takeaways
An FIS CBDC strategist thinks central bank digital currencies will be much more mainstream in the next few years
Experts discussed how stablecoins and CBDCs may interact in the future at the Digital Asset Summit in London
Digital Asset Summit 2021, London — The world is likely to see a major rise in central bank digital currencies (CBDC) within the next five years, according to a CBDC strategist from FIS. 
"In the next five years, we will see the first large implementations of CBDCs," Andrew Turner, CBDC strategist at FIS, said during a panel discussion at the Digital Asset Summit in London on Monday. "Central banks will start implementing this, it's an innovative form of money." 
The shift is going to be consumer-driven, panelist Stephen Richardson, vice president of product strategy and business solutions at Fireblocks said. Retail business to consumer platforms are already exploring stablecoins and this is a trend we are likely to see repeated on the commercial side. 
In terms of how central banks may use or benefit from a digital currency, Turner mentioned that there has been concern that a CBDC would allow countries to apply negative real interest rates directly to citizens. The fear is likely unfounded, Turner said. 
"From the discussions I've had on negative interest rates and [countries] applying that for the first time, I think it only works if there's no cash," he said. "All our friends in the audience…will say to move the money to cryptocurrencies —  or you could move it to other currencies if some central banks apply — so it'll be interesting to see if any central banks try to do this."
Regardless of how interest rates will be applied, CBDCs are going to enhance the way central banks operate, Previn Singh, Head of the Distributed Ledger Technology (DLT) Centre of Competency at Credit Suisse, said. 
"One thing that gives me a little bit of confidence is that they'll be basing their decisions on better quality datasets," Singh said, referring to how Central Banks set monetary policy.
It takes months to see how interest rates impact the economy, but a blockchain-based data set is immutable and a CBDC would likely lead to better quality data, Singh said. 
There are potential negative implications as well, other panelists pointed out. 
"Between 40% and 70% of all dollars are located outside of the US, which has a significant impact on the economies of these foreign nations," Julian Sawyer, CEO Bitstamp, said.
We are going to see how central bank digital currencies will work with or disrupt existing stablecoins in the coming months and years, the panelists agreed. 
"I believe that it will be a two-tiered system, stablecoins and CBDCs," Singh said. "There will be a role for both."