Crypto Miners Mulling Options as Downturn Weighs Heavily
Iris Energy weighs options for survival while Marathon mulls buying assets from bankrupt Compute North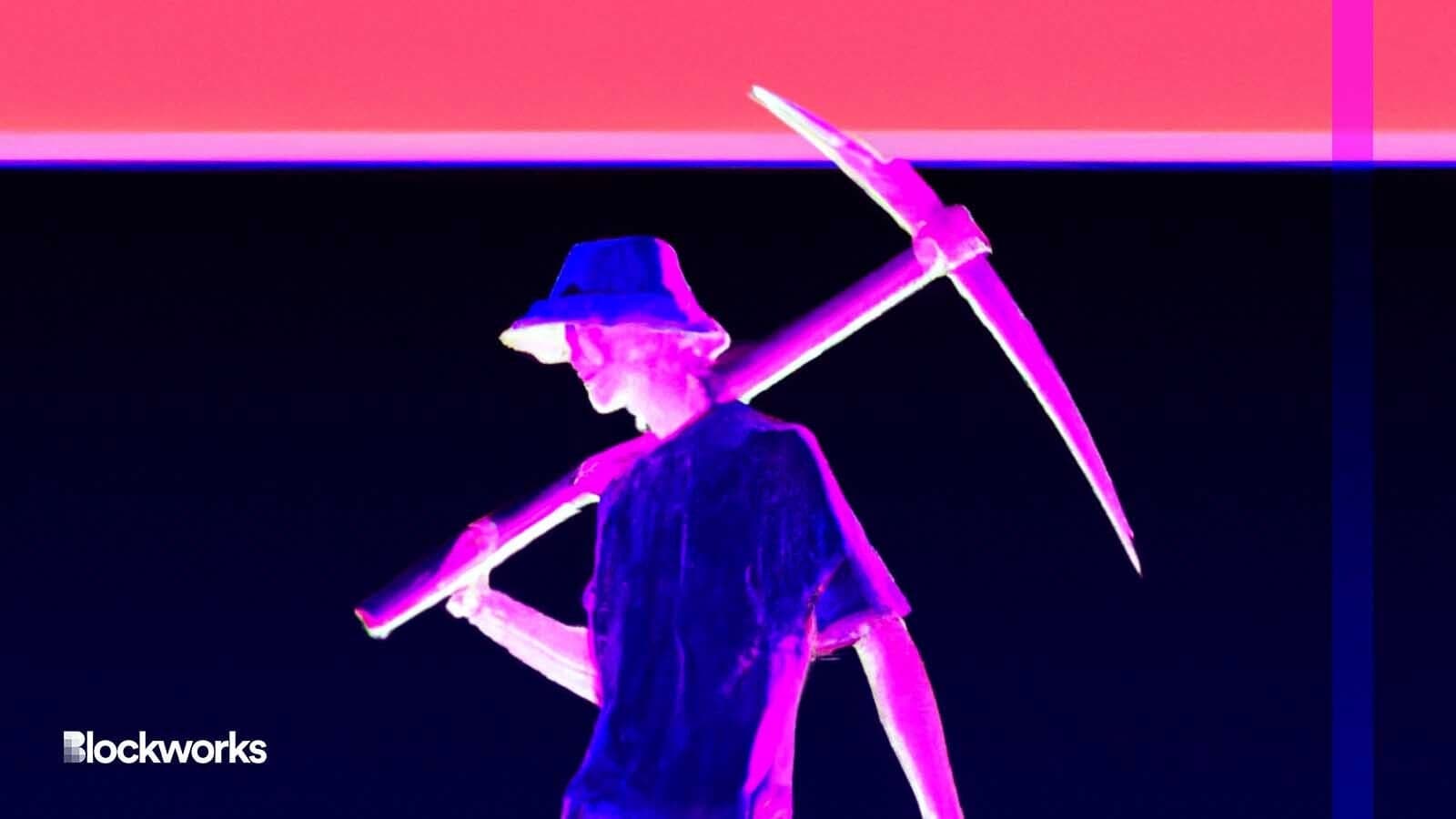 DALL-E modified by Blockworks
Certain crypto miners continue to seek survival after revealing financial struggles in recent months, while others remain better positioned than rivals to continue expansion.  
Marathon Digital CEO Fred Thiel told Blockworks in an email that the company is evaluating whether it could buy assets from Compute North, a crypto mining data center operator that filed for bankruptcy in September.
Marathon hired the restructuring team at Weil Gotshal — the miner's corporate attorneys — to evaluate opportunities from the Compute North Bankruptcy, Thiel added.
The company declined to comment further. 
Marathon said in a Dec. 6 update that $22 million of its remaining $42 million in deposits with Compute North are recoverable. Recoverability of the other $20 million is subject to bankruptcy proceedings.
The company produced 472 bitcoins in November, bringing its total to 11,757 BTC, as of Nov. 30. The company chose to reduce its revolver borrowings from $50 million as of Nov. 9 to $30 million, as of the month's end. It ended November with $61.7 million in cash on hand.
Thiel told Blockworks last month that Marathon could look to purchase assets from struggling miners, such as a hosting site, if it made strategic sense. Marathon, which has a current hash rate of about 7 exahashes per second (EH/s), plans to hit 23 EH/s by mid-2023.
Marathon Digital's stock price, down about 85% year to date, is down about 47% over the past month. 
Riot Blockchain is another quickly expanding company seeking buying opportunities during the downturn. It seeks to grow its current hash rate capacity of 7.7 EH/s to 12.5 EH/s by the first quarter of 2023.
The company produced a record 521 bitcoins in November, it revealed this week. Despite being an all-time high, the number fell short of its projected 660 BTC, according to the company.
"In order to ensure more predictable results going forward, Riot will be transitioning to another mining pool which offers a more consistent reward mechanism," Riot CEO Jason Les said in a statement.
The company sold 450 bitcoins last month, which generated about $8 million. The company held 6,897 BTC, as of Nov. 30.
Riot's stock price is down about 14% from a month ago and roughly 82% from the start of the year.
Struggling miners seek survival
Matthew Sigel, head of digital assets research at fund manager VanEck said in a webinar this week that he predicts bitcoin could drop as low as $10,000 next year amid a wave of miner bankruptcies. 
Core Scientific revealed in filings in October that it was considering bankruptcy, and Argo Blockchain followed by saying a potential capital injection of $27 million it was expecting had fallen through. 
"Argo continues to engage in financing discussions…to provide the company with working capital sufficient for its present requirements," the company said in a statement Friday. "A further announcement will be made in due course."
An Argo spokesperson declined to comment further.
Argo Blockchain said it mined 198 bitcoins, or bitcoin equivalents, in November — down from 204 BTC in October. The decrease was primarily due to an increase in the bitcoin network difficulty last month, the company said. The company's hashrate capacity continues to be 2.5 EH/s.
Meanwhile, Core Scientific, which had not yet published its November production update as of Friday morning, has roughly self-mined between 45 BTC and 50 BTC each day this week, according to tweets. 
Core Scientific did not return a request for further comment. 
Iris Energy, which also previously expressed its financial distress, is also seeking to stay afloat and eyes expansion. Its two potential paths forward include expanding its self-mining from 2 EH/s to 5.4 EH/s — its preferred strategy — or third-party hosting. Iris Energy co-founder Daniel Roberts called the latter option "a backstop."
"If we need to do it to survive — if we need to do it because the market's deteriorated further, the data centers are there, and they're ready," he said. "Come up with your computer, plug it in, pay us a margin and life goes on. But that's not who we want to be.
"There is no silver bullet," Roberts added. "I cannot give you a clear answer on where we'll be in the next week or month or even three months."
The Australia-based bitcoin miner said in an SEC filing last month that it could generate $2 million in monthly gross profit by mining bitcoin, while monthly principal and interest repayments on its debt stands at $7 million.
But Iris Energy executives said during a market update Wednesday that it had $47 million in cash and had $75 million in prepayments to Bitmain for machines. The company also signed a deal with in September to sell up to $100 million in equity to investment bank B. Riley over the next two years.
JPMorgan analysts Reginald Smith and Charles Pearce said in a Dec. 7 research note that Iris Energy is an "extremely efficient operator" that generates the most bitcoin per EH/s of capacity of any other publicly traded miner. 
"Management had the foresight to structure their loans without corporate guarantees and recently reduced its non-energy related operating expenses to ~$2 [million] a month, which we think gives them about a year of runway," the analysts wrote. "In short, the company is managing the things it can control very well. That said, market conditions are extremely difficult. We think shares are dead money for the foreseeable future, barring a bitcoin rally or dramatic decline in hashrate."
Iris Energy's stock price — down more than 90% in 2022 — was up about 2% Friday, as of 4:00 pm ET. 
In terms of fundraising prospects, Roberts said Iris Energy is still receiving term sheets. 
"There's a lot of interest in this sector still in funding good businesses with good business plans," he added. "The issue for us is that we've got to make sure that the right funding [prospects] are taken on."
Players in search of capital may have to fundraise at a lower valuation.   
Crypto firm BlockStream was seeking funding at a valuation lower than the $3.2 billion valuation it garnered last year, Bloomberg reported Tuesday. The capital it is seeking would be used to expand capacity to host crypto miners. 
BlockStream did not immediately return a request for comment.
---
Don't miss the next big story – join our free daily newsletter.
Follow Sam Bankman-Fried's trial with the latest news from the courtroom.