Hong Kong regulator ramps up probe of JPEX trading platform
On Thursday, the Securities and Futures Commission issued a statement disavowing any communication with JPEX saying that the platform is unlicensed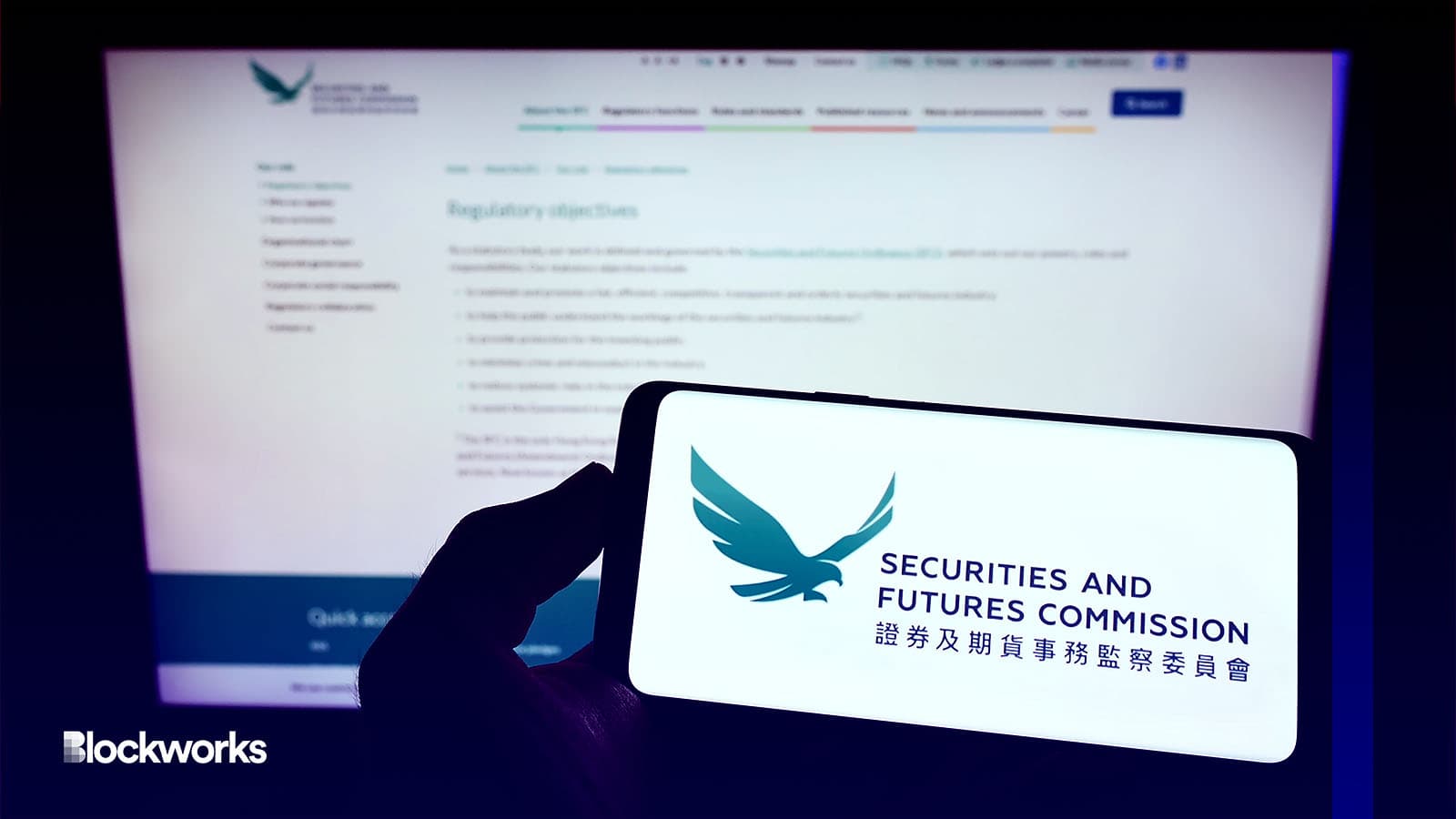 T. Schneider/Shutterstock, modified by Blockworks
The Securities and Futures Commission has taken a stern stance against JPEX, a purported virtual asset trading platform, amid a growing scandal that local media are describing as Hong Kong's largest-ever financial fraud case. 
The number of alleged victims has risen to 2,086, with losses reportedly amounting to HK$1.3 billion (about $166 million). Three more people have been arrested, taking the total arrest count to 11.
The SFC issued a statement on Thursday disavowing any communication with JPEX, saying that the platform lied about approaching the regulator "in respect of any potential license application."
"JPEX has been uncooperative and unable to substantively respond to the SFC's requisitions, the SFC subsequently placed JPEX on the SFC's Alert List in July 2022," the regulator said.
Read more: Hong Kong regulator issues warning against crypto firms parading as 'banks'
The regulator also criticized JPEX for allegedly publicizing confidential correspondence, marking a breach of Hong Kong's Securities and Futures Ordinance and Anti-Money Laundering and Counter-Terrorist Financing Ordinance.
Authorities announced the freezing of bank accounts amounting to HK$15 million ($1 million) and the confiscation of three properties worth $HK44 million ($5.6 million) on Tuesday. 
They also stated that they've received more than 1,600 complaints against JPEX, involving up to HK$1.2 billion ($153 million), local media reported.
The surge in alleged victims and escalated police action followed a warning last week from the SFC against JPEX, urging investors to only use licensed and regulated platforms for crypto trading. 
At the request of local police, Telecom firms including SmarTone, CSL Mobile, and Three have disabled local access to the JPEX website, multiple local media outlets reported.
Licensing woes under new regime
Hong Kong authorities initiated a new licensing regime for virtual asset service providers as of June 1 this year. The move opened the door for retail crypto trading after a tough year for the industry, which is still grappling with the fallout from FTX's collapse in November.
The SFC revealed that although JPEX, registered in 2019, had an opportunity to conform during a transitional period, the company neither applied for a license nor showed intent to do so.
Ongoing police investigations have further substantiated the SFC's stance. Recent arrests include two social media influencers among others, as the case unfurls with a mounting number of victims and financial losses.
JPEX is accused of advertising financial products with annual yields exceeding 20% and partnering with over-the-counter crypto stores and key influencers to expand its influence, all while reportedly operating without a license.
Blockworks contacted the SFC and JPEX but has yet to receive a response.
---
Don't miss the next big story – join our free daily newsletter.