IMF Asks El Salvador to Remove Bitcoin's Legal-Tender Status
As El Salvador's financial woes continue, the IMF recommends the country abandon its bitcoin plans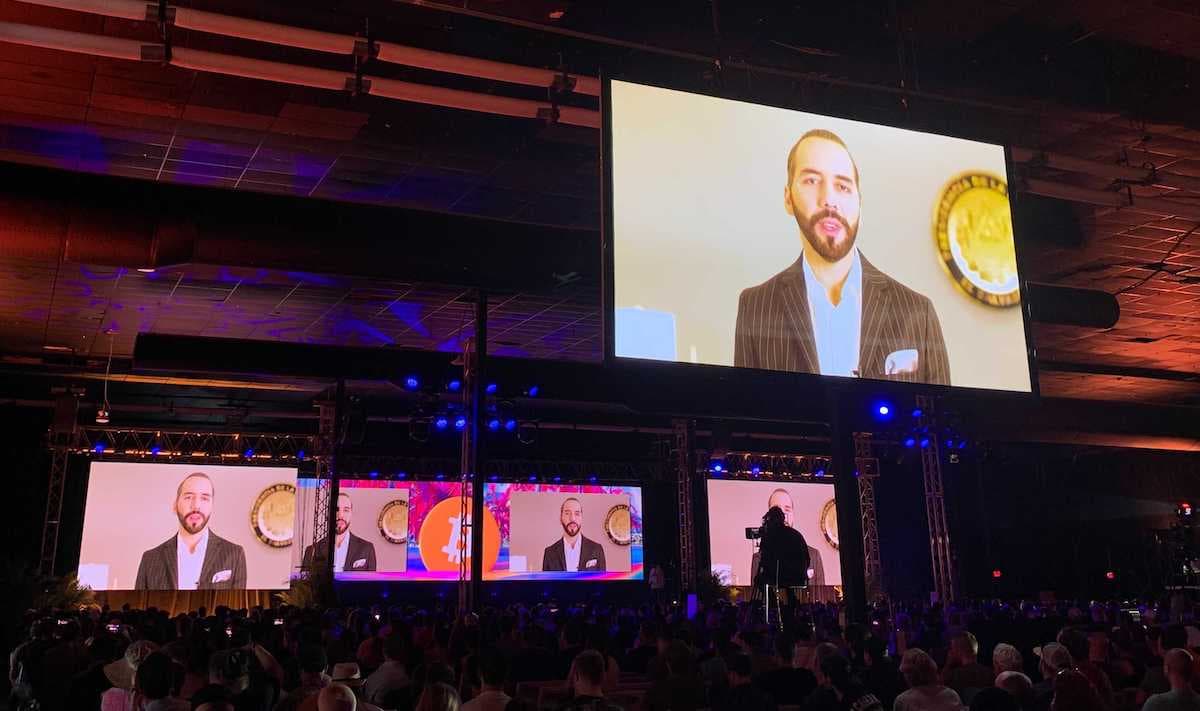 El Salvador's President Nayib Bukele via video at Bitcoin 2021.
key takeaways
IMF executive directors are uncertain about El Salvador's future
Bitcoin presents risks to financial stability and security, the IMF said
The International Monetary Fund (IMF) is urging El Salvador to remove bitcoin's status as legal tender, just four months after the Central American country adopted the cryptocurrency. 
Bitcoin poses significant risks to financial stability and consumer protection, IMF executive directors said in their concluding statement on El Salvador's Article IV consultation. 
"[Directors] stressed that there are large risks associated with the use of bitcoin," the statement read. "They urged the authorities to narrow the scope of the bitcoin law by removing bitcoin's legal tender status." 
There also needs to be greater regulatory oversight of Chivo, El Salvador's bitcoin wallet designed to be used for transactions in the digital currency, the IMF said. 
Reviews of El Salvador's bitcoin experiment are mixed, Blockworks previously reported, with some observers viewing the move as a progressive step toward financial inclusion and others claiming it's an irresponsible gamble.
The IMF projects that El Salvador's fiscal deficit will reach 5.75% of gross domestic product (GDP) in 2021 and about 5% of GDP in 2022, according to the statement. Public debt is also anticipated to rise to about 96% of GDP in 2026. Given the circumstances, El Salvador is on an "unsustainable path," the IMF said. 
"The IMF forecasts a primary balance for 2022 yet says the debt is unsustainable under current policies," said Marshik. "El Salvador needs a 3% of GDP adjustment to get the debt to a sustainable level."
Primary balance, the fiscal balance adjusted for net interest payment on public debt, is a key indicator for determining a government's ability to meet obligations without taking on additional loans. The IMF predicts a 0.0 primary balance for 2022, up from its 2021 balance of -1.1.  
El Salvador has an $800 million Eurobond, a debt instrument issued in an external currency, maturing in January 2023. Marshik predicts that the country will be fine, financially, through the first half of 2022, but after that it will be up in the air. 
Based on statements from El Salvador President Nayib Bukele, who regularly Tweets when he makes bitcoin purchases on behalf of the country, El Salvador holds at least 1,801 bitcoins. Given the recent market sell-off, it is likely the country has lost money on its bitcoin investment, assuming that none of its holdings have been sold. 
Article IV consultations are annual assessments conducted by the IMF on all members. During the evaluation, IMF officials visit the country to assess economic developments and discuss policy with the country's central bank.