NFT Craze Rages On as August Sales Near $900M
NFT sales are approaching $900 million so far this month, leaving creators, buyers and spectators wondering if the trend will continue.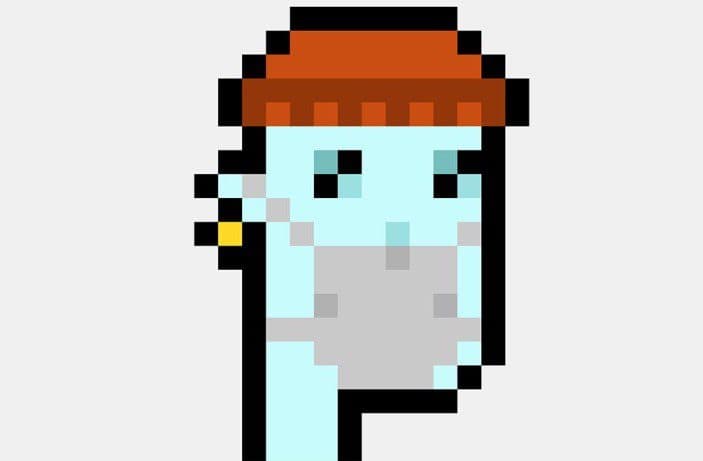 CryptoPunk #7523 sold by Sotheby's in June for $11.8 million.
key takeaways
Non-fungible token sales are nearing $900 million so far this month — the industry's highest month yet
NFTs, like most areas of crypto, are not immune to market manipulation and scams
Christie's made major waves when it announced it would be auctioning off a piece of digital art in February 2021. Collectors and creators speculated about the future; was it a fad or something more? There are not many more answers today, but it is clear that non-fungible tokens (NFTs) are probably not going anywhere anytime soon. 
The phenomenon of digital commodities has attracted the attention of major names in finance and media, including Visa and the National Basketball Association, and drawn in no shortage of cash. 
NFT sales neared $900 million so far in August, marking the largest month ever for the industry, according to NFT data tracker NonFungible. In June, Sotheby's sold the NFT CryptoPunk #7523 for a staggering $11.8 million, including the premium. The cheapest available CryptoPunk, Visa's NFT of choice, is currently listed for 67.67 ether, which amounts to about $225,000, according to Larva Labs.
The appeal to buyers, while lost on many, appears to be a combination of clout-seeking and status-showing, as BitMEX founder Arthur Hayes suggests. For artists and creators, NFTs offer an opportunity to connect with audiences in a new way, and, perhaps more importantly, collect royalties on secondary sales for the first time.
Buyers of these wildly popular digital commodities essentially pay for a digital certificate of authenticity, although the buyer does not necessarily own the rights to the digital image, meaning the image can be replicated digitally. 
This week saw yet another wave of NFT-related headlines, which seems to be the new normal as of recent months. Major news in the space includes a new musical NFT platform launch and the inclusion of women players on the popular NBA Top Shot platform. 
Launch of Royal 
Months after selling the world's first tokenized album, which grossed more than $11 million in 24 hours, electronic dance music artist and producer Justin Blau, known as 3LAU, is venturing further into the NFT space. 
Blau, along with JD Ross, who previously co-founded Opendoor, announced the launch of a new music investment platform, Royal, Thursday. Royal allows fans to invest in artists and earn royalties alongside them. 
"As a musician, my success is driven completely by my fans, listeners and supporters," said Justin Blau, CEO and co-founder of Royal. "My livelihood is based on how much my fans support my music. Right now, my listeners aren't compensated at all for that interaction."
Royal seeks to turn music into an asset and creates an incentive for fans to be aligned financially with their favorite artists, Blau explained. 
The platform has secured $16 million in seed funding led by Paradigm and Founders Fund, with participation from Atomic. 
Dapper Labs adding WNBA 
Dapper Labs, the creator of CryptoKitties, announced the addition of Women's National Basketball Association (WNBA) NFTs to its NBA Top Shot platform. 
Dapper Labs is partnering with the WNBA and OneTeam to integrate professional women's basketball moments into its popular sports NFT platform, which launched in October 2020. Fans can now own in-game highlights and action as collectables. The first packages will drop Friday, August 27. 
The first wave of packages will feature "25 different Moments from stars on all 12 WNBA teams — with 3 Moments per pack," according to Dapper Labs. In total, there will be more than 50,000 packs up for sale at $9 per pack. 
"Top Shot presents an exciting opportunity for the WNBA to engage passionate fans on a whole new level and celebrate the league as it continues to make history," WNBA executive Christy Hedgpeth said in a statement Wednesday. 
NBA Top Shot was one of the first major NFT marketplaces to put the digital commodities on the map. Unlike physical trading cards, NFTs allow fans to commemorate specific plays or moves in a game. Top Shot moments are officially licensed by the NBA, and all moments are assigned a unique serial number for authenticity.
Vulnerabilities in the space 
Along with the NFT hype comes fraud and legal questions. NFTs, like most areas of crypto, are not immune to market manipulation and scams. The industry "remains spotted by certain profit-seeking practices,"according to a recent study from blockchain analytics platform Nansen.
There appears to be evidence that token founders may be manipulating sales by buying up the floor of certain projects, said Nansen. It's a pattern that may be indicative of a trading practice known as "wash trading," in which traders, either individually or as a group, buy and sell the same asset in order to create the appearance of greater demand.  
Despite wash trading speculation, there is no shortage of growth in the industry, Nansen admits. 
There is also nothing stopping NFT creators from taking other artists' work and either passing it off as their own, or fooling buyers with inauthentic works. Serbian artist Milos Rajkovic discovered 122 of his works being sold by a fraudulent creator as NFTs for as much as $50,000 combined on marketplace OpenSea, the Wall Street Journal reported.  
NFT owners can make a profit reselling the digital tokens, but it is unknown if recent sales will resell for higher values. Art blocks is the NFT marketplace with the most secondary sales, according to data from Non Fungible. 
As cryptocurrencies continue to take center stage on the regulatory front, greater scrutiny and regulation may come to the NFT space eventually, but for now, interest seems alive and well. 
Want more investor-focused content on digital assets? Join us September 13th and 14th for the Digital Asset Summit (DAS) in NYC. Use code ARTICLE for $75 off your ticket. Buy it now.