Bitcoin Set to Eclipse Ethereum's 5-year Returns
Ether has almost given up its lead on bitcoin since the start of the 2018 bear market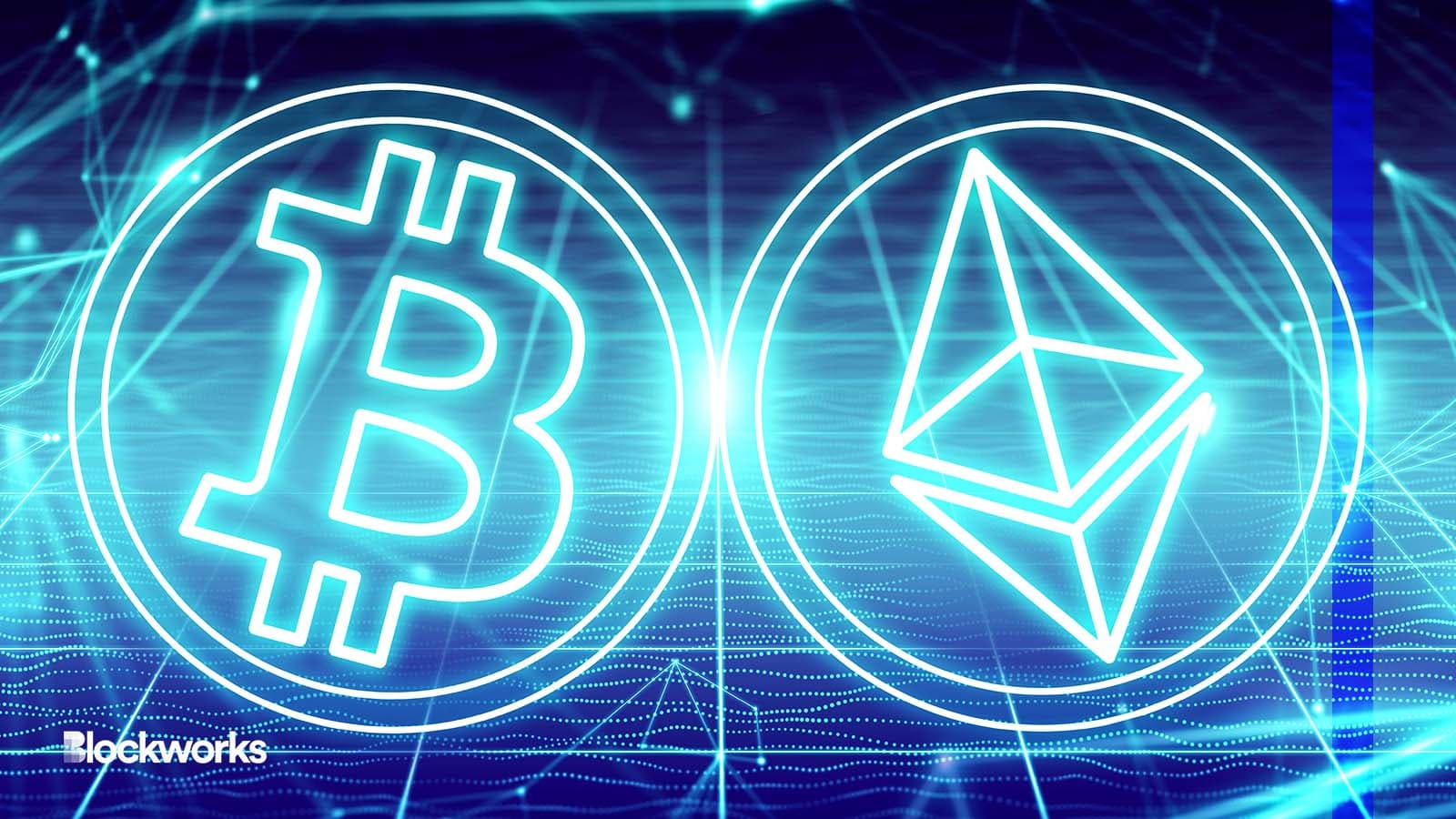 Wit Olszewski/Shutterstock modified by Blockworks
Bitcoin and ether are crypto's blue chips. And much like tech giants Apple and Microsoft, they've attracted distinct and loyal communities, leading to a natural rivalry.
Bitcoin (BTC) and ether (ETH) are also increasingly correlated. In fact, they're moving more in tandem than ever before. 
But BTC is still the market leader. It commands almost half of the entire crypto capitalization, its dominance now at one-year highs. That's still less than the 2018-2019 bear market, when bitcoin dominance was as high as 71%. 
ETH meanwhile makes up nearly 20%, more than double what it was when the market bottomed last cycle. Comparing returns since Apr. 2018 shows bitcoin outstripping ether for most of that interim —- until May 2021. 
Bitcoin was just coming down from reaching $60,000 for the first time, while ether was correcting after attempting to break $4,000. At that point, bitcoin had returned around 550% since the first inning of the previous bear market, going from $7,900 to nearly $51,000. Ether had just eclipsed bitcoin, having jumped more than 700%.
Ether would hold onto that lead for practically the entire bull market and then some. Bitcoin has gained ground though, thanks to a falling ETH-to-BTC ratio (down 13.5% over the past year).
BTC is now a whisker away from topping ETH over the past five years — the former returning 279% to the latter's 289%.
Simple charts like these suffer from a certain amount of time bias (the five-year returns may look completely different in another three months). 
Still, Bob Ras, co-founder of tokenized securities startup Sologenic, explained that the narrative has shifted somewhat when it comes to Bitcoin and Ethereum since the 2021 bull run.
"There was so much strength behind the Ethereum ecosystem because of all the utility enabled by DeFi, NFTs, ENS and other applications," Ras told Blockworks. 
"During the bull run, there were a lot more users around who were toying with various digital asset applications, and so it made sense for Ethereum to have been the key driver of growth."
Bitcoin has performed less bad than ether
The macro situation has changed since the 2018 bull market, capped off by the recent US banking crisis. 
Ras noted that the Federal Reserve will have to pivot away from its tightening policy soon, which could inject more liquidity into the market to prevent a credit crunch.
"Bitcoin is now rivaling gold and other stores of value when it comes to hedging against these likely forthcoming liquidity injections, which will ultimately contribute to the debasement of the dollar and other fiat currencies," Ras said. 
"BTC is the hardened, reliable asset right now. The narrative could shift again, of course, but it seems likely that the ETH/BTC ratio could trend downwards for some time — perhaps until the next bull market fully kicks in."
BTC has outperformed ETH easily since April 2022, weeks before Terra would depeg, causing chaos for crypto. BTC is down almost 26% while ETH has fallen 37%.
Although, it would be more accurate to say bitcoin has performed "less bad," considering neither have boosted portfolios over the past year.
Zooming out to encompass all-time returns however, bitcoin blows ether out of the water.
Bitcoin has returned a pearl-clutching 4-billion percent since its earliest recorded price in late 2009 ($0.00076392). 
Ether has "only" risen 66,544% since it first launched in 2015. Rookie numbers.
---
Don't miss the next big story – join our free daily newsletter.