Crypto Companies Brace for Year of Regulation in 2022
Regulators and industry members alike are expecting 2022 to be a year of harsher digital asset regulation; here is what to expect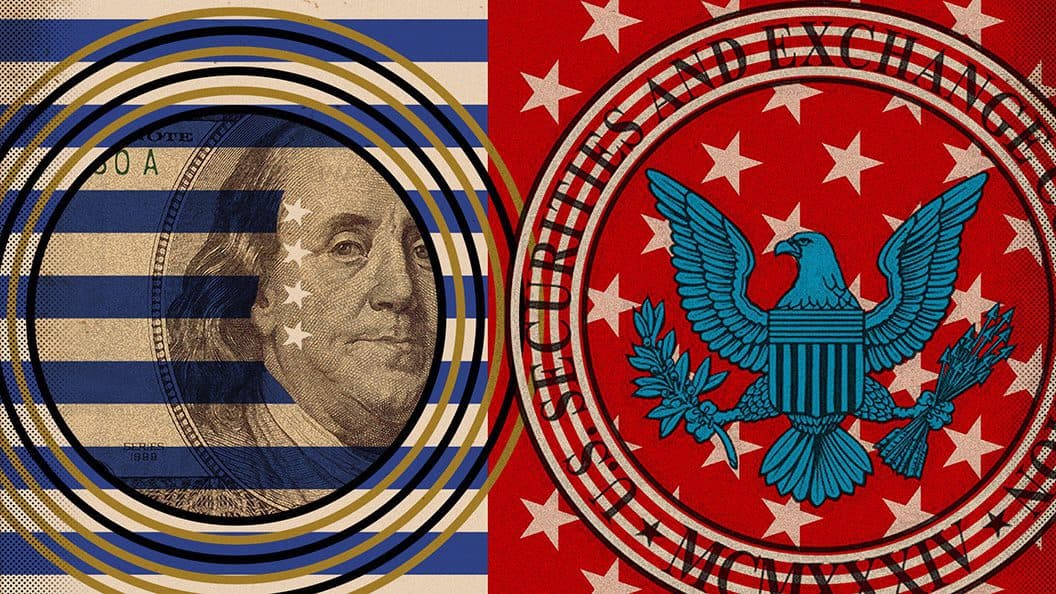 Blockworks exclusive art by Axel Rangel
key takeaways
US regulatory organizations have promised to take a closer look at the digital asset industry, and they are starting now
Cryptocurrency companies prep for greater scrutiny with expanded legal and compliance teams
As most cryptocurrencies kick off the new year in the red, there is another cloud looming over the industry: harsher regulation. 
US policymakers sent signals in the final months of 2021 that greater oversight of the emerging asset class is imminent. Congressional hearings on stablecoins and the future of finance, coupled with less-than-savory comments from regulatory leaders and central bank officials, has painted an uncertain future for the digital asset industry. 
'Decentralized' means nothing to regulators 
If the Commodity Futures Trading Commission (CFTC)'s cease and desist order and fine against Polymarket, the popular cryptocurrency betting platform, is any indication, policymakers are looking to rein in decentralized finance platforms. 
The actions taken against Polymarket, which became public on Monday, the first business day of 2022, are only foreshadowing what is to come, Carlisle said. The regulatory crackdown challenges the fundamental principle of decentralization in the digital asset space.
"Despite the fact that this is a platform that uses smart contracts and claims to be decentralized, there are still people behind this platform, operating it, marketing it, enabling people to trade and access the market," Carlisle said. "Despite the fact that the underlying technology is effectively decentralized." 
Regulators are indifferent to the fact that some platforms claim to be decentralized, Carlisle said, and if there is someone that can be held accountable, that is what is going to happen. 
The CFTC noted in its statement that Polymarket was cooperative with investigators. The platform agreed to shut down the three markets in violation of compliance laws. Working with regulators is going to be an essential part of advancing the industry, Carlisle said. 
Stablecoin regulation 
From Federal Reserve Chairman Jerome Powell's comments to the Congressional hearing, US officials took a closer look at stablecoins in 2021. It is a trend likely to continue into 2022, especially given the recent public policy agenda, experts predict. 
"If the Fed really wants to get a central bank digital currency out there in the short term, like a digital dollar, for example, then they'll be focusing more on stablecoins because they want to understand how well their regulatory regime would work," said Michael Fasanello, director of training and regulatory affairs at the Blockchain Intelligence Group.  
Powell said in July 2021 that creation of a CBDC may help curb demand for stablecoins such as Tether (USDT) and US Dollar Coin (USDC), which he said may pose a threat to consumers. 
Regardless of whether a CBDC will come in 2022 (Powell has hinted that it may be a long way off), stablecoins do not exist outside regulatory bounds. 
"Stablecoins are like money market funds, they're like bank deposits, but they're, to some extent, outside the regulatory perimeter and it's appropriate that they be regulated," Powell said in September 2021 during testimony before the House Financial Services Committee. "Same activity, same regulation." 
US Securities and Exchange Commission Chairman Gary Gensler agrees. He has referred to stablecoins, which are designed to trade and fluctuate like US dollars, as "poker chips." 
Stablecoins present a new challenge to regulators because they do not fit neatly within the existing regulatory structure and process as traditional financial products, Fasanello said.
"With stablecoins, we really haven't had that sort of typology or methodology, so arguably the Fed might spend a little bit more time with that, at least at the forefront," he said. 
Where we stand 
One of the key roadblocks to greater regulatory clarity around the digital asset space is the question of jurisdiction, policymakers and industry members agree.
While industry members anticipate further CFTC actions, other government organizations already have crypto on the agenda for 2022. The SEC's battle with Ripple over XRP continues into the new year, and Congress has recently announced an additional hearing to take place as soon as January 2022 to discuss the environmental impact of cryptocurrency mining. 
More and more companies in the cryptocurrency space are expanding their teams to include legal experts and compliance officers, including Coinbase and Binance.US. Others have released public statements outlining intentions and visions for how the regulatory landscape should look, including FTX and Ripple. 
Cryptocurrency is too broad to fit under one organization's umbrella, Fasanello said. Regulators must look at crypto as a security, commodity, disruptive technology and currency, while also considering consumer protection, anti-money laundering and anti-terrorism efforts. 
"I'd expect the CFTC and the SEC to be probably the most active US agencies that we'll see," said Carlisle. "I think we'll see the US Treasury and also potentially state level organizations and regulators in the US start to dive deeper and deeper into this space and take a closer look at it, it is going to be a multi agency approach, ultimately.
---
Get the day's top crypto news and insights delivered to your inbox every evening. Subscribe to Blockworks' free newsletter now.
---