EU Parliament Committees Vote To Crack Down on Crypto Transfers
The proposed measures would expand anti-money laundering requirements on cryptoassets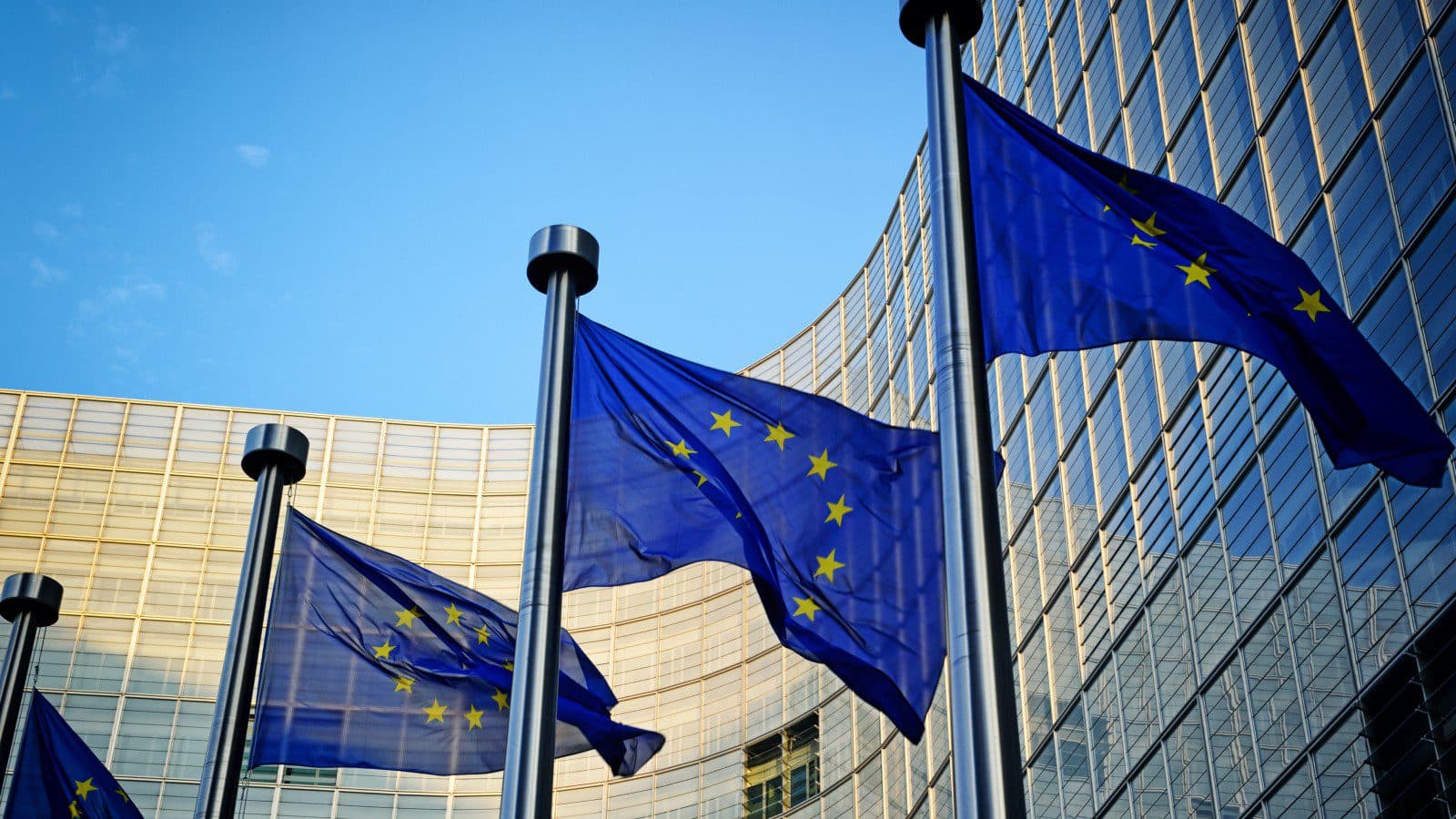 EU flags in front of European Commission in Brussels | Source: Shutterstock
key takeaways
The proposal called for crypto firms to reveal info about the sender and receiver of crypto transfers
Coinbase executive said the measures would unleash a surveillance regime on exchanges, stifle innovation and undermine self-hosted wallets
Two European Parliament committees have voted in favor of measures requiring crypto companies to collect and share data on certain transactions.
The Committee on Economic and Monetary Affairs and the Committee on Civil Liberties, Justice and Home Affairs voted to expand anti-money laundering requirements in the crypto space. 
Spokespeople for the committees did not immediately return a request for comment.
European Union ambassadors agreed on a mandate in December to negotiate with the European Parliament on a proposal to extend the scope of fund transfer rules to include certain cryptoassets. 
The proposal aimed to require crypto service providers, such as exchanges, to collect and share information about the sender and beneficiary of these asset transfers — a practice that payment service providers currently do for wire transfers.
Legislators hoped to ensure traceability of transfers between crypto service providers and so-called "unhosted wallets" so as to be able to better identify possible suspicious transactions and potentially block them.
An unhosted wallet is a term used by the Financial Action Task Force and Financial Crimes Enforcement Network and adopted by other government and regulatory bodies. It means that an individual maintains their own private keys — known in the crypto industry as a "wallet" or "self-hosted wallet" to delineate between assets controlled by a financial institution acting as a custodian and an individual.
Requirements to check if the information on the payer or payee is accurate is to be imposed on crypto transfers that exceed 1,000 euros, according to a draft report.
Slovenian Finance Minister Andrej Šircelj said in December that the proposal was an important step toward "closing the gaps in our financial systems that are malevolently used by criminals to launder unlawful gains or finance terrorist activities."
Markus Ferber, who has served in the European Parliament since 1994 and is a member of the European People's Party (EPP), took to Twitter Thursday to share his opposition to the proposal.
"We need to take AML risks in crypto seriously, but should not ban unhosted wallets," Ferber tweeted. "This would be the equivalent of banning cash — unnecessary and disproportionate!"
Fellow European Parliament member Paul Tang responded to Ferber's tweet, noting that passing the proposal would not ban anything. 
"Instead we oblige verification to prevent crime and corruption through unhosted wallets," Tang wrote. "Crime and corruption aren't innovation, I'm sure a law-and-order party like the German EPP would agree?"
Paul Grewal, chief legal officer at crypto exchange Coinbase, wrote in a March 27 blog that "bad facts make bad law," noting the EU's upcoming vote.
"If adopted," he wrote, "this revision would unleash an entire surveillance regime on exchanges like Coinbase, stifle innovation, and undermine the self-hosted wallets that individuals use to securely protect their digital assets."
Patrick Hansen, head of strategy and business development at Unstoppable Finance, said in a Twitter post that formal meetings about these measures, known as "trilogue," could take a couple of months. 
"We have lost a battle, but this is far from over," he said.
---
Get the day's top crypto news and insights delivered to your email every evening. Subscribe to Blockworks' free newsletter now.
Want alpha sent directly to your inbox? Get degen trade ideas, governance updates, token performance, can't-miss tweets and more from Blockworks Research's Daily Debrief.
Can't wait? Get our news the fastest way possible. Join us on Telegram and follow us on Google News.
---