FUD or Fact? Binance Rumors, Analyzed
Is Binance heading for an FTX-style crisis, or is it all much ado about nothing?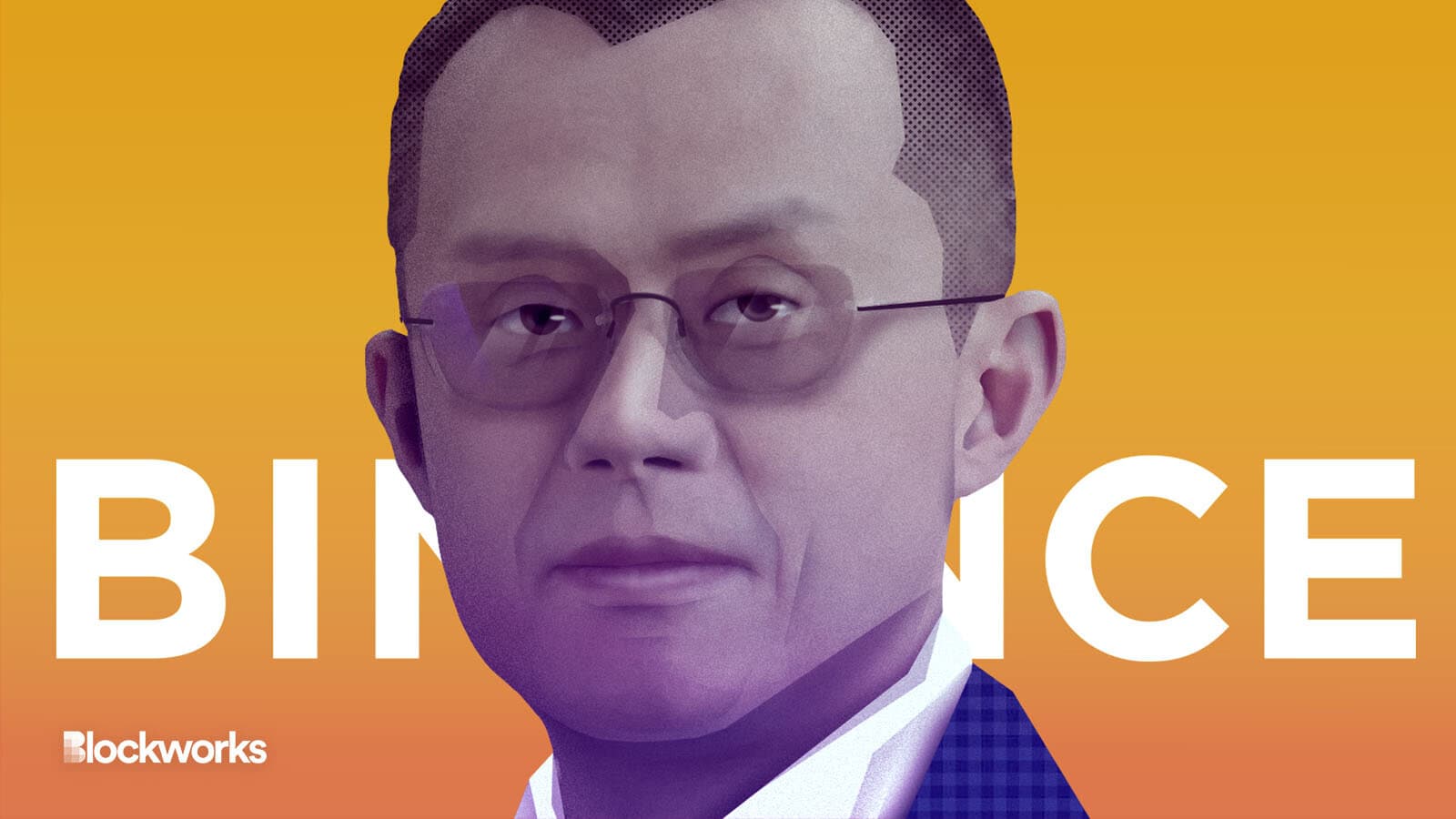 Binance CEO Changpeng Zhao | Blockworks exclusive art by Axel Rangel
As some have called into question the health of crypto exchange Binance by criticizing its latest proof-of-reserves report and pointing to recent withdrawals, the firm has shot back against what it calls "FUD."  
Blockchain analytics platform Nansen said Tuesday morning that $2.2 billion worth of ether had been removed from Binance over the past week. The vast majority of daily net withdrawals — about $1.9 billion — occurred in the last 24 hours, according to the firm.
Brokerage Jump Trading, for example, withdrew $146 million from Binance in the past seven days. Numerous unknown entities withdrew large sums as well.
Jump Trading did not immediately return Blockworks' request for comment.
These withdrawals indicated "some user skittishness," according to Andrew Thurman, a researcher at Nansen, and it was "no doubt troubling for some individuals" to witness, he added.
Thurman also noted that there have been multimillion-dollar deposits coming into Binance from companies such as Wintermute, FalconX and the Tether treasury.
When asked about the timing of these deposits, Thurman said that the withdrawals "may have lowered the liquidity in certain order books, which opens opportunities for arbitrageurs and market makers." 
Wintermute, which appeared to move substantial funds off the exchange, including withdrawals totaling $23.5 million in the past week, reversed course on Tuesday with a $300 million deposit in USDC on Binance, according to Thurman. 
"People deposit and withdraw assets everyday for a variety of different reasons," a Binance spokesperson told Blockworks in an email Tuesday. "User assets at Binance are all backed 1:1 and Binance's capital structure is debt free. We maintain hot wallet balances to ensure that we always have more than enough funds to fulfill withdrawal requests and we top up hot wallet balances accordingly."
Nansen CEO Alex Svanevik told Blockworks that outflows from Binance don't necessarily indicate a direct parallel with now-bankrupt FTX, which had between $4 billion to $5 billion worth of assets held on-chain "leading up to their blow-up."
Though people can see what is on-chain, Svanevik added, it is hard to know specifics on Binance's inner workings, noting that the past year "has taught people to be extra cautious."
A pause of USDC withdrawals  
Still, some have expressed concerns about the exchange's finances. 
Mike Alfred, a crypto investor who co-founded institutional shareholder services market intelligence business BrightScope, urged people in a tweet to "Remove your funds from Binance immediately."
Alfred serves on the boards of companies such as crypto miner Iris Energy, Eaglebrooks Advisors and Crestone Group and has invested in companies including Bitwise Asset Management and Swan Bitcoin.
Travis Kling, founder and chief investment officer of Ikigai Asset Management, called Binance's suspension of USDC withdrawals on ETH and BNB chains "super super shady" in a tweet.
Binance CEO Changpeng Zhao quickly responded with a link to a Dec. 8 blog post announcing network upgrades and hard forks. 
"Yo, what's with all the FUD?" the Binance CEO said. "This maintenance was announced a week ago."
Zhao had also noted via Twitter Tuesday morning that Binance "temporarily paused" USDC withdrawals as it ​​conducted a token swap.
Binance tweeted later Tuesday morning that USDC withdrawals were back online.
In a separate tweet thread, Zhao addressed the broader FUD — fear uncertainty and doubt — that he said the exchange has combated for years. 
"FUD helps us grow, even though they are thoroughly annoying," he said.
Proof of reserves in question?
The latest concerns around Binance come as crypto exchanges have taken steps — such as publishing proof-of-reserves reports — to be more transparent in the wake of FTX's fall. 
FTX filed for bankruptcy last month and its founder and former CEO, Sam Bankman-Fried, was arrested by Bahamian authorities Monday. 
Binance claims to have equivalent funds to cover all its users' assets one-to-one, according to its website. Binance chose the accounting and tax advisory firm Mazars to lead its proof-of-reserves report published last week. 
Mazars provided a breakdown of the bitcoin and wrapped bitcoin held by Binance as of Nov. 23: 597,602 BTC in liabilities to 575,742 BTC in assets, a difference of 21,860 BTC.
Binance tweeted last week that the 3% "gap" is due to BTC loaned to customers through the margin or loan programs, who may have used tokens out of the report's scope as collateral.
"If we take these into account (in other words, if we didn't provide these BTC loans), we would be 101% collateralized," Binance added at the time.
Kraken CEO Jesse Powell, whose exchange competes with Binance, criticized the proof-of-reserves report in a series of tweets last week, drawing comparisons with FTX and calling it a "big red flag for me."
John Reed Stark, former chief of the SEC Office of Internet Enforcement and vocal crypto critic, also tweeted his misgivings about Binance's attestation.
"[Binance's report] doesn't address effectiveness of internal financial controls, doesn't express an opinion or assurance conclusion and doesn't vouch for the numbers," Stark said. "I worked at SEC Enforcement for [18-plus years]. This is how I define 'red flag.'"
But Nansen research analyst Niklas Polk cautioned against jumping to conclusions prematurely, making the distinction that FTX's "blowup was not because people withdrew [money], but rather because they didn't have the money" — due to Alamada's fraudulent activity.  
A worst case scenario from a bank run on Binance, he said, is that "liquidity dries up and people cannot convert to dollars, or withdraw all tokens to all chains." ​​ 
A Binance told Blockworks in an email Tuesday that the company was preparing to offer proof of reserves for additional tokens.
"Binance is committed to transparency and fostering trust in the ecosystem," the representative added. "We will share more updates on other efforts when we have further details."
---
Don't miss the next big story – join our free daily newsletter.