Invesco, ProShares Plan to Launch Bitcoin Futures-Based ETFs
Filings come after SEC Chairman Gary Gensler said he would "look forward" to reviewing such products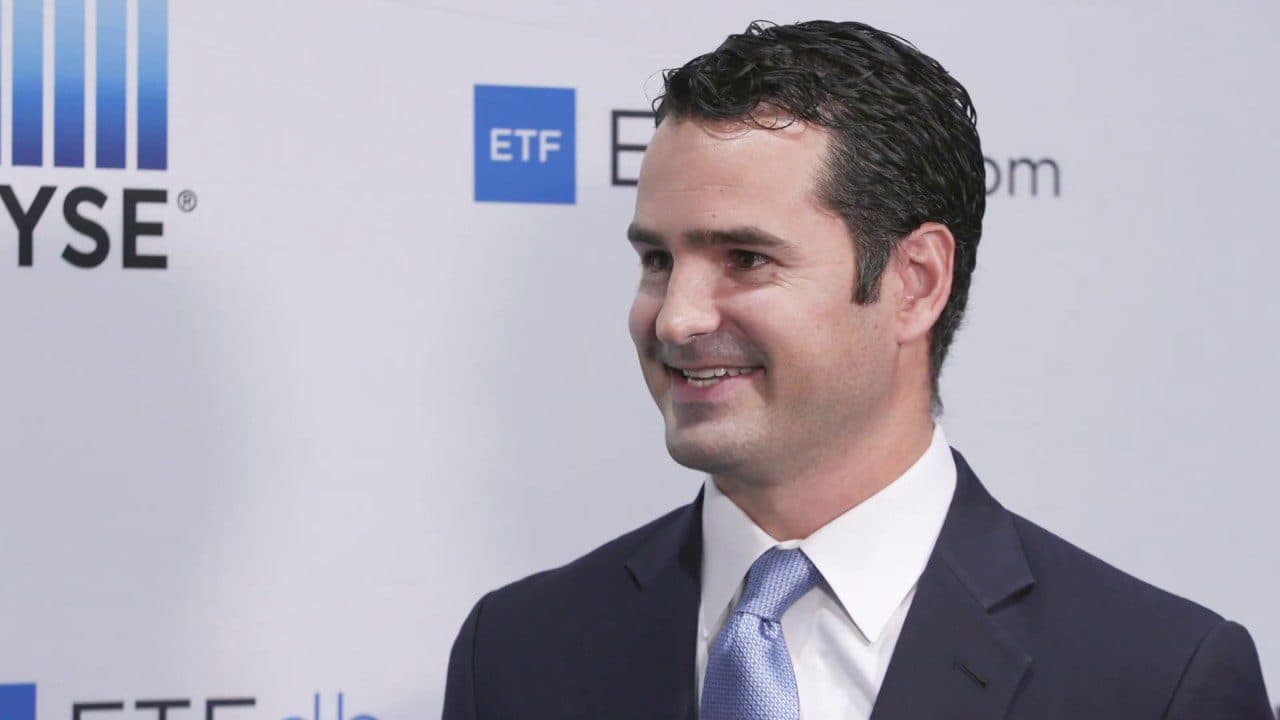 John Hoffman, Invesco's head of ETFs
key takeaways
In addition to bitcoin futures contracts, actively managed products may invest in Canadian bitcoin ETFs, Grayscale Bitcoin Trust
Planned products come after Invesco and ProShares filed for index strategies focused on blockchain and digital assets companies
Invesco and ProShares have filed for actively managed crypto ETFs that would invest in bitcoin futures contracts just days after SEC Chairman Gary Gensler hinted that products of this type could be granted favorable regulatory treatment.
The $1.5 trillion Atlanta-based asset manager revealed plans to launch the Invesco Bitcoin Strategy ETF in an Aug. 4 SEC disclosure. The document does not indicate a ticker or expense ratio for the proposed offering. 
The fund is actively managed and plans to invest most or all of its assets in exchange-traded bitcoin futures contracts traded on the the Chicago Mercantile Exchange (CME), as well as collateral investments, such as cash or government securities, the filing states. It will not invest directly in bitcoin.  
While the proposed fund generally seeks to have full exposure to bitcoin futures, the fund may at times invest in bitcoin-related assets, which include ETFs listed outside of the US and open-ended private investment trusts that are linked to bitcoin, such as the Grayscale Bitcoin Trust (GBTC). 
Meanwhile, ProShares also filed with the SEC on Aug. 4 to launch a similar fund. Like the planned Invesco product, the ProShares Bitcoin Strategy ETF would be actively managed and  invest in bitcoin futures contracts traded on the CME. It may invest in Canadian ETFs, but would not directly invest in bitcoin. 
No ticker or management fees are yet listed for the ETF. 
Spokespeople for Invesco and ProShares declined to comment on the applications.
The filings come after Gensler said during the Aspen Security Forum on Tuesday that he anticipates more crypto ETF filings from fund managers.  
"I look forward to the staff's review of such filings," he noted, "particularly if those are limited to these CME-traded Bitcoin futures."
Futures first?
Though there are about a dozen crypto ETFs, many that would invest directly in bitcoin, awaiting approval by the SEC, Gensler's comments could mean that ETFs that hold bitcoin futures could be greenlit first, industry watchers have said. 
Ben Johnson, Morningstar's director of global ETF research, told Blockworks that he is not surprised by the latest Invesco and ProShares filings.
"Asset managers are pulling out all the stops to be first to market with a bitcoin ETF," Johnson said. "The experience of the first Canadian bitcoin ETFs has shown that the first one out of the gate may win most of the assets."
Purpose Investments launched Canada's first bitcoin ETF in February, and the fund has grown to $1.1 billion (CAD) in assets, according to the firm's website. Evolve ETFs' bitcoin ETF, which launched a day after Purpose's offering, has just $83 million in assets.
The proposals are not the first forays into crypto for Invesco and ProShares. 
Not their first forays
Invesco filed in June to launch the Invesco Galaxy Crypto Economy ETF. Unlike the latest filed-for actively managed product, that fund would invest at least 80% of its total assets in the Alerian Galaxy Global Cryptocurrency-Focused Blockchain Index. That offering also expects to invest in bitcoin futures, with a planned allocation of about 10%.
John Hoffman, Invesco's head of ETFs and indexed strategies in the Americas, said during an interview on Bloomberg's "Trillions" podcast that there are "incredible parallels" between the ETF and digital asset markets. He added that Invesco has historically pioneered new ways to get exposure to new asset classes, and continues research and development in the crypto realm.
"There's a lot of questions that need to be solved in this blockchain — and more specifically, bitcoin — space," he told Bloomberg. "I would argue that the first bitcoin ETF is not the ending place. There is going to be theoretically a whole series of return patterns in this market, in this new asset class, and it's something that we are spending a lot of energy on."
ProShares was among the first sponsors to file for a bitcoin strategy ETF in 2017, and ProFunds, its parent company, last week launched the Bitcoin Strategy ProFund. The first publicly available US bitcoin strategy mutual fund primarily invests in bitcoin futures contracts. 
The fund group also proposed to the SEC in June the ProShares S&P Kensho Global Crypto & Blockchain ETF, an index fund that would invest in companies focused on distributed ledger technology and digital currencies. 
"ProShares constantly strives to develop innovative products like the Bitcoin Strategy ProFund that expand investors' choice and offer new ways to access important asset classes," a spokesperson said.
Want more investor-focused content on digital assets? Join us September 13th and 14th for the Digital Asset Summit (DAS) in NYC. Use code ARTICLE for $75 off your ticket. Buy it now.